Communities of Salt and Light: Being Neighbors
"Many parishes are joining with otherchurches and groups to rebuild a sense of community in their own neighborhoods and towns. . . . Parish participation in such community efforts develops leaders, provides concrete handles to deal with key issues, and builds the capacity of the parish to act on our values."
- United States Catholic Bishops,  Communities of Salt & Light; Reflections on the Social Mission of the Parish
Being Neighbors Locally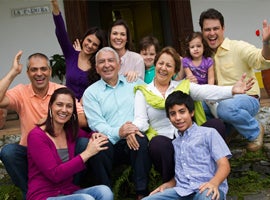 What opportunities do we provide for disciples to reflect on and respond to poverty, unemployment and inequality in their families, neighborhoods, and dioceses?
Hope in a Time of Poverty | En Español
This reflection series prepared by the USCCB Department of Justice, Peace, and Human Development can help Catholics reflect on and respond to poverty, unemployment and inequality in the U.S. in the light of their faith.
In what ways do we help young people learn about issues that affect their brothers and sisters in Christ, and respond creatively in the light of their faith?
Multimedia Youth Contest | En Español
Using the contest, schools and parishes can engage youth in grades 7-12 to learn about poverty in the U.S., its causes, Catholic social teaching, and the work of Catholic groups to address poverty. Youth then work to educate others through creative work of any medium.
How do we connect disciples with opportunities to partner with organizations in our local community or diocese?
Addressing Poverty Locally through CCHD
The Catholic Campaign for Human Development carries out the mission of Jesus Christ to bring good news to the poor, release to captives, sight to the blind,and freedom to the oppressed(Luke 4:18). See how Catholics around the country are getting involved.
Do we collaborate with people of other faith traditions as a witness of our unity and a stronger voice for our common values?
Ecumenical/Interfaith Collaboration for Justice
Consider collaborating with people of other faiths to work together to make a positive difference in your community. This is a directory of diocesan ecumenical/interfaith contacts.
"A key test of a parish's "Catholicity" is its willingness to go beyond its boundaries to serve those in need and work for global justice and peace."
- United States Catholic Bishops, Communities of Salt and Light: Reflections on the Social Mission of Parish
Being Neighbors Globally
How do we help Catholics put faith in action to address poverty and suffering that affects their brothers and sisters across the globe?
An initiative of  Catholic Relief Services (CRS) with support from the U.S. Conference of Catholic Bishops that calls on Catholics to defend the life and dignity of people living in poverty throughout the world.
In what ways do we cultivate a sense of solidarity with the global church and respond to its needs?
Called to Global Solidarity: International Challenges for U.S. Parishes | En Español
This statement of the U.S. bishops reflects on our membership in a universal Church that transcends national boundaries and calls us to live in solidarity and justice with the peoples of the world.
Do we integrate global concerns into our educational and catechetical programming?
This website from Catholic Relief Services is a gateway to activities, lesson plans, simulations, prayer services, and other resources that explore global issues through the lens of Catholic social teaching.
How do we inform and engage disciples in our Catholic response to climate change and its impact on those who are poor and vulnerable?
Catholic Coalition for Climate Change | En Español
Join Catholics taking action in our families, parishes, schools and communities to reduce our carbon footprint, care for "the least of these" (Mt. 25,) and raise our voice on behalf of Creation and the poor.