Communities of Salt and Light: Responding with Charitable Works
"Just as the gospel tells us our lives willbe judged by our response to the "least of these," so too our parishes should be measured by our help for the hungry, the homeless, the troubled, and the alienated-in our own community and beyond."
United States Catholic Bishops, Communities of Salt and Light: Reflections on the Social Mission of Parish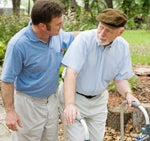 In what ways are we responding to the needs of "the least of these" in our communities?
Two Feet of Love in Action |En Español
This foundational tool describes two distinct, but complementary, ways we can respond to the Gospel call to put love in action: social justice (addressing systemic, root causes of problems that affect many people) and charitable works (short-term, emergency assistance for individuals). A brochure, facilitator's guide, and handouts can help you educate others.


Do we effectively engage disciples in planning, strategizing, leading, and evaluating social ministry opportunities?
Catholic Charities USA Parish Social Ministry Toolkit
This resource from Catholic Charities USA is a collection of strategies, resources and practical steps developed by parish social ministry leaders from across the country.


How do our service programs connect participants with opportunities to change the conditions that create poverty and suffering?
Service Projects and Social Justice
This page from the Campus web site gives tips and best practices for effective service projects, and also provides resources to integrate reflection on Catholic social teaching and social justice issues into service experiences.


How do we facilitate solidarity and support for our brothers and sisters in poverty across the globe?
CRS Rice Bowl is Catholic Relief Services' Lenten faith formation program. Participants pray together; give things up, or fast, in solidarity with those who hunger; learn about our global community and the challenges of hunger and poverty around the world; and give sacrificial donations to those in need.