Communities of Salt and Light: Living as Disciples 24/7
"Our parishes are clearly called to helppeople live their faith in the world, helping them to understand and act on the social dimensions of the gospel in their everyday lives."
- United States Catholic Bishops,  Communities of Salt & Light; Reflections on the Social Mission of the Parish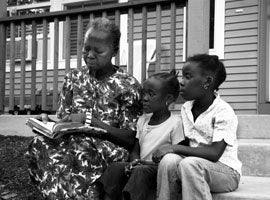 How do we help Catholics live their faith in marriage, family, work, and everyday decisions and actions?
Everyday Christianity: To Hunger and Thirst for Justice | En Español
This statement from the U.S. bishops challenges Catholics to love our neighbor, pursue peace and seek justice in our everyday choices and commitments.


Do we help connect disciples with opportunities for individual and group reflection on the intersection between faith and current events and issues facing our local and global communities?
Caritas in Veritate study materials
Pope Benedict XVI calls us to see the relationship between human and environmental ecologies and to link charity and truth in the pursuit of justice, the common good, and authentic human development. Use these study materials, including group study sessions and an individual reflection guide, to respond to Benedict's call for all men and women to think and act anew.


How well do we stay connected to efforts by Catholics across the country to raise their voices on behalf of those who are poor and vulnerable?
This triweekly electronic newsletter shares news, resources, tools, and opportunities for action from the USCCB Department of Justice, Peace and Human Development, to help Catholics love their neighbors in their own backyards and across the globe.


What opportunities do we provide to help Catholics put Gospel values in action through their purchasing choices?
Stand in solidarity with your brothers and sisters across the globe by supporting fair trade. Catholic Relief Services provides information on fair trade and a step by step guide to running a Fair Trade Sale at your parish.