Communities of Salt and Light: Forming Disciples through Preaching and Education
"Our social doctrine is an integral part ofour faith; we need to pass it on clearly, creatively, and consistently."
- United States Catholic Bishops, Communities of Salt and Light: Reflections on the Social Mission of Parish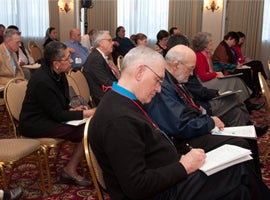 How do we connect religious education, catechetical formation, and sacramental preparation with the call to mission in the world as Christ's disciples?
Sacraments and Social Mission: Living the Gospel, Being Disciples | En Español
This resource can help Catholics understand the connections between the celebration of the sacraments and our social mission as followers of Jesus and members of the Body of Christ. The booklet includes handouts, suggestions for use in a parish setting, and a guide for small group study sessions. Order from USCCB Publishing or access online.
As a community, how do we reflect on the reality of poverty in our own backyard, and respond with faith-inspired action?

Poverty USA | Pobreza USA
PovertyUSA is a website sponsored by the U.S. bishops' Catholic Campaign for Human Development with facts and figures about poverty in the United States and what can be done to address it.
In what ways is our rich heritage of Catholic social teaching integrated into our education and formation programs?
Seven Themes of Catholic Social Teaching | En Español
The Church's social teaching is a rich treasure of wisdom about building a just society and living lives of holiness amidst the challenges of modern society. Modern Catholic social teaching has been articulated through a tradition of papal, conciliar, and episcopal documents and can be summarized in seven key themes. Order cards from USCCB Publishing.
What opportunities do we offer for prayer and reflection on Scripture and tradition on following Christ's example of love for neighbor?
In the Footsteps of Jesus: Resource Manual on Catholic Social Teaching
This parish resource can help groups of adults and young people learn about Catholic social teaching. See this Lesson Plan excerpt for a session outline, Prayer Service on the Seven Themes of Catholic Social Teaching, essays on the seven themes, and more.
Do we include social justice as an integral piece of our efforts for the new evangelization?

The New Evangelization & Social Justice
We are called to witness to God's love through our work for justice and peace. This page explains how the New Evangelization reminds us that God sends us as disciples on mission to transform the world.