Here is a selection of members of the Ordination Class of 2016.  
Below are their responses to the question:
"People might be surprised to know..."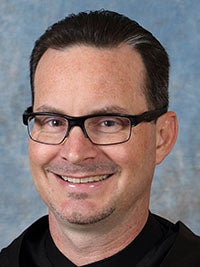 Pio Adamonis
Order of Saint Benedict,  St.Vincent Archabbey
built and operate a recording studio. I used to be a DJ when I was 15 and always enjoyed working with electronic instruments.(synthesizers, drum machines, samplers) I currently work in Public Relations for the Archabbey doing audio-video production. I also am a avid golfer and serve as assistant golf coach for the St.Vincent College Men and Womens team.
Valery Akoh
Atlanta
The will of God cannot take you where His grace cannot keep you. Becoming a priest was a childhood dream in Cameroon; but never had I dreamed that it would be in the United States of America. I love playing soccer, basketball and ping pong and learning new languages.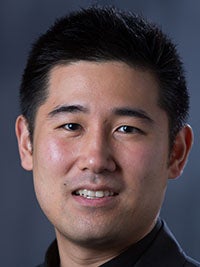 Christopher Bae
Boston
know how to do a basic neurosurgery.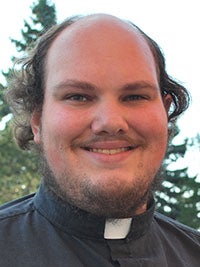 David Baunach
Springfield-Cape Girardeau
I learned how to blacksmith through personal initiative during my high school years.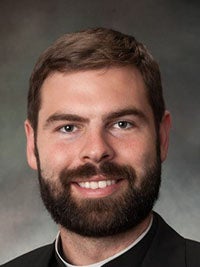 Paul Bechter
Dallas
like to play golf and lift weights, but also love to read. My favorite thing to do is to study Greek and Hebrew.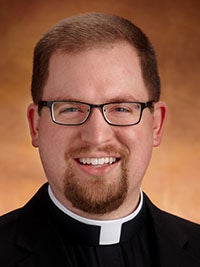 Patrick Behling
Milwaukee
was serving as a U.S. Senate Page when God first invited me to consider the priesthood.  My plan had been to serve in public office.  I even hoped someday to be a justice of the Supreme Court.  Instead, the Lord called me to the priesthood, and I couldn't be happier.
Victor Bolaños
Brooklyn
I was born in Colombia, raised in Ecuador and came to live in the US in 1998. I never thought I had a vocation to the priesthood until the Lord in His great mercy called me during the 2008  World Youth Day in Australia.
Christopher Boutin
Mobile
I love to watch football, listen to classic country music, and read the Church Fathers, sometimes all at the same time.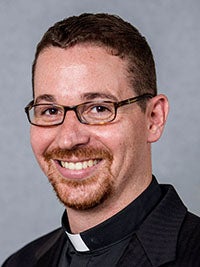 Jason Brauninger
Society of Jesus
also work in a Level 1 Trauma Center in downtown Boston as a Registered Nurse.
James Brockmeier
Indianapolis
have had three college roommates and one other close friend from college who have entered seminary or joined the religious life: one was ordained to the priesthood last year, one is a Byzantine Catholic Monk, one a Capuchin, and one a seminarian for my diocese. God in His providence has given me many companions in discernment.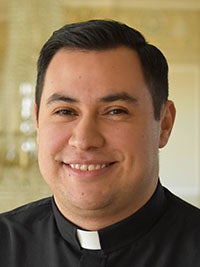 Jose Guadalupe Cadena
Laredo
didn't like my middle name as a child. After living at a discernment house called Casa Guadalupe and two seminaries under the patronage of Mary (Assumption, St. Mary of the Lake-Mundelein), you realize that your mom's always had your back.
Stephen Casmus
Holy Protection of Mary Byzantine Catholic Eparchy
found my professional career unfulfilling after my wife died. A deacon since 2003, I asked my bishop if he would consider accepting me as a candidate for the priesthood. He said yes, so I quit my job, sold my house and here I am.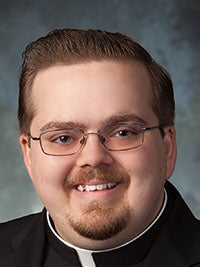 Dominic Clemente Jr
Chicago
wanted to be a Broadway Producer before entering the seminary.
Thomas M.  Colucci
New York
I have had a long road to the priesthood that started back in college. I felt the Lord was always calling me to the priesthood. I taught physical education for 4-5 years, then was on the New York City Fire Department for twenty years, retiring as a Captain, was a Benedictine monk for 7 1/2 years then switched to the New York Archdiocese  3 1/2 years ago.
Michael Daly
Saint Paul and Minneapolis
love spending time and working with the poorest of the poor in the slums of Haiti and Honduras, even though I grew up in affluence.  I also would rather be a religious priest, but God has called me to diocesan priesthood and still fulfilled my heart's desire for community life by providing the Companions of Christ fraternity.
Brandon Dang
Orange
Did not think about being a priest growing up, but actually wanted to be a basketball player. Everything basketball is one of my favorite things I like to do in my free time (play, watch, research, etc). Also, GO LAKERS!!!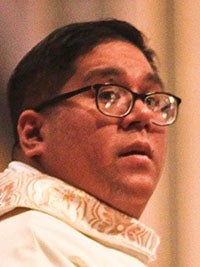 Raj Derivera
Sacramento
am an eclectic reader. I enjoy reading all kinds of things - and I mean all kinds. Of course I have a great love for Sacred Scripture, but I also enjoy everything from Hagiographies (lives of the Saints) to Ancient Epics to Medieval Literature to 19th Century English Poetry to Sports and Science Magazines to Comic Books and even the back of cereal boxes.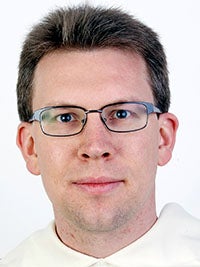 Wesley Dessonville
Dominican Friars, Province of St. Albert the Great
A friar of the Order of Preachers, I love preaching, teaching, being with my religious brothers, watching movies, listening to music, hiking, and enjoying baseball.
Francisco Javier Diaz Diaz
Society of Jesus, Oregon Province
love hiking in the rainforest.
Clement Dickie
Order of Preachers - St. Joseph Province (Eastern)
I brewed beer before and after entering the Order.
Joshua Diener
Los Angeles
I'm a classically trained lyric tenor and, I'm a history buff!
Michael Dion
Seattle
developed an interest in the arts, cinema, and literature because of literature and philosophy classes I took at seminary during pre-theology.
Sean  Downing
Society of Mary (Marianist) U.S. Province
Enjoy long walks in both a great city but also in nature. I also like to follow baseball, football and college basketball.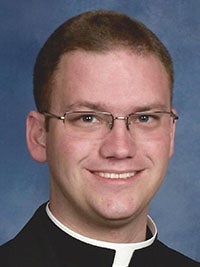 David Ducote
New Orleans
I have had a passion for martial arts since I was five years old.  I have practiced several types of martial arts and have earned a Fourth Degree Black Belt in Tae-Kwon-Do.  I still practice and teach Tae-Kwon-Do as a hobby and form of exercise.
Jeffrey Ellis
Norwich
spent almost eight years working as a software developer for the CIA.
Timothy Fahey
Cincinnati
enjoy camping, hiking, and woodworking.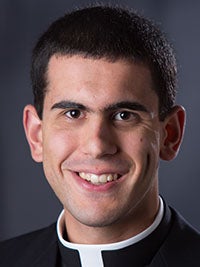 Patrick Fiorillo
Boston
play drums in a jazz-funk combo with other seminarians in my spare time.
Stephen Gadberry
Little Rock
Was born & raised on a family farm and am an Operation Iraqi Freedom veteran.  I enjoy playing and listening to the blues and jazz and love the outdoors and animals.
Greg Gerhart
Austin
I was the captain of the ultimate frisbee team at Texas A&M before entering seminary.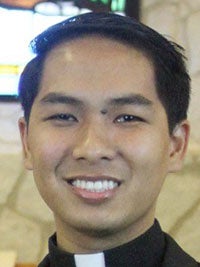 Eric Michael  Imbao
Missionhurst-CICM (Congregation of the Immaculate Heart of Mary)
I only learned that I will be sent to another country to become a missionary after four years in the seminary. As a missionary priest of Missionhurst-CICM, I love to travel, to learn a new language, to encounter families, and to witness God's unique manifestation in the lives and culture of every people.
Bryan Kassa
St. Thomas the Apostle Chaldean Catholic Eparchy
Although I wasn't encouraged by my parents to quit my career and discern the priesthood, God gave me the grace to continue the process in the midst of all the uncertainty and the fear of the unknown.  Through prayer and perseverance, I can honestly say that I this is the best vocation for me regardless if others may not think so.
Joseph Keating
Fort Worth
I was drawn deeper into the Church though my love for music.  Thanks to an outstanding Catholic campus ministry program, I was able to share my talents with the university parish, and my love Christ grew.  The seeds of my vocation were really planted in that great community of faithful college students.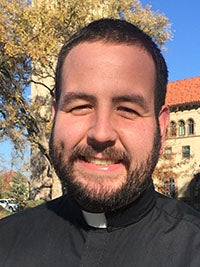 Andrew Kinstetter
Cheyenne
I grew up on a ranch in Wyoming, yet have no desire to do ranch work, yet I love Wyoming and desire to serve as a priest there.  Some of my hobbies include running (I have run 3 half-marathons), reading novels, archery, podcasting (I run a Star Wars podcast with a friend and also with a Catholic perspective), technology, and playing the flute.
Marcus Knecht
Omaha
climbed Mt. Kilimanjaro (to the top, Uhuru Peak) during a college May-Term course to Tanzania.
Erin Kochivar
Colorado Springs
I randomly saw a program on EWTN and what they said made me want to pray. After praying, I wanted to learn more about the faith as well as see how God wanted me to serve him. He led me to the priesthood.
Michael LaMarca
Buffalo
was once a mascot for the local minor league baseball team.
Ryan Lee
Phoenix
A thespian with a passion for the performing arts and an animal lover who worked at a zoo for five years.
Roger Lopez
Order of Friars Minor of the Province of Saint John
was a firefighter before entering the Order, and hold a third degree black belt in Taekwondo.
Bryce Lungren
Helena
Throughout seminary, I came to understand that the priest God wants me to be is the man He created me to be.  Therefore, the natural interests I have of welding, wood working, and mechanics are not outside of my priestly vocation, but are actually part of it.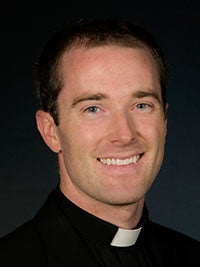 Matthew Magee
Denver
I am very grateful to my family for their support of the vocation God has called me to.  My Dad was ordained a Deacon during my first year of seminary and was very influential in my perseverance in the seminary.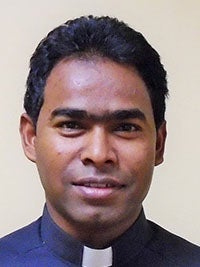 Paulus Marandi
Claretians of the USA-Canada Province
I belong to a tribe called Santal which is the largest homogenous tribe in Asia. While growing up, I met missionary priests and nuns who selflessly served the people in my parish and in the surrounding regions. Their life and service attracted me to become a missionary priest.
Alex  McCullough
Cincinnati
played baseball in college and have gotten to play at many inter-seminary basketball tournaments since entering here.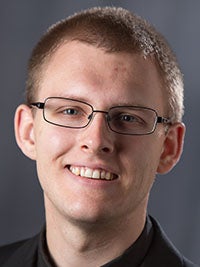 Curtis Miller
Burlington
enjoy being outdoors, hiking, and camping.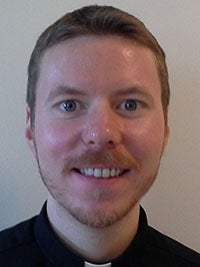 Justin Miller
Rochester
Love to sing and have performed with African-American Gospel Choirs.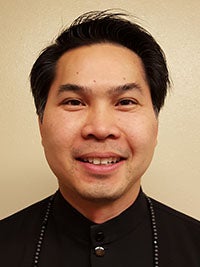 Bonaventure Nguyen
Congregation of the Mother Coredemptrix
am studying for the Congregation of the Mother Coredemptrix. I joined this religious community when I was sixteen. Before, I was an altar server at my home parish in Port Arthur, TX. Often, my pastor would ask me if I wanted to become a priest. The first time the question did not influence me. The pastor persisted, asking me the same question many times. I grew tired of hearing his question, so I decided just to come and see what it was like. Inspired by that visit, I decided to join the religious community because of the brotherhood and the many activities. And now, I am blessed to be at NDS studying to become a priest.
Hoang "Martin"  Nguyen
Orlando
I have always wanted to work closely with the deaf community.
Michael O'Connor
Legionaries of Christ
have traveled around the world (Mexico, Canada, Ireland, Spain, Italy) in my vocational journey getting to know many cultures and languages and finding Christ in the people I met in every country.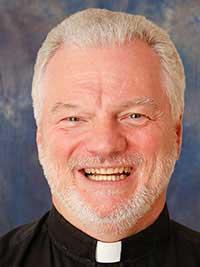 John O'Neill
Tulsa
have played guitar semi-professionally for years and at one time owned a recording studio.
Mark Pavlak
Saint Paul and Minneapolis
was on the game show "The American Bible Challenge" during Theology 2.
Gregory Pine
Dominican Friars of the Province of St. Joseph
was introduced to the Dominican Order by St. Thomas Aquinas. St. Thomas loved the Lord in a way that I found compelling and attractive, and the beauty of his witness kindled in a me a deeper love of Jesus and the desire to serve Him as a priest.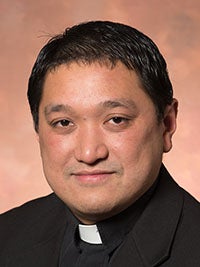 Ryan Pineda
Washington
have a Master's degree in Library and Information Science.
Ryan  Ravis
Greensburg
Never considered priesthood in high school. During those years I was not practicing the faith. A year later after high school graduation I went to Medjugorje and very significant things happened that brought me back to the practice of the faith and led me to submit to Gods will and enter seminary.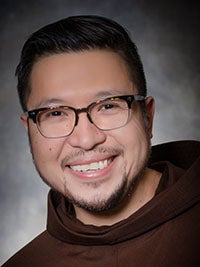 Michael Reyes
Order of Friars Minor, Province of the Most Holy Name
am an artist and that I use my gift as an artist as a way to preach and evangelize.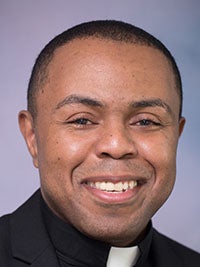 Jorge Rocha
Providence
I was inspired by my sister who is a religious sister and my cousin who is a priest.  I was also influenced by the Dominican Friars at Providence College where I worked and attained a degree.
Efrain Rosado
Order of Saint Benedict, Saint John's Abbey
I was sent to study to a high school directed by Marist Brothers. There I entered in contact with the wisdom and richness of the Holy Scriptures.  My inner life and my vision of the world were changed dramatically by the message of mercy and salvation contained in the Bible.
Juan Salas
Dodge City
first entered the seminary when I was 15 years old
Patrick Sherrard
Seattle
I am a convert to the faith from a non-religious upbringing. I converted to Christianity when I was 13 and Catholicism when I was 20.
Daniel Steiner
Nashville
enjoy playing ice hockey, being outdoors whether it be hiking,camping, fishing, frisbee golf or just sitting taking in God's beauty. My brother and I ran a Subway Restaurant for many years. I have hiked parts of the Superior Hiking trail, Boundary waters, and parts of the Appalachian trail.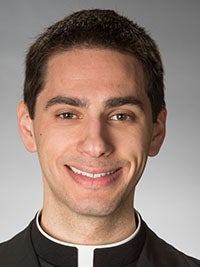 Dennis Strach II
Congregation of Holy Cross, United States Province
I graduated from college with a degree in music. When I first entered the seminary, I was unsure how (or if) my gifts would be incorporated into my religious life and priesthood but the Congregation of Holy Cross has given me so many opportunities to use ALL of my God-given talents to serve God and his Church.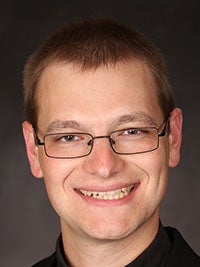 Paul Strommer
Duluth
was the program director for my college's radio station, 103.3 KUMD, as well as the student manager for the late night activity and entertainment program.
Daniel Swartz
Columbus/Archdiocese of Military Services
I left college for a year to be a missionary in India and Europe.  Soon I will be a priest for the Navy and Marine Corps as well.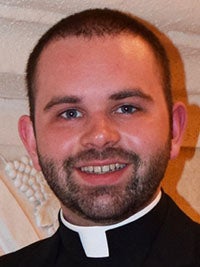 Michael  Thiel
Green Bay
am the first born son of Mary and Joseph, and they met serving as lectors together. I enjoy time around mountains, water, and campfires.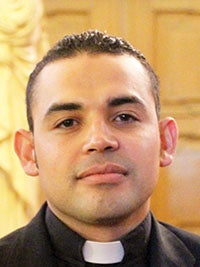 Guadalupe Vargas
Fresno
never thought about becoming a priest growing up.
John Erick  Villa
Oakland
am a licensed scuba diver and when I am under water, I always have a profound experience of God's love for me through all His magnificent creations below sea level; prompting me to always respect and safeguard nature and all of God's works - under water and above land.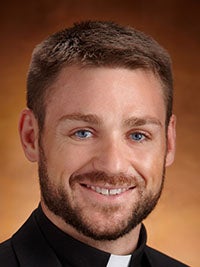 Michael Wolfe
Milwaukee
I lived for six years in the Dominican Republic as a missionary, which cemented my vocation to the priesthood.