The bishops call the faithful to Get Informed, Advocate and Pray for Conscience Rights. Join in solidarity to protect the conscience rights of all.
 
Prayer Resources
The following prayers may be used in solidarity with the bishops' call to penance and prayer to restore religious freedom & conscience protections.

Please note: No special permissions are required to use these prayers, as long as no modification is made and proper attribution is given as noted on the resources.
Current Prayer Initiatives

The Fortnight for Freedom: Freedom to Serve will take place from June 21 to July 4. Find out the latest news on this year's Fortnight at www.fortnight4freedom.org!
Other Prayer Initiatives
The bishops have urged an intensification of prayer and fasting for religious freedom in our beloved country. Resources were provided to help the faithful learn more about our courageous forbears in the faith and follow their example.

- Holy Hour for Life and Liberty

- Rosary Novena for Life and Liberty
                2-sided booklet format (English) (en español)
                1-sided format (English) (en español)
 
Prayer for the Protection of Religious Liberty

The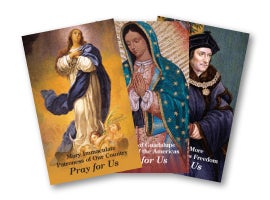 USCCB Store sells the English card featuring Mary Immaculate and the Spanish card featuring Our Lady of Guadalupe.
There are no plans to sell any of the other four designs at this time.
 
All six prayer cards may still be downloaded for free from the links below.
Prayer for Formation of Conscience
Prayers of the Faithful
Prayer for Protection of Conscience Rights
Prayer for Our Nation
Prayer for Our Leaders
Prayer for Religious Liberty (text of national prayer card)
Oración por la formación de conciencia
Oraciónes de los fieles
Oración por la protección de los derechos de conciencia
Oración por nuestra nación
Oración por el gobierno
Oración por la libertad religiosa (tarjetas para oración nacional)
Prayer for Religious Liberty: KINH CẦU CHO TỰ DO TÔN GIÁ
Prayer for Religious Liberty: Panalangin para sa Malayang Pananampalataya
Experience the richness of your faith