One Firefighter Spared Twice That Day
By Kenneth J. Zaveckas
On September 11, 2001, I was a New York City chief fire officer on duty at the 35th battalion in the Williamsburg section of Brooklyn. Although assigned to Manhattan, I was "on loan" to Brooklyn for two weeks.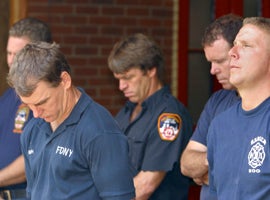 This probably saved my life, as a majority of the men I would have been working with that day lost their lives. Even in Brooklyn I would eventually come to feel that there had to be some divine guidance for me that day. That Brooklyn unit should have been one of the first units to respond over to Manhattan, yet we remained in Brooklyn.
My inquiry to our dispatching headquarters verified that we were in the midst of a terrorist attack and that a third plane's destination had not yet been determined. The 35th battalion is in the middle of the largest Hasidic Jewish community outside of Jerusalem, and it was suspected that this community was the next intended target.
As we heard other Brooklyn units respond over the Williamsburg Bridge – and some to their deaths just a few blocks away – I was left with a lone ladder company and its six men for a portion of the day to protect the approximately 2.1 million citizens of Brooklyn. This was to be my second possible escape from death that day that cost the loss of 343 of my brothers, including a personal loss of 24 members that I knew very well.
Over the next three months, besides the normal 48 hour/week shifts of fire duty, I accumulated an additional 144 additional hours performing what was first designated the "rescue" effort. For those of us with the seniority and knowledge to know better, it wouldn't take long to realize that it would have to be a miracle to find anything alive in that mess.
Squeezed in between my usual 48 hours were 9-, 15-, and, in one case, 24-hour straight tours, where I had the honor of supervising some of the bravest men in the world as we clawed and dug our way through what by now was a "recovery" effort. Don't ask me what we had to walk through and handle or what we had to send home to mom and dad, or the wife. Don't ever ask me.
In 2006 "nodules" and other various particulate were found in my lungs. I became a "guinea pig" along with the approximately a thousand other members of the responders who were diagnosed with this condition. I was deemed unfit for fire duty and retired. I subsequently moved to Gettysburg and St. Francis Xavier Parish.
I still try to figure out what God was thinking and why I deserved to be spared twice that day.
Kenneth J. Zaveckas of Gettysburg, Pa., is a retired battalion chief from New York City. He was among the hundreds of firefighters and police to respond to the two plane crashes into the World Trade Center.