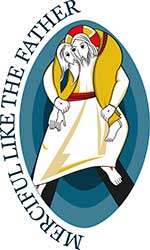 How can we show others the mercy of God? We say that God iscompassionate, but we ignore the poor. We say that God loves us and has mercy on us, but we hold grudges against our friends. Our actions need to authentically reflect God's mercy. Click below to explore the different ways that you can live out that mercy every day!
Learn more about the Corporal Works of Mercy and how you can live them in your daily life.

Learn more about the Spiritual Works of Mercy and how you can live them in your daily life.

Throughout the year, Pope Francis will do "Jubilee" signs of mercy. Find out what they are and how you can do something similar in your life!
Check out these short monthly suggestions for working mercy into your everyday life. 
Reflect more deeply on God's call to mercy through these monthly scripture reflections. Do them on your own, with family, or with small groups. 
Want to share where you see Mercy in Motion? Check out our social media pages to see what others are doing to put #mercyinmotion.  
In the News

Tear Down this Wall: Holy Year Calls for Human Barriers to Tumble Down
Life Issues Forum: Joy is the Fruit of Mercy
Proclaiming the Holy Year at the Holy Door
Pope: Mercy is "the beating heart of the Gospel"
Press Conference on Jubilee of Mercy in Rome


vatican resources
Bull of Indiction of the Extraordinary Jubilee of Mercy
Jubilee of Mercy Vatican Website
Prayer of Pope Francis for the Jubilee of Mercy

Diocesan Resources
Leaders looking for resources are invited to explore the diocesan and parish resource site.