Christus Vivit
Pope Francis shares his insights on the accompaniment, engagement, and vocational mission of youth and young adults* in Christus Vivit, his 2019 post-synodal apostolic exhortation written "to young people and to the entire people of God."
Christus Vivit
Check our Upcoming Opportunities page frequently to register for upcoming webinars, conferences, and other opportunities related to Christus Vivit.
Who is this document for?
Youth and Young Adults* (especially ages 16 to 30s)

Those who are active in the Catholic Church
Those who are less active in their Catholic faith
Those who are not active at all in a religious community

Bishops and Pastors
Diocesan and Parish Pastoral Leaders (Laity, Religious, and Clergy)
Religious Communities and Catholic Organizations
Active Lay Catholics and Parishioners
Parents and Families of Youth and Young Adults
Why should we care?
Because youth and young adults* matter. Not only are they the future, Pope Francis is very clear that young people "are the now of God." They are influencing and impacting the Church and the world today, and any person of faith should be walking alongside them: as peers, as mentors, as guides, and as fellow travelers on the road toward Jesus Christ and the Kingdom of God.

What should we do?
Read and pray through Christus Vivit (purchase your copy today or read it online)
Explore the resources on this web page (on how to best appreciate this document)
Think outside the box: take action in your local community (action steps for young people, Catholic leaders, and everyone)
Need help?
The Youth and Young Adult Ministries division within the USCCB Secretariat of Laity, Marriage, Family Life and Youth (LMFLY) can help you better understand and implement Christus Vivit in your local community.
Schedule a consultation: in-person or digital dialogue and presentations
Call or email us today:
Paul Jarzembowski, Youth & Young Adult Ministries
(202) 541-3229 | pjarzembowski@usccb.org
Staff Assistant
(202) 541-3044 | yam@usccb.org
(*) The terms "youth and young adults," "young people," and "the young" are used interchangeably. The age range designated by the synodal process and in Christus Vivit includes those ages 16-29, which spans across older adolescence and early young adulthood. 
In the United States, the U.S. bishops recognize that "young people" referenced in the synodal process and in Christus Vivit to be inclusive of several age groups, due to our cultural and ministerial context:
youth, that is adolescents ages 13 to 18, often in high school
young adults, that is women and men ages 18 to 39: collegiate, single, consecrated religious, clergy, and married, with and without children
In addition, due to the significant Hispanic-Latino population in the United States, this also includes "jovenes," young people of that cultural community, age 16 through to married life.

In the United States, there are several Catholic ministries associated with this age range: high school youth ministries (in dioceses, parishes, in Catholic high schools, and Catholic organizations), college campus ministries (at Catholic and non-Catholic colleges and universities), pastoral juvenil hispana and young adult ministries (in dioceses, parishes, and Catholic organizations).
Christus Vivit within the Context of the Synodal Process
To fully understand Pope Francis' Christus Vivit, it is important to have a sense of the context and process that led up to and continues to follow the exhortation. Many actions and experiences prior to and after that process began, have had significant impacts on the development and ongoing implementation of Christus Vivit.
Pope Francis launched a Synod process in October 2016, seeking to provide a Catholic response to the reality of young people in connection to faith, the community of the Church, and each one's vocational calling. That journey continued through to the Synod of Bishops in October 2018 and the subsequent release of Christus Vivit in April 2019.
From June 19-22, 2019, the Dicastery for Laity, Family and Life held, in Rome, an International Post-Synodal Forum of young adults from around the world to discuss the impact of Christus Vivit on their peers and the Church in their respective countries. Brian Rhude of the Archdiocese of Baltimore, and Brenda Noriega of the Diocese of San Bernardino represented the United States, accompanied by Paul Jarzembowski—USCCB Assistant Director of Youth and Young Adult Ministries. This International Forum featured large and small group discussions on the synodal process and Christus Vivit. According to the Dicastery, "the Forum was a space for community discernment, maintaining the synodal missionary style promoted by the Synod." More information is available in the full press release, and you can watch highlights from the Forum as well.
We have created a timeline that provides an understanding of Pope Francis' extensive research, listening, and discernment in writing Christus Vivit (many aspects of the timeline are referenced throughout the document).
With the document's release in April 2019, youth, campus, and young adult ministries and pastoral juvenil hispana are eager to explore what this means for young people in their area and in the global Church.
What's next? Think outside the box
Christus Vivit is fully realized when it is implemented in local communities. The next step in the synodal process involves every Catholic leader – and thinking beyond the norm to realize the practical implications: accompaniment of young people, support for youth and young adult protagonists, and renewal of ecclesial structures (parishes, dioceses, academic institutions, religious communities, organizations and apostolates).
Where do we start?
First, spend time studying Christus Vivit, as well as the accompanying documents, the Pre-Synod Final Document (March 2018) and the Synod of Bishops Final Document (October 2018). You can use this web page to understand these documents and help discern your role in their implementation.
Second, check our Upcoming Opportunities page frequently for national conversations (webinars, training workshops, conferences, etc.) about Christus Vivit.
Share your successes and concerns with us and we will do our best to help.
Who should read Christus Vivit?
Pope Francis intentionally addresses this exhortation as a letter "to all young people, and to the entire people of God" (3). The Holy Father is asking all Christians to not only respect and appreciate young people, but also to renew their faith with young peoples' perspectives, experiences, and insights at the center.  In particular, the following groups should consider reading Christus Vivit:
Youth and young adults (teens and those in their 20s and 30s)
Bishops and diocesan staff and boards/commissions
Pastors and parish staff and boards/commissions
Active parishioners, especially those in leadership roles in the parish community
Parents, grandparents, and families of young people
Presbyterial councils, priests, and seminarians
Leaders, members, and those in formation in consecrated religious communities
Leaders and members of Catholic organizations, apostolates, and movements
Ministry formation leaders, in seminaries, graduate schools, dioceses, and parishes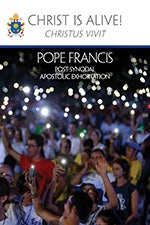 Pope Francis' Apostolic Exhortation
To Young People
"Christus vivit – Christ lives"
Released April 2, 2019
The inspiring text calls on young people to pursue a life of holiness and to grow in their commitment to their vocation.
Read the exhortation, share it with your friends and purchase your own copy.
Language Distinctions: Who is Pope Francis talking about?
Remember—cross-culturally, there are many different ways of referring to young people. From a U.S. perspective, the word "youth" means something different than what the document originally intended.
Question:    What does the word "youth" mean in Christus Vivit?  
Answer:      Women and men age 16 to 30s ("youth and young adults")
It does NOT only mean adolescents (which is what "youth" typically means in the United States), but it is a more inclusive term that extends through young adulthood. When Pope Francis and the Synod Fathers (and other Vatican officials and documents) use the word "youth" in international settings, they mean those age 16 to those in their 30s. This is how "youth" is used in other parts of the world. 
Please keep this language distinction in mind when reading Christus Vivit.
See more about the organizational structure of Christus Vivit, key quotes from the exhortation, and the synodal timeline (coming soon!)
Document Organization and Structure: See, Judge, Act Model
Reflecting the "see, judge, act" pastoral action framework (a classic style used frequently in Latin America), the synodal process and the organization of Pope Francis' Christus Vivit follows this same structure. During the Synod, the three-fold framework was also given the words, "observe, interpret, choose."
Chapters 1-3: See | Observe
Pope Francis helps us to see young people in the context of Scripture (Chapter 1), the Church (Chapter 2), and the world today (Chapter 3). This is inclusive of some key observations about youth and young adults he received through the synodal process, especially in his encounters with young people at World Youth Days in Rio (2013), Krakow (2016), and Panama (2019), with the international delegates at the Pre-Synod Meeting (March 2018), and with the young adult auditors at the Synod of Bishops (October 2018).
Chapters 4-6: Judge | Interpret
Pope Francis offers his response to the situation of young people (shared throughout Chapter 3) by providing three essential understandings of life and faith: that God loves us, that Jesus saves us through his death, and that Christ is alive through his resurrection, and gives us hope with the help of the Holy Spirit (Chapter 4). He then shares his commentary on, or assessment of, what it means to be a young person, and how youth and young adults move from dreams to fully participating in today's global society (Chapter 5). This includes his expression of the great hope he has for young people and intergenerational cohesion (Chapter 6).
Chapters 7-9: Act | Choose
Pope Francis concludes Christus Vivit by pointing to needed improvements and actions in both youth and young adult ministries and by the global Church in response to young people. He outlines ideas for parishes and academic institutions and proposes a radical ministry model beyond church walls and with youth and young adults as the chief protagonists (Chapter 7). He then provides a framework for understanding and acting on one's calling/vocation in life (Chapter 8) through an intentional process of listening, dialogue, and discernment (Chapter 9).
The entire document is grounded in hope: Christ is alive, which means that darkness and death do not have the final answer. The situation young people face today, and that the Church faces today, may seem daunting and overwhelming; but a hopeful outlook, aided by the Holy Spirit, who guides our actions, reminds us that if local communities proactively implement Christus Vivit to the fullest, new life will surely emerge.
See more about the background of Christus Vivit, key quotes from the post-synodal apostolic exhortation, and the synodal timeline (coming soon!)
CNS Stories and other coverage
CNS has been covering all pre- and post-Synod 2018 developments. Find full coverage in the Catholic News Service Special Section.
Read Christus Vivit and Young Hearts that are Witnesses of Justice and Peace, a reflection from Mike Buckler on To Go Forth, a blog from the USCCB Department of Justice, Peace & Human Development.
Frequently asked questions
What is the Synod of Bishops?
For additional details regarding the 2018 Synod, please view Synod 2018: Information and FAQs.
The Synod of Bishops is a permanent institution of the Catholic Church. It was established by Pope Paul VI in 1965, shortly after the close of the Second Vatican Council, to continue the spirit of collegiality and communion that was present at the Council. The Synod is an assembly of bishops from around the world who assist the Holy Father by providing counsel on important questions facing the Church in a manner that preserves the Church's teaching and strengthens her internal discipline (see the Vatican website and Code of Canon Law, canon 342).
Who represented the USA at the Synod?

The United States was represented by bishop delegates and ordained and lay leaders from across the United States. The bishop delegates were:
Cardinal Daniel N. DiNardo, Archdiocese of Galveston-Houston, President of the USCCB
Archbishop José H. Gomez, Archdiocese of Los Angeles, Vice President of the USCCB
Archbishop Charles J. Chaput, O.F.M. Cap., Archdiocese of Philadelphia, Chairman of the USCCB Committee on Laity, Marriage, Family Life and Youth
Bishop Frank J. Caggiano, Diocese of Bridgeport, member of the USCCB Committee on Laity, Marriage, Family Life and Youth
Auxiliary Bishop Robert E. Barron, Archdiocese of Los Angeles, Chairman of the USCCB Committee on Evangelization and Catechesis
Archbishop William C. Skurla, Metropolitan Archbishop of the Byzantine Catholic Archeparchy of Pittsburgh
Ordained and lay leaders were also present at the Synod as auditors, observers, and in supporting roles.
What was discussed at the Synod 2018?
The focus for the 2018 Synod was "Young People, the Faith, and Vocational Discernment." Discussion topics emerged from the Preparatory Document, Pre-Synodal Meeting Final Document, and the Instrumentum Laboris. The Vatican's official Synod website also has more information.
What is meant by "young people"?
The term "young people," as defined by the Synod, are those ages 16 to 29, which includes youth (adolescents) and young adults (collegians and above).
What is meant by "vocations"?
According to the Synod, "vocations" is one's calling in life, and includes marriage, consecrated life, and ordained priesthood, and in a broader sense, also focuses on the discernment of all life choices in youth and young adulthood.
How can I follow the activities of the Synod?
The USCCB will be posting on Facebook, Twitter, and Instagram throughout the Synod during the month of October. Follow them at @USCCB, and hashtag #Synod2018. Catholic News Service will also be reporting (see their coverage), as will other collaborators and media outlets.