Leadership Institute Programs - Track IV
Track IV - Year of Faith
A new series of webinars focused on the "Year of Faith" will be offered. The webinar topics and presenters were approved by the Bishops Committee on Evangelization and Catechesis.  Topics include how to make use of the Leadership Institute's resources, prayer, and vocation. Once posted, participants will be able to access the webinars online.


Webinar Info and Links
NOTE: Certificate of Completion No Longer Available


track iv - webinars

Using the Leadership Institute in a Group Setting
---
Track III of the USCCB Leadership Institute focuses on the New Evangelization and is an excellent tool for dioceses and parishes to use. This webinar shares the experience of the Diocese of Beaumont, TX in using this track with various groups through the development of questions for discussion based on the existing webinars. The practical steps of planning and implementation will be discussed.
Webinar
|
Feedback
©
2013 Dr. Lorraine DeLuca and Paul Thomas. Used with permission.
presenter
Dr. Lorraine S. DeLuca
Born and raised in Norwalk, CT, Dr. Lorraine S. DeLuca was a life-long resident of Norwalk until moving to Beaumont in 1997 to become the Director of the Office of Lifelong Catholic Formation/Education for the Diocese of Beaumont.  Previously she ministered as a PCL for sixteen years in various parishes in the Diocese of Bridgeport, CT in children and adult catechesis and the RCIA.  Dr. DeLuca received a Master of Arts in Adult Religious Education from Fordham University, Bronx, NY in 1981, and a Doctor of Education in Religion and Education from Teachers College, Columbia University, NY in 1994.   She also served on the Executive Committee and Board of the NCCL where she was elected Treasurer in 2006.
and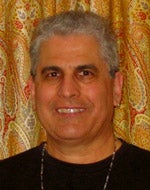 Mr. Paul J. Thomas
Born and raised in Massachusetts, Paul eventually relocated to Rhode Island where he worked for the Diocese of Providence for over 20 years as a Parish Music Director and managing an inner city drop in center. In 2003 he relocated to Beaumont, TX filling the position of Parish Social Ministry Director for Catholic Charities. Recognizing the need and opportunity to address formation, he accepted the position he currently holds as Associate Director in the Office of Lifelong Catholic Formation/Education for the Diocese of Beaumont. Paul believes that ongoing education and formation of conscience are essential for the transformation of society. Along with his formal education in music through Rhode Island College and Berklee College of Music, Paul also began his theological studies through evening courses at Providence College. He continues his own commitment to formation through the University of Dayton Virtual Learning Community for Faith Formation (VLCFF).
Professing the Creed
---
Presenter
Dr. John C. Cavadini

The New Evangelization: Why Bother?
---
There is a lot of talk in the Church today about the "new evangelization." But what exactly is it? And why, really, should we engage in it? There are many reasons given for its importance but one of the most important is rarely mentioned: many peoples' eternal salvation is at stake. In the climate of a vague "universalism" which presumes that virtually everybody will be saved, what does Vatican II really teach about this most important reality?
Webinar:
Part I
|
Part II
|
Part III
|
Feedback
© 2013 Dr. Ralph Martin. Used with permission.
Presenter
Dr. Ralph Martin
Dr. Ralph Martin is the Director of Graduate Theology Programs in the New Evangelization at Sacred Heart Major Seminary in the Archdiocese of Detroit (www.shms.edu ). He is also the President of Renewal Ministries (www.renewalministries.net ) a Catholic evangelization ministry that works in more than 30 different countries. He holds an S.T.D. from the Angelicum University in Rome. He was appointed by Pope Benedict XVI as a Consultor to the Pontifical Council for the New Evangelization and as an "expert" to the Synod of Bishops on the New Evangelization.
Praying the Lord's Prayer
---
Presenter
Dr. Dianne Marie Traflet
Dianne Marie Traflet, J.D., S.T.D., is Associate Dean and Assistant Professor of Pastoral Theology at Immaculate Conception Seminary School of Theology (ICSST) at Seton Hall University, South Orange, NJ.  The founder and co-director of the Seminary's Institute for Christian Spirituality, Dr. Traflet received her BA from Montclair State University and her JD from Seton Hall University School of Law.  She practiced law for four years while earning her MA in Catholic Theology and Pastoral Ministry from the Institute for Advanced Studies of Catholic Doctrine at St. John's University in New York.  She then studied at St. Thomas Aquinas University (the Angelicum), Rome, where she earned a licentiate and a doctorate in Sacred Theology, focusing on the life and work of St. Edith Stein.
Dr. Traflet has given numerous presentations, retreats, and days of recollection here in the United States, as well as England, Ireland, Canada and Italy, emphasizing the spirituality of Edith Stein, as well as related topics in spiritual theology.
She is the author of
Edith Stein:

 

A Spiritual Portrait,
published by Pauline Media in 2008.