Previous Moments of Mercy
---
Moments of Mercy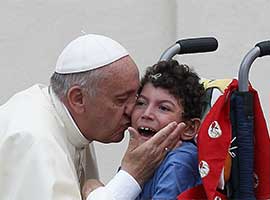 Eachmonth our Moments of Mercy offer brief reflections on mercy and concrete suggestions of how we can live out the mercy that God offers us all.  These are perfect for busy days since they help us to slow down for just a few minutes and think about the gifts God has blessed us with and how we can share them.



November 2016
Death is a difficult topic to discuss for many people, but it is something we face on a regular basis. The Church celebrates the life and memory of those who have passed from this world and reminds us of God's merciful love. There are many examples of this: at the beginning of November, the Church celebrates the Solemnity of All Saints and the Commemoration of All the Faithful Departed (All Souls); there are vigils for the deceased, funeral liturgies, rites of committal and final commendation, and prayers for the deceased and those who are mourning. All of these prayers and services help us acknowledge our grief, celebrate the life of the one who has passed away, and find solace in the loving compassion of God.
1. Throughout this month, we should commend in prayer the bodies and souls of those who have died and who may still be in need of God's mercy in purgatory (CCC, 1020-1060). Sometimes it helps to write out a list or mention specific names of those who have died. Add some of these prayers and scripture readings
to your daily prayer time.
2. In addition to praying for them, we can help those who are grieving in a tangible way. Be open to listening to someone who is grieving. You could volunteer with a bereavement ministry at your parish if it has one (this usually involves helping organize funeral liturgies and/or a small reception or luncheon afterward
for the family). In these small acts of mercy, we show others that the love of God is still present in their lives and their communities even though they are grieving.
---
Noviembre 2016
La muerte es un tema difícil de discutir para muchas personas, pero es algo que enfrentamos regularmente. La Iglesia celebra la vida y la memoria de los que han dejado este mundo y nos recuerda el amor misericordioso de Dios. Hay muchos ejemplos de esto: a principios de noviembre, la Iglesia celebra la Solemnidad de Todos los Santos y la Conmemoración de Todos los Fieles Difuntos; hay vigilias por los difuntos, liturgias funerarias, rituales de sepelio y última recomendación, y oraciones por los difuntos y los que están de luto. Todas estas oraciones y servicios nos ayudan a reconocer nuestro dolor, a celebrar
la vida de la persona que ha fallecido, y encontrar consuelo en la compasión amorosa de Dios.
1. A lo largo de este mes, debemos recomendar en oración los cuerpos y almas de los que han muerto y que todavía pueden necesitar la misericordia de Dios en el purgatorio (CIC, nos. 1020-1060). A veces es útil escribir una lista o mencionar nombres específicos de los que han muerto. Agregue algunas de estas  oraciones y lecturas bíblicas a su momento de oración diaria.
2.Además de orar por ellos, podemos ayudar a los que están de duelo de una manera tangible. Sea abierto a escuchar a alguien que está de duelo. Podría ofrecerse de voluntario en un ministerio de duelo en su parroquia si esta tiene uno (que por lo general consiste en ayudar a organizar liturgias funerarias y/o
después una pequeña recepción o almuerzo para la familia). En estos pequeños actos de misericordia mostramos a los demás que el amor de Dios sigue presente en sus vidas y sus comunidades aun cuando están de duelo.


Momentos Previos de Misericordia
Meditaciones sobre la Misericordia
---
October 2016
This Jubilee of Mercy is not the first time that Pope Francis has emphasized the need for the faithful to live their lives in a witness to the mercy of God. In Evangelii Gaudium, or The Joy of the Gospel, Pope Francis highlights the connection between mercy and continually spreading the Good News of Jesus Christ in our everyday lives. In paragraph 24 of Evangelii Gaudium, the Church is called to be "missionary disciples" as an "evangelizing community" seeking "to show mercy, the fruit of its own experience of the power of the Father's infinite mercy" (EG, no. 24). Our faith is not our own; it is ours as members of the Body of Christ, who continually testify to the truth of the Gospel through all of our actions. Just as mercy is an overarching theme for Pope Francis's pontificate and his life, we are all called to make mercy the theme of our life.
1. Throughout this month, read Evangelii Gaudium. Take note of the various places that the mercy we show others is described as a reflection of God's merciful love and compassion.
2. Share your faith with someone else. This is somewhat intimidating, but it can be done in a variety of ways since all of our words, actions, and lives should reflect the joy of God's great gift of mercy and love. Even something as simple as stating that you are a Christian can help someone recognize the connection between
your actions of compassion and your faith in Jesus Christ.
---
Octubre 2016
Este Jubileo de la Misericordia no es la primera vez que el papa Francisco ha enfatizado la necesidad de que los fieles vivan sus vidas en testimonio de la misericordia de Dios. En Evangelii Gaudium, o La alegría del Evangelio, el papa Francisco resalta la conexión entre la misericordia y la difusión permanente de la Buena Nueva de Jesucristo en nuestras vidas cotidianas. El párrafo 24 de Evangelii Gaudium señala que la Iglesia está llamada a ser "comunidad de discípulos misioneros", una "comunidad evangelizadora" que busca "brindar misericordia, fruto de haber experimentado la infinita misericordia del Padre" (EG, no. 24). Nuestra fe no es propiamente nuestra; es nuestra como miembros del Cuerpo de Cristo, que continuamente damos testimonio de la verdad del Evangelio a través de todas nuestras acciones. Del mismo modo que la misericordia es un tema central para el pontificado del papa Francisco y su vida, todos nosotros estamos llamados a hacer de la misericordia el tema de nuestra vida.
1. A lo largo de este mes, lea Evangelii Gaudium. Tome nota de los diversos lugares en que la misericordia que mostramos a los demás se describe como un reflejo del amor y compasión misericordiosos de Dios.
2. Comparta su fe con alguien más. Esto es un poco intimidante, pero se puede hacer en una variedad de formas, ya que todas nuestras palabras, acciones y vidas deben reflejar la alegría del gran don de misericordia y amor de Dios. Incluso algo tan simple como manifestar que es usted cristiano puede ayudar a alguien a reconocer la conexión entre sus acciones de compasión y su fe en Jesucristo.

Meditaciones sobre la Misericordia
---
September 2016
New situations can be intimidating, yet they are also a great opportunity to grow and express yourself. We want to make a good impression on others, whether it is at the beginning of a new school year, a new job, or just meeting someone for the first time. Likewise, when people are first turning to the Christian faith, we want them to have a positive experience of Christianity so that they can come to know the love and mercy of God. In all of our actions then, we ought to take this into consideration and model our own attitudes and actions after Christ, who is the "face of the Father's mercy" (MV, no. 1). By showing others love, mercy, and compassion, we offer them the opportunity to deepen their relationship with God.
1. Personal encounters and invitations are a great way to witness God's mercy and compassion to others. This month, try some of these out. Even little actions, like a smile, can make a big difference in the way people see you as living out your faith.

a. Eat lunch with someone you don't normally sit with.
b. Say hello to those you pass on the street, making eye contact and smiling rather than looking down at your feet.
c. Invite someone to come to church with you or to a parish activity.

Previous Moments of Mercy
---
Septiembre 2016

Las situaciones nuevas pueden ser intimidantes, y sin embargo son también una gran oportunidad de crecer y expresarse. Queremos causar una buena impresión en los demás, sea al comienzo de un nuevo año escolar, un nuevo trabajo, o simplemente conocer a alguien por primera vez. Del mismo modo, cuando la gente se vuelve por primera vez a la fe cristiana, queremos que tenga una experiencia positiva del cristianismo, para que pueda llegar a conocer el amor y misericordia
de Dios. En todas nuestras acciones, entonces, debemos tomar esto en consideración y modelar nuestras propias actitudes y acciones según Cristo, que es el "rostro de la misericordia del Padre" (MV, no. 1). Al mostrar a otros amor, misericordia y compasión, les ofrecemos la oportunidad de profundizar su relación con Dios.

1. Los encuentros e invitaciones personales son una gran manera de testimoniar la misericordia y compasión de Dios a los demás. Este mes, trate de hacer alguna de estas cosas. Incluso las acciones pequeñas, como una sonrisa, pueden causar un gran impacto en la forma en que la gente lo ve a usted vivir su fe.

a. Almuerce con alguien con quien normalmente no se sienta.
b. Salude a la gente con quien se cruza en la calle, haciendo contacto visual y sonriendo en lugar de mirarse los pies.
c. Invite a alguien a acudir a la iglesia con usted o a una actividad parroquial.

Momentos Previos de Misericordia
Meditaciones sobre la Misericordia
---
 August 2016
Mercy is more than just forgiving people; it is about considering the needs of others and responding to them in a loving and compassionate manner. It is a call to look beyond ourselves to the way in which we interact with the world as Christians. Pope Francis encourages us to "return to the basics and to bear the weaknesses and struggles of our brothers and sisters. Mercy is the force that reawakens us to new life and instills in us the courage to look to the future with hope" (MV, no. 10). We have hope in our salvation by our faith in Christ. However, not everyone shares
in this hope, so we need to spread this hope by becoming "merciful like the Father" (MV, no. 13).
1. Sometimes, having hope can be challenging when we are faced with difficulties in life. This month, pray for someone who is going through a difficult time, that they might find hope and peace in God.
2. Back to school time! Though it is nice to have new clothes and new supplies each year, consider reusing what you already have. Instead of buying new things for yourself, use that money to buy school supplies for those who are in need. See if your local community already has a drive for school supplies to donate to, and if not, consider starting one.
Meditations on Mercy
---
Agosto 2016
La misericordia es más que sólo perdonar a la gente; es considerar las necesidades de los demás y responder a ellas de una manera amorosa y compasiva. Es un llamado a mirar más allá de nosotros mismos, a la forma en que interactuamos con el mundo como cristianos. El papa Francisco nos anima a "retornar a lo esencial
para hacernos cargo de las debilidades y dificultades de nuestros hermanos. El perdón es una fuerza que resucita a una vida nueva e infunde el valor para mirar el futuro con esperanza" (MV, no. 10). Tenemos esperanza en nuestra salvación por nuestra fe en Cristo. Sin embargo, no todo el mundo comparte esta esperanza, por lo que debemos difundir esta esperanza haciéndonos "misericordiosos como el Padre" (MV, no. 13).

1. A veces, tener esperanza puede constituir un desafío cuando nos enfrentamos a dificultades en la vida. Este mes, ore por alguien que está pasando por un momento difícil, para que pueda encontrar esperanza y paz en Dios.
2. ¡Vuelva a la época de la escuela! Aunque es bonito tener ropa nueva y nuevos útiles cada año, considere reutilizar lo que ya tiene. En lugar de comprarse cosas nuevas, utilice ese dinero para comprar útiles escolares para los necesitados. Vea si su comunidad local tiene ya una campaña de donación de útiles escolares,
y si no, considere lanzar una.
Meditaciones sobre la Misericordia
---
May 2016
The prayers we offer have a great impact on our lives and the lives of those around us. In some situations, the most we can do for someone is to pray for them, especially if they live far away from us. However, prayer is by no means the least o fwhat we do. It is powerful and effective! One way we can pray for those in need is by praying with the Blessed Virgin Mary and asking her to pray for us (MV, no. 24). There are many prayers that are part of the Church's tradition that help us pray with Mary. In living out God's mercy this month,every time you pray one of these prayers, pray it with a particular intention of compassionate love and mercy for a particular person or situation in your life or for a troubled area of your community.
1.
Memorare
2.
Angelus
3.
Hail Mary
4.
The Rosary
5.
Queen Of Heaven (Regina Caeli)
6.
Hail Holy Queen (Salve Regina)
---
Mayo 2016

Las oraciones que ofrecemos tienen un gran impacto en nuestras vidas y las vidas de los que nos rodean. En algunas situaciones, lo más que podemos hacer por una persona es orar por ella, especialmente si vive lejos de nosotros. Sin embargo, la oración no es en absoluto lo más pequeño de lo que hacemos. ¡Es potente y eficaz!
Una forma en que podemos orar por los necesitados es orando con la Santísima Virgen María y pidiéndole que ore por nosotros (MV, no. 24). Hay muchas oraciones que son parte de la tradición de la Iglesia que nos ayudan a orar con María. Al vivir la misericordia de Dios este mes, cada vez que rece una de estas oraciones, récela con una intención particular de amor y misericordia compasivos por una persona o situación en particular en su vida o por un área con problemas de su comunidad.

1. Memorare
2. Ángelus
3. Ave María
4. El Rosario
5. Reina del cielo (Regina Coeli)
6. Dios te salve, Reina (Salve Regina)

---
 April 2016
While Lent was a penitential season, the Easter season (which lasts longer than the Lenten season!) reminds us of the joy we have in the merciful love of God. The most obvious example of God's merciful love was shown to us in the Paschal Mystery of Christ. The culmination of this Paschal Mystery, following the suffering and
Death of Christ, is his Resurrection, which is our assurance that Christ triumphs over death. Not only do we rejoice in this eternal victory, we also rejoice that, through our faith and participation in the sacraments, we can share in Christ's triumph as God extends his salvific mercy toward us. The Jubilee of Mercy reminds us that God "delights in mercy" (Mi 7:18), and so should we!
1. At the end of the day, spend some time in reflection, on your own or with others, rejoicing in the love and mercy that was shown to you by God and others today. Even if you had a rough day, where did you see God's love present in your life?
2. Read through Pope Francis's letter about this Jubilee Year, Misericordiae Vultus. Notice the different ways in which he relates mercy to the joy of living our Christian faith.
---
Abril 2016
Si bien la Cuaresma fue un tiempo penitencial, el tiempo de Pascua (¡que dura más que el tiempo de Cuaresma!) nos recuerda la alegría que tenemos en el amor misericordioso de Dios. El ejemplo más obvio del amor misericordioso de Dios se nos mostró en el Misterio Pascual de Cristo. La culminación de este Misterio Pascual, que sigue al sufrimiento y Muerte de Cristo, es su Resurrección, que es nuestra garantía de que Cristo triunfa sobre la muerte. No sólo nos regocijamos en esta eterna victoria, sino que también nos regocijamos de que, a través de nuestra fe y participación en los sacramentos, podemos compartir el triunfo de Cristo
mientras Dios extiende su misericordia salvífica sobre nosotros. El Jubileo de la Misericordia nos recuerda que Dios "se complace en ser misericordioso" (Mi 7:18), ¡y así debemos hacerlo nosotros!

1. Al final del día, pase algún tiempo en reflexión, por su cuenta o con otros, regocijándose en el amor y misericordia que le mostraron Dios y otros hoy. Incluso si tuvo un mal día, ¿dónde vio el amor de Dios presente en su vida? 
2. Lea la carta del papa Francisco sobre este Año Jubilar, Misericordiae Vultus. Observe las diferentes formas en que relaciona la misericordia con la alegría de vivir nuestra fe cristiana. 
---
March 2016
Though we often think of the Sacrament of Penance as a highly individualized and private sacrament, we must not forget its communal dimensions. In this sacrament, we are not only reconciling ourselves with God but also reconciling ourselves with our community and the Church as a whole. Every time we sin, we distance
ourselves from God and neighbor. We may not have sinned against a particular person, but when our relationship with God is broken, our relationships with others suffer since we no longer have God as our guiding light. This sacrament helps us renew our lives to be witnesses of the Good News of Christ and builds us up as members of the Body of Christ.
1. Invite somebody, perhaps someone from a small faith-sharing group at your parish or a friend, to go with you to a reconciliation service at your parish this month before the celebration of Easter.
2. Begin to make amends with someone you are in conflict with. A perfect resolution does not have to occur, but approaching the conflict with an attitude of mercy and compassion will help ease the tension and help you to look on this person with the love of God.
---
Marzo 2016
Aunque a menudo pensamos en el Sacramento de la Penitencia como un sacramento altamente individualizado y privado, no debemos olvidar sus dimensiones comunitarias. En este sacramento no sólo nos estamos reconciliando con Dios, sino que también nos estamos reconciliando con nuestra comunidad y la Iglesia en su conjunto. Cada vez que pecamos, nos distanciamos de Dios y del prójimo. Puede que no hayamos pecado contra una persona en particular, pero cuando nuestra
relación con Dios se rompe, nuestras relaciones con los demás sufren, pues ya no tenemos a Dios como la luz que nos guía. Este sacramento nos ayuda a renovar nuestras vidas para ser testigos de la Buena Nueva de Cristo y nos edifica como miembros del Cuerpo de Cristo.
1. Invite a una persona, tal vez alguien de un pequeño grupo de compartición de la fe en su parroquia o un amigo, a que lo acompañe a un servicio de reconciliación en su parroquia este mes antes de la celebración de la Pascua.
2. Comience a hacer las paces con alguien con quien esté en conflicto. No tiene que haber una resolución perfecta, pero acercarse al conflicto con una actitud de misericordia y compasión ayudará a aliviar la tensión y le ayudará a mirar a esta persona con el amor de Dios.
---
February 2016
As Catholics, we take up the Lenten practices of prayer, fasting, and almsgiving every year. These practices help us remember the merciful love and compassion that God shows all people. Participating in these practices, we journey toward repentance with our community and God and toward the celebration of the Paschal Mystery
of our Lord. We do not make this journey alone. 
The whole Church prepares for the celebration, and together, along with those who are preparing to enter the Church at the Easter Vigil, we try to live more faithfully God's call to be merciful, loving, and compassionate to those around us. Our acts of love through sacrifice and prayer are a
tangible witness of God's love to those around us.

1. Spend some time reflecting about why you choose to participate in the prayer, fasting, and almsgiving of the Church during this Lenten season. Next time someone asks you why you aren't eating the chicken on Friday in the lunchroom, you'll be better prepared to share your belief in God who is merciful and compassionate
2. Share with someone what your Lenten practices will be this year. This is not to brag about how good you are at following Christ; rather, it allows us to each have something of an "accountability partner" so that we can strive to be a more credible witness to our faith.
---
Febrero 2016

Como católicos, asumimos las prácticas cuaresmales de la oración, el ayuno y la limosna cada año. Estas prácticas nos ayudan a recordar el amor y compasión misericordiosos que Dios muestra a todas las personas. Participando en estas prácticas, viajamos hacia el arrepentimiento ante nuestra comunidad y Dios y hacia la celebración del Misterio Pascual de nuestro Señor. No hacemos este viaje solos.

Toda la Iglesia se prepara para la celebración, y conjuntamente, junto con los que se preparan para entrar en la Iglesia en la Vigilia Pascual, tratamos de vivir más fielmente el llamado de Dios a ser misericordiosos, amorosos y compasivos con los que nos rodean. Nuestros actos de amor a través del sacrificio y la oración son un testimonio tangible del amor de Dios a los que nos rodean.

1. Dedique algún tiempo a reflexionar sobre por qué decide participar en la oración, el ayuno y la limosna de la Iglesia durante este tiempo de Cuaresma. La próxima vez que alguien le pregunte por qué no está comiendo el pollo el viernes en el comedor, estará mejor preparado para compartir su fe en Dios, que es misericordioso
y compasivo.
2. Comparta con alguien cuáles serán sus prácticas cuaresmales este año. Esto no es para presumir de lo bueno que es siguiendo a Cristo; sino que nos permite tener algo así como un compañero a quien "rendir cuentas", para que podamos esforzarnos en ser testigos más creíbles de nuestra fe.
---
January 2016
When we think about pilgrimages, we probably think about medieval people walking great distances to awe-inspiring churches. Yet, Pope Francis describes what is at the heart of pilgrimage and encourages us to each make one during this Jubilee of Mercy. He writes that "life itself is a pilgrimage, and the human being is a viator, a
pilgrim traveling along the road, making his way to the desired destination" (MV, no. 14). Pope Francis encourages each of us to make a pilgrimage to the Holy Door in our diocese some time during this Jubilee of Mercy. Being committed to the journey of pilgrimage helps us focus our attention on our spiritual journey and walk closer
with God. Similarly, our daily journey to live out the mercy of God "is also a goal to reach and requires dedication and sacrifice" (MV, no. 14).
1. With your family or a parish group, plan a pilgrimage to the Holy Door within your diocese for some time during this year.

2. Each day, give yourself one small goal of mercy, compassion, and love to journey toward—for example, being kind to a difficult coworker—so that, by those actions, you are able to walk closer to God on the pilgrimage of Christian life.

---
Enero 2016
Cuando pensamos en las peregrinaciones, probablemente pensamos en gente medieval caminando grandes distancias para visitar imponentes iglesias. Sin embargo, el papa Francisco describe lo que está en el centro de la peregrinación y nos anima a cada uno a hacer una durante este Jubileo de la Misericordia. El Santo Padre escribe que "la vida es una peregrinación y el ser humano es viator, un peregrino que recorre su camino hasta alcanzar la meta anhelada" (MV, no. 14). El papa
Francisco nos anima a cada uno de nosotros a hacer una peregrinación a la Puerta Santa en nuestra diócesis en algún momento durante este Jubileo de la Misericordia. Comprometernos con el viaje de peregrinación nos ayuda a centrar nuestra atención en nuestro viaje espiritual y caminar más cerca con Dios. Del mismo modo, nuestro viaje diario para vivir la misericordia de Dios "es una meta por alcanzar y que requiere compromiso y sacrificio" (MV, no. 14).
1. Con su familia o un grupo parroquial, planifique una peregrinación a la Puerta Santa dentro de su diócesis en algún momento durante
este año.
2. Cada día, dese una pequeña meta de misericordia, compasión y amor hacia la cual viajar —por ejemplo, ser amable con un compañero de trabajo difícil—, de modo que, por esas acciones, pueda caminar más cerca de Dios en la peregrinación de la vida cristiana.
---
December 2015
In Misericordiae Vultus, Pope Francis asks that we strive for our lives to be rooted in the mercy of God. One way we can grow in this mercy is by being receptive to the message of mercy and love that is proclaimed in the Scriptures and in the Christian witness to faith in Jesus (MV, no. 13).
1. Open yourself to listen to and hear the Word of God.
          a. Prepare your mind and your heart by entering into a quiet space and giving yourself time for reflection. This can be done individually or with others,
such as your family or a small group in your parish.


2. Ask God to open your heart to receive his words of love into your home

3. Read or listen to the Word of God.
          a. For example, read a passage from the Bible, participate in small-group lectio divina, or attend Mass and pay close attention to the readings during the
Liturgy of the Word.
4. Reflect on/discuss what this passage reveals to you about God's mercy and love.
5. Come up with one concrete way to incorporate this revelation of mercy into your daily actions or prayer life.

---
Diciembre 2015

En Misericordiae Vultus, el papa Francisco pide que nos esforcemos para que nuestras vidas se arraiguen en la misericordia de Dios. Una forma en que podemos crecer en esta misericordia es siendo receptivos al mensaje de misericordia y amor que se anuncia en las Escrituras y en el testimonio cristiano de la fe en Jesús (MV, no. 13).
1. Ábrase a escuchar y oír la Palabra de Dios.
           a. Prepare su mente y su corazón entrando en un espacio tranquilo y dándose tiempo para la reflexión. Esto se puede hacer de forma individual o con otros,
por ejemplo, su familia o un grupo pequeño de su parroquia.

2. Pídale a Dios que le abra su corazón para recibir sus palabras de amor en su vida. 
3. Lea o escuche la Palabra de Dios.
          a. Por ejemplo, lea un pasaje de la Biblia, participe en lectio divina en grupos pequeños, o asista a Misa y preste mucha atención a las lecturas durante la Liturgia de la Palabra.
4. Reflexione o discuta acerca de lo que este pasaje le revela sobre la misericordia y amor de Dios.
5. Conciba una forma concreta de incorporar esta revelación de la misericordia en sus acciones diarias o vida de oración.
---