New Evangelization Toolkit
"The New Evangelization is a call to each personto deepen his or her own faith, have confidence in the Gospel, and possess a willingness to share the Gospel. It is a personal encounter with the person of Jesus, which brings peace and joy." — Disciples Called to Witness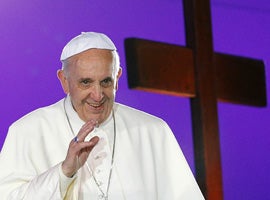 The USCCB New Evangelization Toolkit will present strategies for implementing the New Evangelization, focusing on planning, resources and activities designed to assist the Church in the United States on its journey towards the New Evangelization.
The Toolkit will follow the roadmap outlined in the 2013-2016 USCCB Strategic Plan entitled: "Journey with Christ: Faith, Worship, Witness" and expands on the statement of the USCCB Committee on Evangelization and Catechesis, Disciples Called to Witness: The New Evangelization. 
This Toolkit will be primarily web-based and filled with resources for diocesan and parish based planning and implementation of New Evangelization initiatives. It is not a program, but rather a comprehensive collection of USCCB resources to assist in fostering the New Evangelization. The online New Evangelization Toolkit will be supplemented by a printed planning guide for the New Evangelization. 
The New Evangelization Toolkit resources are designed for pastoral leaders who aim to develop, enhance or review their own local strategies for implementing the New Evangelization. The New Evangelization Toolkit has five sections:
Theological Reflection
Guiding Principles for Pastoral Ministry 
A Planning Framework for Discipleship-Focused Pastoral Ministry
A Five-Step Planning Process to be a new evangelization parish
Practical Resources to support the planning process
---
Pastoral Planning for the New Evangelization: An Introduction
Insert content from E/C to be approved by their committee in March

---
New Evangelization Resources
The Church: The Community of the New Evangelization
The Parish: The Neighborhood of the New Evangelization
Marriage and Family: The Home of the New Evangelization
Society and Culture: Transformed by the New Evangelization

Catechists and Teachers as Agents of the New Evangelization—resources developed for Catechetical Sunday 2012
Evangelii Gaudium - The Joy of the Gospel

Prayer for the New Evangelization
The New Evangelization and Social Justice
Using the New Media for the New Evangelization
——
Address Given by Bishop John Wester, Chair of the USCCB Communications Committee at the USCCB General Assembly Meeting, June 2012