Here is a selection of members of the Ordination Class of 2014. 
Below are their responses to the question: "People might be surprised to know..."





"I considered a vocation to the priesthood at age 15, but decided on College and a Business Career.  The feeling of priesthood never left my heart and some 30 years after first hearing the call I left my career and entered the Seminary."
Fr. Jeffrey Archer
Boston
***

"I am an eagle scout who first visited a seminary in the fourth grade."
Fr. Christopher Barkhausen
Paterson
***
"I was a gang member before encountering Jesus."
Fr. David Dufresne
Arlington
***

"I was actively involved in Greek Life during my four years at the University of Connecticut, serving as president of my college fraternity."
Fr. Jonathan Ficara
Norwich
***

"I am a rocket scientist."
Fr. Dan Folwaczny
Chicago
***
"Before I entered the seminary, I studied classical singing (opera) at the undergraduate and graduate levels in order to become an opera singer, and then I switched to studying systematic theology at the graduate and post-graduate levels. I am also a convert to the Catholic faith, and my grandfather was a Jewish Rabbi in the conservative branch of Judaism."
Fr. William Goldin
Orange
***

"I was the president of my college fraternity and I attended daily mass every day of my presidency year."
Fr. Richard Goodin, OFM
Order of Friars Minor, St. John the Baptist Province
***
"I am an adult convert to Catholicism having been unchurched until the RCIA program at Virginia Tech's Newman Community."
Fr. Robert Greer, OP
Order of Preachers, Province of St. Albert the Great
***
"When I was in the second year of college, friends invited me to visit a monastery for the first time in my life. I did not know about religious life at all. The visit was so powerful that it changed my life since then."
Fr. Khoa Hoang
The Order of Carmelites
***
"I spent 10 years in the US Navy and have been to 132 cities in 18 different countries."
Fr. Keith Kenney
Phoenix
***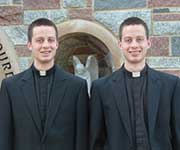 "I have an identical twin brother who will also be ordained a priest with me for the Diocese of Lansing." –Fr. Todd
Fr. Todd
and
Fr. Gary Koenigsknecht
Lansing
***

"I considered a vocation to the Franciscans. I've run several marathons including Boston & Marine Corps, still run almost daily, and continue to run with former high school & college teammates whenever I get the opportunity."
Fr. Ryan Lerner
Hartford
***

"I have an older brother who is a priest for the same Archdiocese!"
Fr. David Marcotte
Indianapolis
***

"I was a war correspondent, had a bit acting part in
Schindler's List
, lived abroad for about dozen years (Poland, Germany, Belgium), had a couple encounters with Pope St. John Paul II and would occasionally tell people over a span of several decades that one day I would be a priest."
Fr. Gregory Piatt
Detroit
***

"I would not have been able to be ordained without the policy change "Deferred Action for Childhood Arrivals" going into effect a few months prior to my diaconate ordination. I am what some call a DREAMer and I was given a chance to discern by supportive bishops and vocation directors who trusted that God would provide a way to bring me to ordination if it was His will. I am thankful for their faith in me and in God."
Fr. Reybert Pineda
Atlanta
***
"I was a professional tap dancer before becoming a priest."
Fr. David Rider
New York
***
"I wrote software for a military satellite communications system and missile defense radar before I entered the Jesuits, but enjoyed the work I did as a volunteer at my parish more than writing code. Then as a Jesuit I helped to found a website (thejesuitpost.org) and ended up writing code again, but this time for the sake of the Kingdom."
Fr. Samuel Sawyer
Society of Jesus
***
"Since the age of 5 I felt called to serve God as a priest. My idea of the priesthood has changed so much in the past 15 years. All I can say is that the commitment to serve Christ needs to be renewed every day."
Fr. Leonel Varela, OCD
Discalced Carmelites, Western Province
***

"I played a year of college football and spent a decade as a competitive powerlifter. In that time I won a national title in my age and weight group as well as two silver medals, and set several state records and one American Record."
Fr. Adam Wilczak
Kansas City (Kansas)
***

"I am a part of band, called YOLO. We are a group of seminarians who go around taking popular secular music and putting it within a religious context. We say YOLO (You only live once) because many teens and young adults use that as a reason to do whatever they want, even if it is contrary to what the Church encourages. However, we say you only live once, so go out and preach the Gospel!"
Fr. Bradley Zamora
Chicago