United States Naval Vessels Named for Catholic Military Chaplains
The bravery of four Catholic chaplains in the line of duty has been recognized by U.S. Navy vessels named in their honor. The stories of the chaplain heroes and their namesake ships follow.
Father Aloysius H. Schmitt and the USS Schmitt

Aloysius H. Schmitt was born in St. Lucas,Iowa on December 4, 1909, and was appointed acting chaplain with the rank of Lieutenant (Junior Grade) on June 28, 1939.  Serving on his first sea tour, he was hearing confessions on board the battleship USS Oklahoma when the Japanese attacked Pearl Harbor on  December 7, 1941.  When the ship capsized, he was entrapped along with several other members of the crew in a compartment where only a small porthole provided a means of escape.  He assisted others through the porthole, giving up his own chance to escape, so that more men might be rescued. He received the Navy and Marine Corps Medal posthumously for his courage and self-sacrifice.  St. Francis Xavier Chapel, erected at Camp Lejeune in 1942, was dedicated in his memory.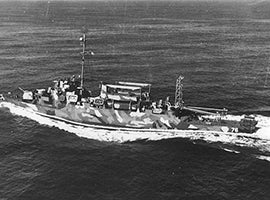 The destroyer escort USS SCHMITT was laid down on  February 22, 1943, launched on May 29, 1943, and was commissioned on July 24, 1943.  The USS Schmitt was decommissioned and placed in reserve on June 28,1949 and struck from the Navy list on May 1,1967.



Father Joseph T. O'Callahan and the USS O'Callahan

Joseph T. O'Callahan was born in Boston, Massachusetts on May 14, 1905. He received his training for the Roman Catholic priesthood at St. Andrews College, Poughkeepsie, New York and at Weston School of Theology, Cambridge, Massachusetts.  Prior to his commissioning as a Navy chaplain on August 7, 1940, he was head of the mathematics department at Holy Cross College.  His earlier duty stations included the Naval Air Station, Pensacola, Florida, the USS Ranger, and Naval Air Station, Hawaii.
Chaplain O'Callahan was the Senior Chaplain aboard the aircraft carrier USS Franklin when the Japanese attacked it off the coast of Kobe, Japan, on  March 19, 1945.  After the ship received at least two well-placed bomb hits, fuel and ammunition began exploding and fires were rampant.  The final casualty count listed 341 dead, 431 missing and 300 wounded.  Captain L.E. Gehres, commanding officer of the carrier, saw Chaplain O'Callahan manning a hose which laid water on bombs so they would not explode, throwing hot ammunition overboard, giving last rites of his church to the dying, organizing fire fighters, and performing other acts of courage. Captain Gehres exclaimed, "O'Callahan is the bravest man I've ever seen in my life."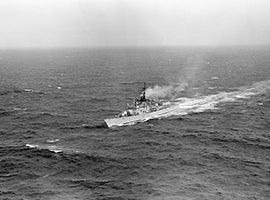 Chaplain O'Callahan received the Purple Heart for wounds he sustained that day.  He and three other heroes of the war were presented the Congressional Medal of Honor by President Harry S. Truman.  He was the first chaplain of any of the armed services to be so honored.  He was released from active duty 12 November 1946 to resume his teaching duties and died in 1964.
The destroyer escort USS O'Callahan  was laid down on February 19, 1964 and launched on  October 20, 1965. Chaplain O'Callahan's sister, Sister Rose Marie O'Callahan, was the sponsor, the first nun tosponsora U.S. Navy ship. The commissioning took place July 13, 1968, at the Naval Shipyard in Boston, Massachusetts.  The USS O'Callahan had its shakedown cruise out of San Diego and later operated largely in anti-submarine training and reconnaissance in the Western Pacific.  In 1982-83, the ship had an eight-month deployment in the Indian Ocean.  The USS O'Callahan was decommissioned on  December 20,1988.
Father Vincent R. Capodanno and the USS Capodanno

Vincent R. Capodanno was born in Richmond County, New York, on February 13, 1929.  He was an avid swimmer and a great sports enthusiast.  After receiving his training at Fordham University in New York City, Maryknoll Seminary College in Glen Ellyn, Illinois, and Maryknoll Seminaries in Bedford, Massachusetts and New York City, New York, he was ordained on June 7, 1957 by Francis Cardinal Spellman, Archbishop of New York and Military Vicar of the Roman Catholic Military Ordinariate.  Shortly thereafter, he began an eight-year period of service in Taiwan and Hong Kong under the auspices of the Catholic Foreign Mission Society.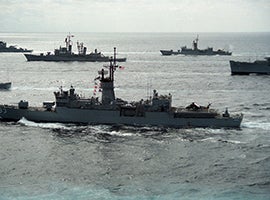 Chaplain Capodanno received his commission with the rank of Lieutenant on  December 28, 1965.  Having requested duty with Marines in Vietnam, he joined the First Marine Division in 1966 as a battalion chaplain.  He extended his one-year tour by six months in order to continue his work with the men.  While seeking to aid a wounded corpsman, he was fatally wounded on September 4, 1967 by enemy sniper fire in the Quang Tin Province.  He was posthumously awarded the Medal of Honor "for conspicuous gallantry and intrepidity at risk of his life above and beyond the call of duty...."  He had previously been awarded the Bronze Star Medal for bravery under battle conditions.
The destroyer escort USS Capodanno keel was laid down on February 25, 1972; the ship was christened and launched on  October 21, 1972 and commissioned on November 17, 1973.  The USS Capodanno was designed for optimum performance in anti-submarine warfare.  Deployments included operations in the Western Atlantic, West Africa, the Mediterranean, and South America.  The USS Capodanno was decommissioned on  July 30, 1993.
Father John Francis Laboon, SJ and the USS Laboon

John Francis Laboon, Jr., a Pittsburgh, Pennsylvania, native, born  April 11, 1921, was a member of the Class of 1944 at the U.S. Naval Academy and a distinguished athlete.  In World War II, Ensign Laboon was awarded the Silver Star for bravery for diving from his submarine, the USS PETO, to rescue a downed aviator while under heavy fire. Lieutenant Laboon left the Navy after the war to enter the Jesuits.  With the Navy never far from his thoughts, he returned to his beloved "blue and gold" as a chaplain in 1958.  For the next twenty-one years, he served the Navy-Marine Corps team in virtually every community and location including tours in Alaska, Hawaii, Japan, and Vietnam, where he received the Legion of Merit with Combat "V" for his fearless action as battlefield chaplain.  He was the first chaplain assigned to a Polaris Submarine Squadron and Senior Catholic Chaplain at the Naval Academy.  Captain Laboon retired in in 1979 as Fleet Chaplain, U.S. Atlantic Fleet and died in 1988.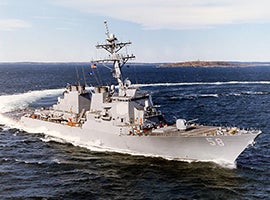 The launching of the guided missile destroyer Laboon nicknamed the  "Fearless 58" took place on  February 20, 1993,  at Bath Iron Works. The highlight of the event was the presence of the honoree's three sisters and brother. Christening the ship were sisters De Lellis, Rosemary, and Joan, all members of the Sisters of Mercy. Rev. Joseph D. Laboon of the V.A. Medical Center of New Orleans offered the invocation.  Former Chief of Navy Chaplains and the then-current Archbishop of New York, Cardinal John O'Connor, offered remarks. The commissioning of the USS Laboon  took place on March 18,1995 in Norfolk, VA.
Throughout a lifetime of service to God and Country, Chaplain Laboon was an extraordinary example of dedication to Sailors and Marines everywhere.  
----Father Captain Michael J. Parisi, Chaplain Corps, U.S. Navy