In celebration of World Day for Consecrated Life, the Secretariat of Clergy, Consecrated Life and Vocations is pleased to offer the results of the  Profession Class of 2021 Survey  conducted by the Center for Applied Research in the Apostolate. This survey was taken by men and women religious who professed their perpetual vows that year. 
Meet the Profession Class of 2021
We asked some of our newly professed men and women religious to share something about themselves that others may find surprising. Their answers below provide some insight into how each discovered their vocational call. Congratulations to the Profession Class of 2021! 
Sr. Ashley Marie Refugio
Mercedarian Sisters of the Blessed Sacrament
"Before entering religious life, I worked at the Greater Cleveland Aquarium for seven years and I even scuba dived with sharks! I went to school with our sisters and now my former principal is my superior!"
Sr. Margaret Mary Zieminski
Marian Sisters of Santa Rosa
"Before entering, I wanted to design and make a line of modest wedding dresses. Jesus fulfilled that dream, but not in the way I expected. As our community's seamstress, I do get to make wedding dresses...our habits, for Brides of Christ."
Br. Agustín López González
Order of St. Benedict
"I earned a degree in Computer Science and a MBA and worked professionally for 14 years. But the Lord had other plans for me. I am a religious man now mainly thanks to my mom's prayers, the intercession of St. Benedict and Blessed María Inés Teresa of the Blessed Sacrament and my growing desire to seek God."
Br. Matthew Hegemann
Order of Cistercians 
"I didn't consider a religious, priestly vocation until my senior year of college. I had plans of marrying, but God had other plans in store!"
Rev. Br. Aloysius Saransin
Order of St. Benedict
"During my time in seminary and religious formation, I was given permission from my Abbot to renew my license as an Emergency Medical Technician and volunteer with the local fire department as an on-call emergency responder."
Sr. Mary Rose Allen
Dominican Monastery of St. Jude
"Even though I am very extroverted, love to travel, snowboard, go to the beach, and sometimes host creative themed parties - Our Lord called me for Himself and through a great love of adoration of the Blessed Sacrament and desire to live totally for God after the beautiful pattern of Our Lady's own fiat!"
Sr. Peter Marie Lewandowski
School Sisters of Christ the King
"Growing up, I never considered a call to religious life because I didn't realize that Jesus was real. I was very involved with sports and enjoyed a lot of other things except anything that had to do with my religion. When I went to college, I met a group of people who were a joy to be around, and being around them taught me that Jesus is real and that He had a call for my life."
Rev. Br. John Siyumba
Maryknoll Fathers & Brothers
"I taught the topic of evolution to my high school biology students before I began my formation for the Catholic priesthood. The goodness and steadfastness of God has been continuously revealed to me through the people of the Americas. I'm confirmed in my desire to offer myself for God's people."
Br. Jacob Berns
Order of St. Benedict
"I found encouragement for my vocation in some unlikely places. Repetitive work at a licorice factory gave me insight into contemplative prayer, and I encountered God in practicing organ. I have enjoyed discovering how vocation intersects with computer programming, running, tailoring, and accounting."
Sr. Mary Rachel Craig
Society of Our Lady of the Most Holy Trinity
"I grew up as a child in the Society of Our Lady, as my parents were Lay Members. I entered the convent when I was 18, after wanting to be a sister since the age of six. I am currently serving as a missionary sister in the country of Belize and am (almost) fluent in Spanish."
Br. Timothy Blanchard
Franciscan Friars Minor Conventual
"I had looked into the Airforce prior to joining the Franciscans. There was a deep desire in me for community life and through a great deal of volunteering and speaking with a few wisdom figures, I found it had to be with the Franciscans."
Br. John-Mary Winter
Discalced Carmelite Friars
"I have a lot of interesting hobbies. I love to run marathons, brew beer, play the organ, and bake bread. I am thankful that God is helping me to use my interests and gifts to serve my religious community and the Church."
Br. Von Erick M. Sandoval
Carmelite Friars
"I have always felt the call to religious life at a very young age. I entered the Carmelites pre-novitiate program after two years in college. I have lived in a few places such as the Philippines, Dubai, Georgia, and Indiana before joining the Carmelites in the East Coast."
Sr. Theresa Nguyen
Holy Spirit Missionary Sisters
"I have worked many years in a small community, but my heart and spirit is called to serve those who are most in need to receive the good news of God's all-inclusive love, those who live in poverty, exclusion, and deprivation. My true calling is solidarity with the poor and service to others."
Sr. Kelly Moline
Dominican Sisters of Springfield, Illinois
"I love roller coasters. I am a night owl. I didn't drink coffee until I entered religious life."
Br. Rafael Vargas
Salesians of St. John Bosco
"I love to dance all types of styles, especially breakdance. I used to be very shy growing up. After four years of running cross country and track in high school I was able to run a 4:19 mile and 9:13 two-mile."
Sr. Mary John Pultorak
Sisters of St. Francis of Perpetual Adoration
"I met our Sisters while studying Theology and French at the same university they attended. It wasn't until after I entered our order that we learned that my mom was born at one of our former hospitals! God certainly plans all the little details we can't even imagine!"
Br. Patrick Cahill
Society of Mary
"I never considered myself very religious, but God worked on my heart in most surprising ways. God called me in a traditional way; I met the Brothers as a high school student, and I thought, "Hey, maybe I could do that." God has been so good!"
Br. Juan Macias Marquez
Order of Preachers
"I played football in high school, I love to hunt, and received an engineering degree before entering the Dominicans."
Sr. Joni Luna
Sisters of Providence
"I sometimes identified myself as Atheist growing up because it made it easier than explaining why I didn't attend Church. I am the oldest of 42 grandchildren on my mother's side. I thought about becoming a sister from the age of 12 but never told anyone."
Sr. Oanh Vo
Handmaids of the Sacred Heart of Jesus
"I waited for 10 years from the time I felt the calling to the time I entered religious life. The waiting was not wasted at all! I have five brothers and I am the only daughter."
Sr. Miriam Fidelis Reed
Religious Sisters of Mercy of Alma, Michigan
"I was a writer and editor in Catholic journalism before entering religious life. My most interesting experience was going to Cuba before the visit of St. John Paul II to see how the country was preparing for the Holy Father's visit.. I never imagined then I would one day be a religious sister!"
Sr. Mary Bethany Mansfield
Dominican Sisters of Mary, Mother of the Eucharist
"I was first drawn to the Dominican Order because of the beautiful black and white habit. Saint Dominic claimed me as his daughter for reasons running far deeper than aesthetic affinity, but the Lord can work through and fulfill even such surface-level desires in the hundred-fold of His gift!" 
Br. Thien Hoang
The Redemptorists 
"My favorite drink is coffee. My favorite pastime is coffee - and until I've had my first cup - having a conversation with me is to engage in risky business."
Sr. Cecilia Klein
Dominican Sisters of St. Cecilia
"I became a religious sister right out of high school, after only having discerned for 8 months. People are always surprised that I could enter so quickly. I can only reply that "when the Lord calls, you answer!"
Sr. Karol Ann Hoefer
Sisters of St. Francis of Perpetual Adoration
"Since my home parish opened a perpetual adoration chapel almost 20 years ago, there have been 18 parishioners who have professed perpetual vows or been ordained to the priesthood. One of the primary reasons I felt called to my community was our charism of perpetual adoration. In the Blessed Sacrament we receive all the grace necessary to love and serve the Lord with joy!" 
Sr. Maria Benedicta Bete
Dominican Sisters of Mary, Mother of the Eucharist
"I love theatre and creative writing and was involved with both while I was growing up. When I entered, I thought I was giving it up forever - but the Lord is never outdone in generosity! Since then, I have had the chance to write or adapt several plays for school or private performance and have taught creative writing to high school students."
Sr. Kay Fitzgerald
Benedictine Sisters of Virginia
"As a victim of God's unconditional love I believe that vocation is a response to the baptismal call. God called me first to married life. As a widow, my call to religious life began when I was 64 years old and well past the "expiration date" for most religious communities. All things are possible with God!"
Sr. Monica Waters
Mercedarian Sisters of the Blessed Sacrament
"No one expected me to become a religious sister, least of all myself. God plucked me from the world and transformed my life radically, and by His grace I am where I am today as His bride."
Br. Chris Garcia
Franciscan Friars Minor Conventual
"I was considering going into sports broadcasting prior to entering the friars."
Br. Patrick Rooney
Order of Preachers
"I can ride a unicycle while juggling clubs."
Recent Reports
*archived reports available upon request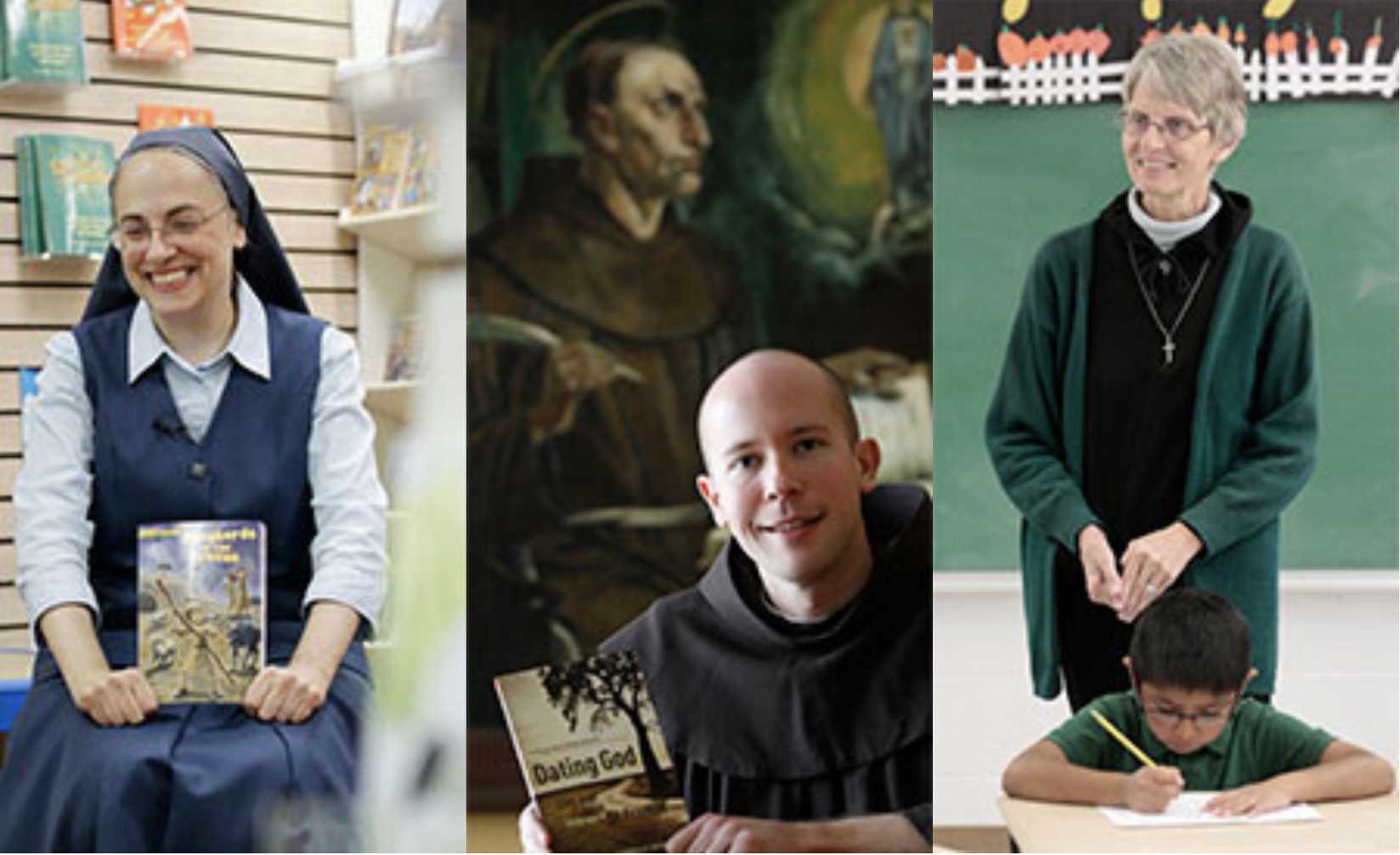 Experience the richness of your faith