In celebration of World Day for Consecrated Life, the Secretariat of Clergy, Consecrated Life and Vocations is pleased to offer the results of the Profession Class of 2022 Survey , conducted by the Center for Applied Research in the Apostolate. This survey was taken by men and women religious who professed their perpetual vows that year. 
Meet the Profession Class of 2022
We asked some of our newly professed men and women religious to share something about themselves that others may find surprising. Their answers below provide some insight into how each discovered their vocational call. Congratulations to the Profession Class of 2022! 
Sr. Margaret Joseph Armstrong
Sisters of the Visitation
"When I was a child, I told my parents that I wanted to live in a cabin the in the middle of the woods... the Lord surprised me by having me enter a cloistered religious community located in the midst of the Berkshire mountains! A love for insects and nature continues to lead me closer to Him as the monastery beekeeper."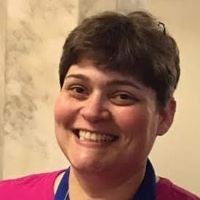 Sr. Patricia Baca
Sisters of Mercy of the Americas
"I retired from the Armed Forces and entered a religious community. Everyone is redeemable and has an opportunity to lean in and be still so the Spirit can move through you!"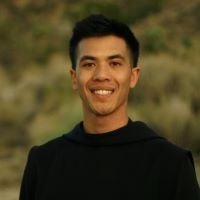 Br. John Baptist Santa Ana
Order of St. Benedict
"People might be surprised to know that I surf."
Sr. Mercy Briola
Sisters of St. Francis of Perpetual Adoration
"I am a percussionist. I play the Steel Drum and the drum set for fun. I love to bake and read about World War II and mystery books. I also enjoy physical exercise."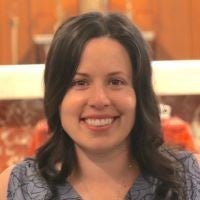 Sr. Amanda Carrier
Sisters of Mercy of the Americas
"People might be surprised to know that I never met any religious before I first felt called to be a sister. I also never knew any Sisters of Mercy before I began inquiring with the community I later entered. I see the grace of God in my path because when I started discerning, I never could have imagined such a full and wonderful life."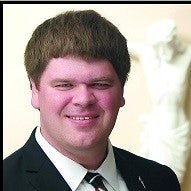 Dcn. Gregory Evers
Missionaries of the Precious Blood
"I was first attracted by the members of my community. Before I had ever heard about my community's spirituality or charism, it was the members and the way they interacted and served others that attracted me first. Over time I could more and more see myself living and working with them."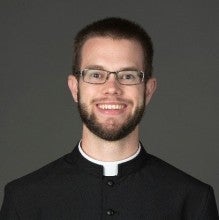 Br. Jimmy Henke
Congregation of the Holy Cross
"I spent my final year before final vows in Bangladesh. I certainly received phenomenal formation and theological education before that year, but I learned more about God from that time among the tea laborers than I did in any of my classes."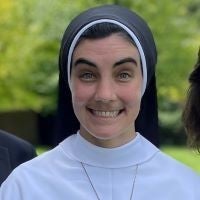 Sr. Cora Rose Higle
Dominican Sisters of Mary, Mother of the Eucharist
"I spent a couple of summers fighting forest fires before considering religious life. Now, working with the Holy Spirit in the vineyard of the Lord, I go about seeking to set hearts on fire for Christ!"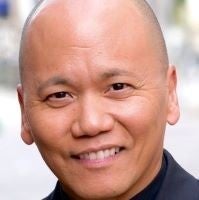 Fr. Radmar Jao
Society of Jesus
"I was a professional actor in Hollywood before entering the Society of Jesus. I now use my gifts as an actor when I preside at mass, lead retreats, and give talks on Ignatian Spirituality."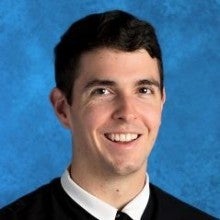 Br. Christopher Kalan
Cistercian Fathers
"I studied physics and engineering my whole life before entering the order. Turns out God needs engineers too!"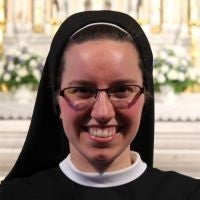 Sr. M. Pieta Keller
Sisters of St. Francis of the Martyr St. George
"Praised be Jesus Christ!  Like many others, I had my own plans to be a wife, mother, and a biomedical engineer.  The Lord's relentless and deep tug on my heart showed me how much better His plan is!"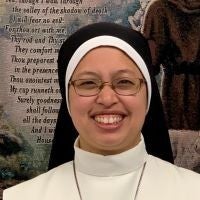 Sr. Kathryne of the Most Holy Trinity Lopez
Mercedarian Sisters of the Blessed Sacrament
"I moved around a lot as a kid because my mom was in the Navy.  I grew up in a Catholic household, but I could not have imagined that religious life was even an option for me.  Once my faith life was ignited at the beginning of college, my heart was opened to more ways to love God, including religious life."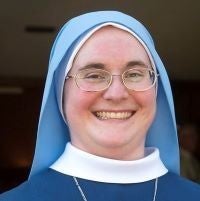 Sr. Michael Marie Miller
Sisters of Our Mother of Divine Grace
"I was studying Paleontology before entering and believed God worked in various ways to get my attention."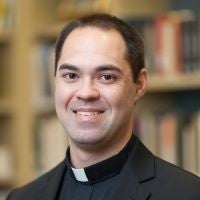 Fr. Robert Murphy
Society of Jesus
"I considered joining the Jesuits straight out of High School, but after making a silent retreat during my senior year, I felt God was calling me to college.  Eventually, after earning my degree, working as a physical therapist and athletic trainer, and serving as a catechist and youth minister, I discerned it was the right time to enter the Society of Jesus."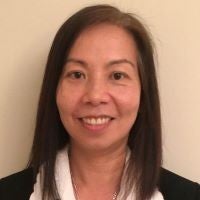 Sr. Kim Xuan Nguyen
Sisters of Charity of the Incarnate Word
"Before entering, I was a Chiropractor for 13 years. I never imagined myself as a religious Sister, but God has a surprising way of working in my heart. God continues to love, challenge, and amaze me each day."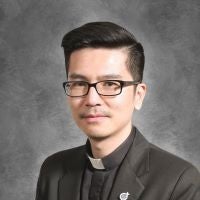 Dcn. Quang Ngoc Pham
Society of the Divine Word
"I have two maternal uncles who are priests, one is religious, and one is religious in the same congregation as me. At home, my religious uncle is my uncle, but in the religious congregation, he is my brother."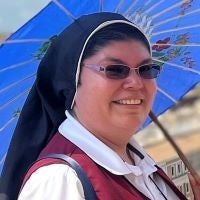 Sr. Maria del Rosario Resendez
Congregation of the Incarnate Word and Blessed Sacrament
"Though I did not come from a very religious family, I thought about becoming a sister at a very young age. I love Jesus, cats, books, and coffee. I have worked many jobs, from fast food to an advertising manager in a newspaper to an agency that files for temporary work visas - all have helped me in the position I now hold as the secretary to the bishop."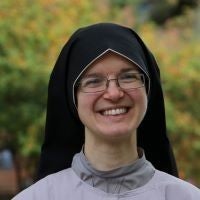 Sr. Josephine Schuler
Franciscan Sisters of the Renewal
"I have a twin brother and love sports. I was a pitcher on my high school team. I also fell in love with Jesus in the Eucharist in the midst of an extremely secular college in part because about 100 students were making a Eucharistic holy hour before class each morning at the church on campus, and I decided to join them."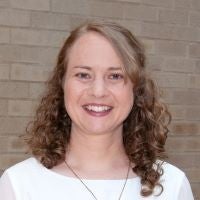 Sr. Laura Suhr
Benedictine Sisters of St. Benedict Monastery
"I wanted to be a mom when I was younger. Through prayer and discernment, I came to an understanding of how I could use those same gifts I'd thought I'd use as a mom to serve my religious community and the broader world. I feel so loved, supported, and rooted in the Benedictine Tradition that despite most of my community being significantly older than me, I am filled with joy, hope and love."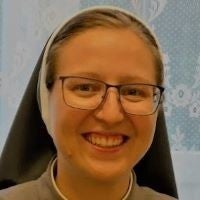 Sr. Megan Therese Tunink
Marian Sisters of the Diocese of Lincoln
"People might be surprised to know that I had never met a Religious Sister until I went to college. It was there that I was first introduced to the Religious Life as well as to what it means to have a personal relationship with Jesus Christ. I am so grateful that God guided me to that college and to the group of friends who encouraged me in my discernment."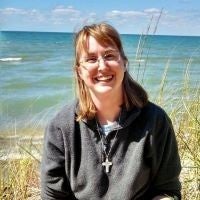 Sr. Arrianne Whittaker
Sisters of Providence of St. Mary-of-the-Woods
"I completed medical school and residency training after entering my community.  I had wanted to be a doctor from the time I was four years old but never thought I could be a doctor and a sister.  Turns out, with lots of hard work, love and support from my community/family, and trust in Providence, I am now blessed to live both my vocations."
Recent Reports
*archived reports available upon request