In celebration of World Day for Consecrated Life, the Secretariat of Clergy, Consecrated Life and Vocations is pleased to offer the results of the  Profession Class of 2020 Survey , conducted by the Center for Applied Research in the Apostolate, taken of men and women religious who professed their perpetual vows that year. 
Meet the Profession Class of 2020
We asked some of our newly professed men and women religious to share something about themselves that others may find surprising. Their answers below provide some insight into how each discovered their vocational call. Congratulations to the Profession Class of 2020! 
Rev. Mr. Edoh Adolphe Anato
Society of the Divine Word (Chicago Province)
"I am a religious today because I was open to consider it as an option for life. Up until I finished graduate study at the University, I did not have a religious vocation on my radar. It came through working in youth ministry and I think it is the right choice."
---
Sr. Kate Fitzgerald
Congregation of Divine Providence of San Antonio
"Although I first began to consider a religious vocation in my teens, I did not actively discern until I was in my thirties. When I, finally, began pursuing my vocation, I noticed how God led me to places I never wanted to go, yet as I followed the path opening before me, my life and joy grew richer as I became more and more me."
---
Br. William Gabriel
Order of St. Augustine (Province of St. Thomas of Villanova)
"I coached high school basketball before entering religious life and have been blessed to integrate coaching in various pastoral assignments. I always loved the work of ministry, but knew something was missing in my way of life until I entered the Order. Being an Augustinian friar nourishes my relationship with God, inspires my ministry, brings joy, and enables me to love best in the world."
---
Sr. M. Gemma Kissel
Sisters of St. Francis of the Martyr St. George
"I ran a half marathon prior to entering religious life."
---
 Br. Joseph Marie Krilich
Franciscan Friars of the Third Order Regular of St. Francis of Penance (Province of the Most Sacred Heart of Jesus)
"While beginning to discern religious life, I completed a degree in chemistry and played four years of collegiate soccer at Franciscan University of Steubenville. Afterward, I spent a year serving as a volunteer in a Catholic mission in Belize before I began my journey of formation with the Franciscan TOR community."
---
Rev. Mr. Geoffrey Mooney
Congregation of Holy Cross (United States Province of Priests and Brothers)
"I taught math and helped coach cross country at a Catholic high school for five years before entering the seminary. I owe a lot to my students, my coworkers and their families for helping me hear God's call and inspiring me to respond." 
---
Rev. Br. Pier Giorgio Pacelli
Discalced Carmelite Friars (Washington Province of the Immaculate Heart of Mary) 
"In college, I was extremely busy as a varsity athlete and president and rush chair of my college fraternity. As a Discalced Carmelite, I spend 4+ hours a day in silent prayer. Even though God has changed me through Grace, I'm still the same man as before."
---
 Sr. Mary Amata Reifsnyder
Sisters of Christian Charity (Eastern Province)
"I rode a bus for 26 hours one way to attend a 24 hour vocation retreat!"
---
Sr. M. Joan Roeder
Sisters of St. Francis of Perpetual Adoration (Immaculate Heart of Mary Province)
"I was a first generation college student. While at college, the small inkling of religious life grew stronger until I knew it was just a matter of time. The ability to pray at any time of day in our beautiful college chapel provided me with the quiet to reflect and pray more about God's call for me."
---
Rev. Mr. Fransiskus Santoso
Society of the Divine Word (Chicago Province)
"I come from a Buddhist family and from the country which has the largest Muslim population in the world."
---
Sr. Maliya Suen
Religious Sisters of Mercy of Alma, Michigan
"I had a background in pharmacy and medicine. The Lord is full of surprises and Religious Life is everything I imagined and much much more!"
---
Sr. Laurie Sullivan
Franciscan Sisters of Perpetual Adoration
"I have worked many years in accounting, but my heart and spirit is drawn to simplicity, radical poverty, solidarity with the poor and service to others."
---
Br. John Winkowitsch
Dominican Friars (Province of the Most Holy Name of Jesus)
"I am my father's Godfather. My first year in formation my father - at 88 years old - became Catholic and I was his sponsor, exactly 20 months before he entered his eternal reward. Now, as a religious, I want to be there for those who have no one to be there for them."
Recent Reports
*archived reports available upon request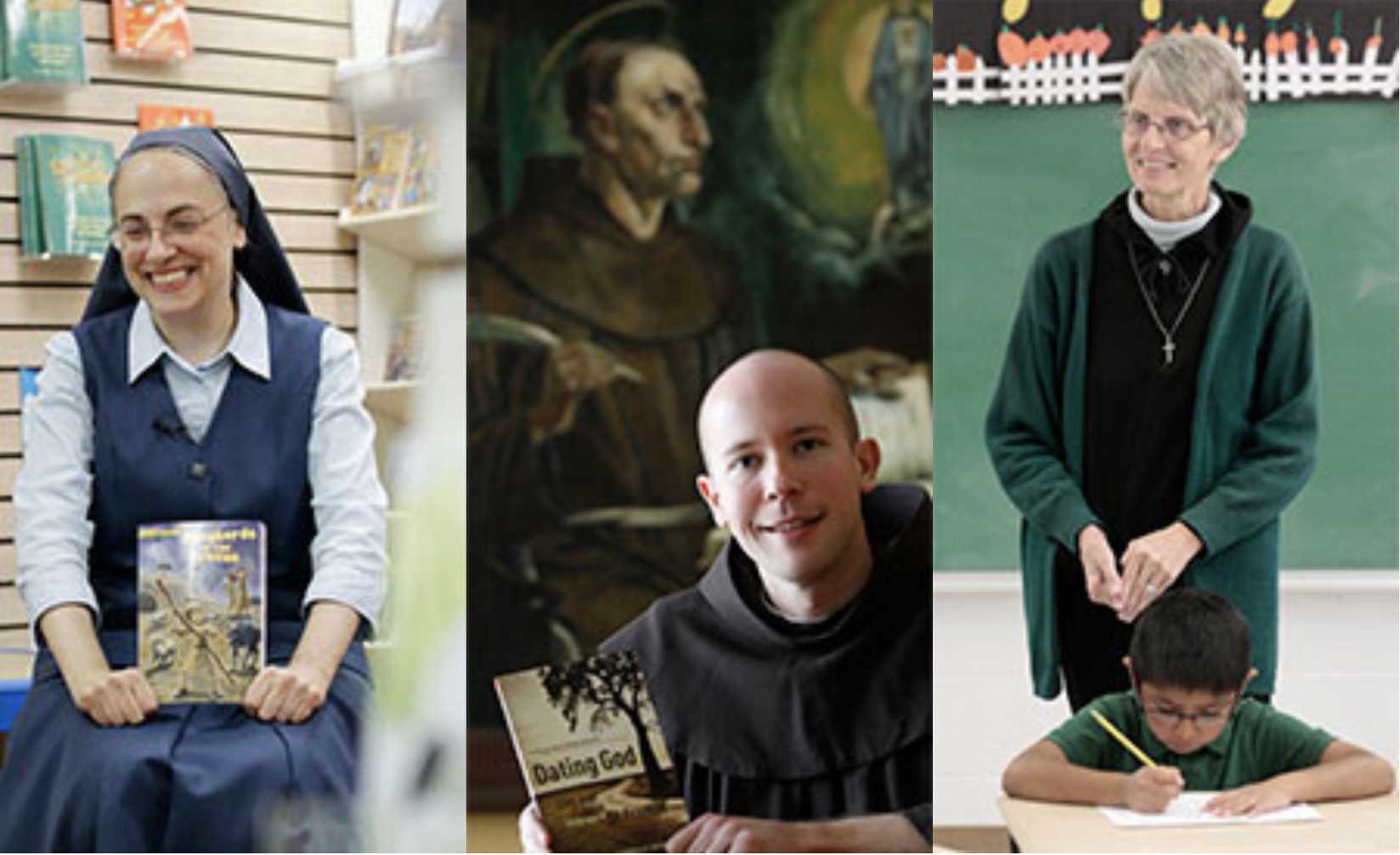 Experience the richness of your faith