The following letter is an introduction to the work of the Secretariat for Ecumenical and Interreligious Affairs from its Executive Director as of 2011, Fr. John Crossin, OSFS.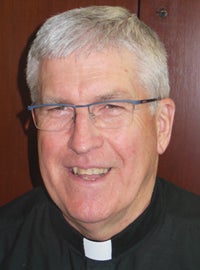 Dear Friends,

I am often asked:

Why are you working for Christian Unity, or
Why is the Catholic Church working for Christian Unity, or
Why are we spending time working to understand our non-Christian neighbors?
I am working for Christian Unity because I have been called by God. In seeking to discern God's will,I became convinced, unexpectedly, that God has called and continues to call me to this ministry.

The Catholic Church is working for Christian Unity because at the Last Supper Jesus explicitly called his disciples to be one. [Jn 17:21]. This call is echoed in the epistles of St. Paul. We pray for unity in our Eucharistic Prayers at Mass.

 The Decree on Ecumenism of the Second Vatican Council and a host of later church documents point the way to Christian Unity. We are urged to grow in love for our fellow Christians. Thus we are called to follow Christ more deeply. I would say that we are called to spiritual growth—and we must admit that all of us, Catholics, Protestants and Orthodox can resist this divine grace.

 The lowering of barriers between Christians in the last 100 years has had a profound impact. We now are free:
To spend more time working together for the poor
To come to a deeper appreciation of the spiritual gifts of one another
To combine our resources to share the Gospel with non-believers more effectively. The original inspiration of the ecumenical movement came from missionaries.
 The Declaration Nostra Aetate of the Vatican Council called Catholics to interreligious understanding. Here the goal is deeper mutual respect. We seek the common good together. We also seek to build a civil society rooted in religious freedom.

Let me welcome you to the Secretariat for Ecumenical and Interreligious Affairs.Our website has resources that can answer many of your questions.

Peace,

John Crossin, OSFS


Experience the richness of your faith