The Convocation of Catholic Leaders would not have beenpossible without the support of so many wonderful individuals and organizations who shared the bishops' vision for this historic event.
The USCCB Bishops Working Group on the Life and Dignity of the Human Person, which organized and led the planning efforts for the Convocation, is grateful for the generous support of the sponsors, underwriters, and exhibitors who helped to make this gathering possible. 
Convocation Sponsors
---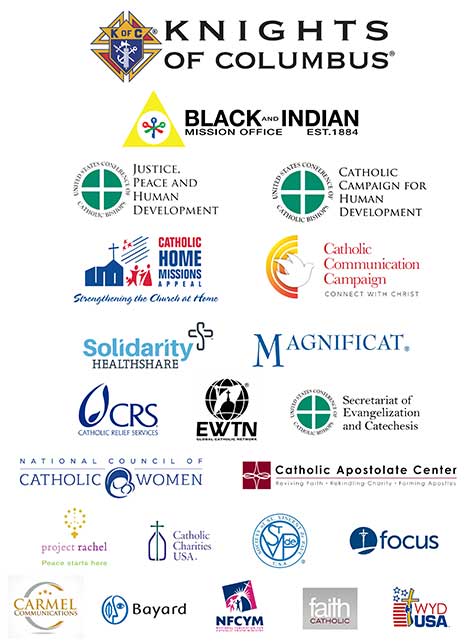 Convocation Underwriters
---
Black and Indian Missions Office
Catholic Apostolate Center
Catholic Daughters of the Americas
Catholic Medical Association
USCCB Secretariat of Pro-Life Activities
USCCB Secretartiat of Laity, Marriage, Family Life and Youth
USCCB Secretariat of Evangelization and Catechesis
Society of St. Vincent de Paul
Granda Liturgical Arts
Archdiocese of Los Angeles
National Cursillo Movement
Carmel Communications
Christ Medicus
USCCB National Collections
USCCB – Office of Migration and Refugee Services Anti-Trafficking Program
Catholic Relief Services
Saint Meinrad Seminary & School of Theology
Ascension Press
Convocation Exhibitors
---
The Convocation was fortunate to have a large presence of exhibitors representing all types of ministries, apostolates, and organizations in the Church. Explore our Convocation Exhibitor Catalog to see some of the organizations present at the Convocation.