Novena por la Protección Legal de la Vida Humana: 10 de agosto de 2018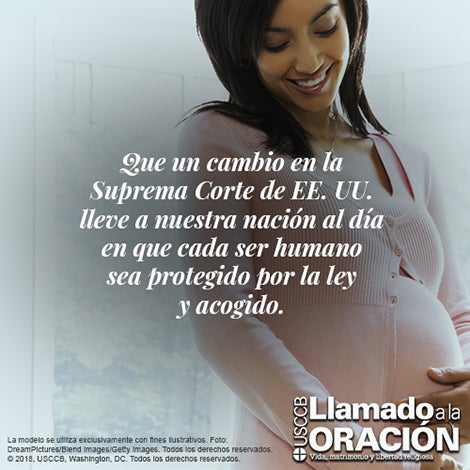 Rezar

Que un cambio en la Suprema Corte de EE. UU.lleve a nuestra nación al día en que cada ser humano sea protegido por la ley y acogido.
Padre Nuestro ... Ave María... Gloria al Padre...
Ayunar

Ofrecer un sacrificio por cada intención.
(Ideas para ayunar.)

aprender
Si Roe es revocado, el proceso democrático—no los tribunals—determinará la política que regula los abortos.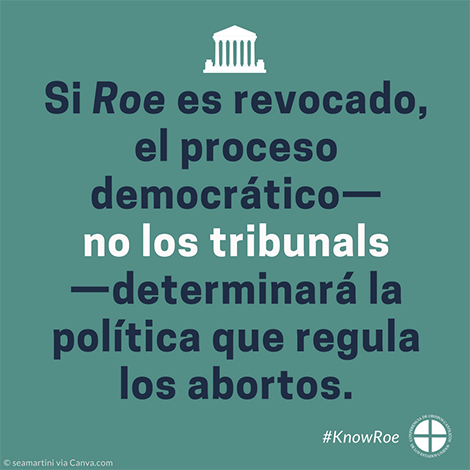 Antes de Roe, todos los estados permitían el aborto si era necesario para salvar la vida de la madre, y algunos permitían el aborto en otras circunstancias también.1 Pero Roe considera que cualquier prohibición al aborto es inconstitucional.
Si se revoca Roe, las decisiones de política sobre el aborto serán tomadas por los ciudadanos de cada estado a través del proceso democrático, en lugar de los tribunales. Algunos estados pondrán límites al aborto, en otros, es probable que habrá pocos límites.2
Hasta que Roe vs. Wade no sea anulada, la gente no podrá regirse nuevamente con respecto al importante tema de política pública del aborto.

____________________________________________________________________________________________
1 La Corte Suprema, sin embargo, aún no se ha enfrentado a un desafío a una prohibición posterior a la viabilidad que pondrá a prueba la amplitud de Doe. De hecho, 20 estados actualmente prohíben los abortos tardíos sujetos a una excepción limitada para la vida de la madre o la salud física (no por razones emocionales, psicológicas, familiares o relacionadas con la edad). La mayoría de estas leyes no han sido impugnadas, pero son difíciles de hacer cumplir incluso si son constitucionalmente permisibles.
2 Paul Benjamin Linton, "Planned Parenthood v. Casey: The Flight of Reason in the Supreme Court", Saint Louis University Public Law Review 13, no. 1 (1993): 24-26.
3 Benjamin Wittes, "Letting Go of Roe", The Atlantic Monthly, enero / febrero de 2005, 48.