Novena por la Protección Legal de la Vida Humana: 24 de agosto de 2018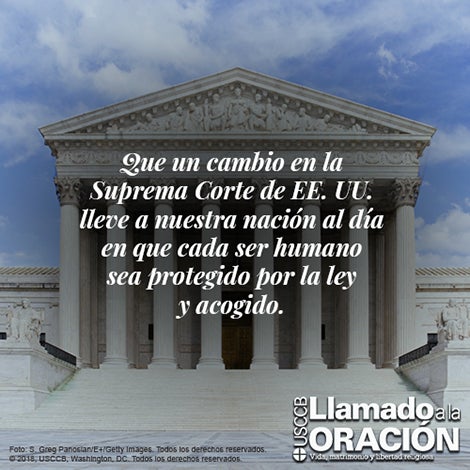 Rezar

Que un cambio en la Suprema Corte de EE. UU.lleve a nuestra nación al día en que cada ser humano sea protegido por la ley y acogido.
Padre Nuestro ... Ave María... Gloria al Padre...
Ayunar

Ofrecer un sacrificio por cada intención.
(Ideas para ayunar.)

Aprender
La licencia extrema de Roe para el aborto no cuenta con amplio apoyo.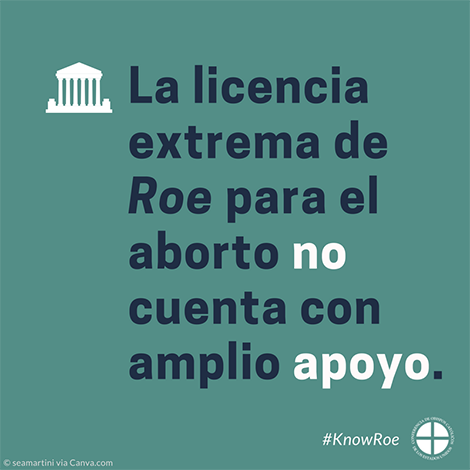 Los defensores del aborto afirman que Roe goza de amplio apoyo público y algunas encuestas recientes parecen proporcionar evidencia para este reclamo. Pero la mayoría de las encuestas no explican la licencia extrema de Roe para el aborto y algunos la tergiversan. Por ejemplo, una encuesta en 2016 del Pew Research Center afirma que el 69% de los estadounidenses está a favor de Roe vs. Wade y el 28% se opone.1 Pero la encuesta erróneamente describe que Roe establece "el derecho constitucional de una mujer a un aborto, al menos en los primeros tres meses de embarazo". El hecho es que Roe legalizó el aborto durante los 9 meses de embarazo y por prácticamente cualquier motivo.2
La gran mayoría de los estadounidenses se opone a la política de aborto casi ilimitado dictada por Roe, y la mayoría cree que el aborto no debería ser legal por las razones por las que con mayor frecuencia se realiza. Una encuesta de Gallup en mayo de 2018 muestra que el 65% de los estadounidenses dijo que el aborto debería ser ilegal en el segundo trimestre y el 81% dijo que el aborto debería ser ilegal en el último trimestre.3 Una encuesta de Marist en 2018 muestra que el 51% de las mujeres dijeron que el aborto nunca debería permitirse (9%) o permitirse solo en casos de violación, incesto y para salvar la vida de la mujer (42%).4
Entonces, ¿por qué las encuestas muestran que la mayoría de los estadounidenses está a favor de Roe vs. Wade? Porque ellos realmente no saben lo que Roe hizo.

_____________________________________________________________________________________________
1  Pew Research Center, "Low Approval of Trump's Transition but Outlook for His Presidency Improves" (diciembre de 2016), Q.96F1, p 71, http://assets.pewresearch.org/wp-content/uploads/sites/5/2016 /12/08135748/12-08-16-December-political-release.pdf.
2  Ver notas 1-5 supra.
3 Servicio de noticias de Gallup, "Gallup Poll Social Series: Values and Beliefs" (1-10 de mayo de 2018), Q.15, http://news.gallup.com/file/poll/235634/180613AbortionTrimesters.pdf.
4 Knights of Columbus / Marist Poll, "Abortion Limits Favored" (enero de 2018), http://www.kofc.org/un/en/resources/communications/kofc-marist-poll-national-nature-sample-tables2017. pdf.