Novena por la Protección Legal de la Vida Humana: 28 de septiembre de 2018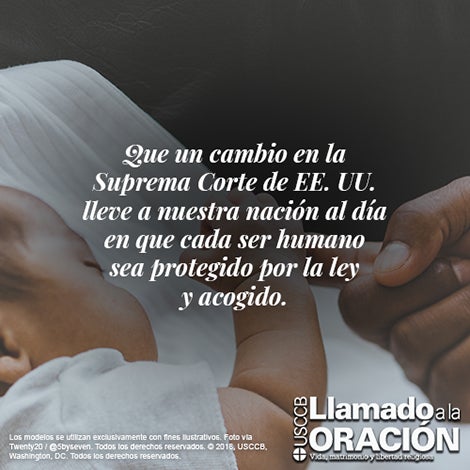 Rezar

Que un cambio en la Suprema Corte de EE. UU.lleve a nuestra nación al día en que cada ser humano sea protegido por la ley y acogido.
Padre Nuestro ... Ave María... Gloria al Padre...
Ayunar

Ofrecer un sacrificio por cada intención.
(Ideas para ayunar.)
aprender
El principal estratega para legalizar el aborto mintió sobre las muertes por abortos ilegales.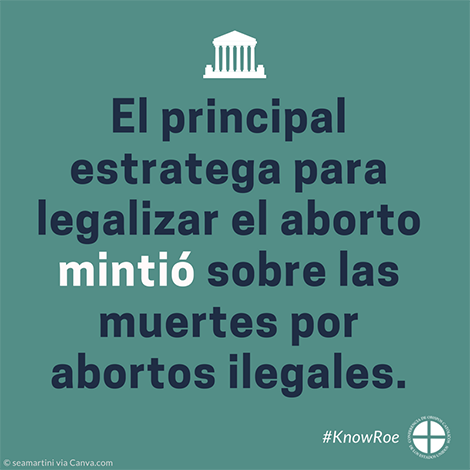 Las afirmaciones de que miles de mujeres estaban muriendo de abortos ilegales en la época de Roe fueron fabricadas con fines políticos. El difunto Dr. Bernard Nathanson, un estratega jefe para legalizar el aborto, dijo que él y sus asociados inventaron la "bella y redonda figura impactante" de "5,000 a 10,000 muertes al año" por abortos ilegales:  
Confieso que sabía que las cifras eran totalmente falsas, y supongo que los demás también si se detenían a pensar en ello. Pero en la "moralidad" de nuestra revolución, fue una cifra útil, ampliamente aceptada, entonces ¿por qué salir de nuestro camino para corregirla con estadísticas honestas?1

La investigación confirma que el número real de muertes maternas provocadas por el aborto en los 25 años anteriores a 1973 era un promedio de 250 por año, con un máximo de 388 en 1948.2 En 1966, antes del primer aborto legalizado por el estado, 120 madres murieron a causa del aborto.3 Si bien cualquier muerte es una tragedia, en 1972, cuando el aborto seguía siendo ilegal en el 80 por ciento del país, el número bajó a 39 muertes maternas por aborto.4
Además, un estudio pionero sobre el aborto en Chile publicado en 2012 en una revista científica revisada por pares reveló que la prohibición del aborto en Chile en 1989 no causó un aumento en la tasa de mortalidad materna (MMR). Por el contrario, después de que se prohibiera el aborto, la tasa de mortalidad materna se redujo en 69.2% en los siguientes catorce años.5
_____________________________________________________________________________________________
1 Bernard Nathanson, Aborting America (Nueva York: Doubleday, 1979), 193.
2 Ibid, 42
3 De la Oficina del Centro de Estadísticas Vitales de Estados Unidos para el Control de Enfermedades, citado en Dr. y Sra. J. Wilke, Abortion: Questions and Answers, edición revisada (Cincinnati: Hayes Publishing, 1990), 169.
4 Ibid.
5 Elard Koch, et al., "Women's Education Level, Maternal Health Facilities, Abortion Legislation and Maternal Deaths: A Natural Experiment in Chile from 1957 to 2007", PLoS ONE 7, no. 5 (mayo de 2012), http://journals.plos.org/plosone/article?id=10.1371/journal.pone.0036613.