Pope welcomes migrant he's been praying for since July
On a Friday evening in November, Pope Francis invited to his residence a group of migrants and some of the people who have helped them.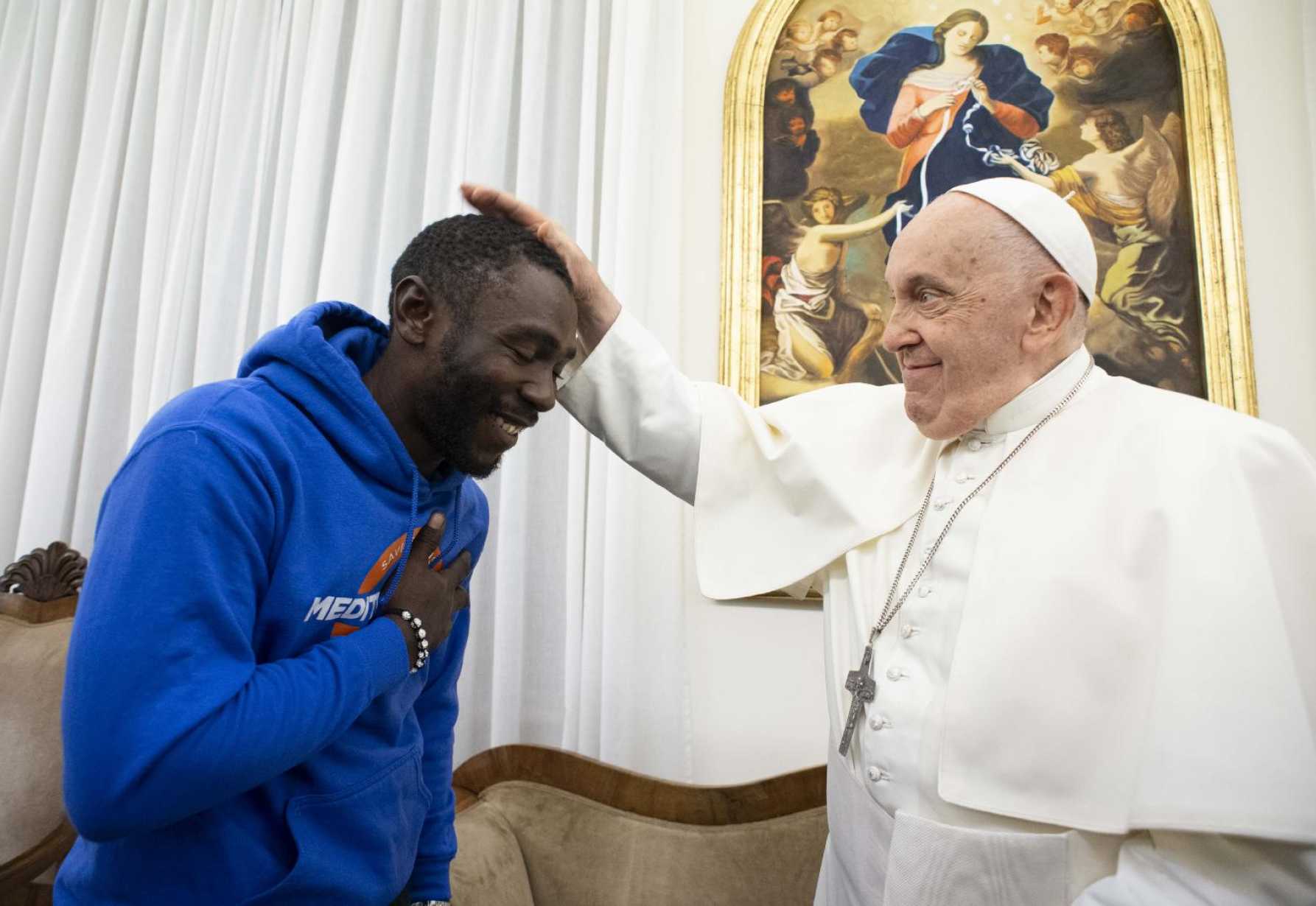 Pope Francis blesses Mbengue Nyimbilo Crepin, a migrant from Cameroon whose wife and daughter died in July crossing the North African desert, during a meeting in the Domus Sanctae Marthae at the Vatican Nov. 17, 2023. (CNS photo/Vatican Media)
VATICAN CITY (CNS) -- When Mbengue Nyimbilo Crepin told Pope Francis of his harrowing journey to Italy and about the deaths of his wife and 6-year-old daughter in the desert along the border between Libya and Tunisia, the pope told him he had been praying for them since July.
Nyimbilo, known as "Pato," sobbed Nov. 17 as he shared the story of his family being forced to leave Tunisia, crossing the desert to Libya on foot. He collapsed but urged his wife and daughter to continue.
He eventually made it to Libya, but then he saw photos on social media of his wife and child dead in the desert, according to a report in July by Associated Press. Libyan border guards said they found a dozen migrants dead in the desert after Tunisia expelled them.
Meeting Pato and a group of 25 people from Mediterranea Saving Humans, an organization that networks to operate rescue boats and assist newcomers to Italy, Pope Francis said he had read Pato's story in the Italian Catholic newspaper, Avvenire, in July and had seen the photo.
"He said he had been praying for them since July," Father Mattia Ferrari, the organization's chaplain, told Catholic News Service after the meeting.
The group, also accompanied by Cardinal Michael Czerny, prefect of the Dicastery for Promoting Integral Human Development, spent about an hour with the pope at his residence, the Domus Sanctae Marthae. Several of the migrants were able to share their stories with the pope, Father Ferrari said.
While those who assist them are volunteers, the priest said it is more accurate to call them "activists," since their involvement goes well beyond a few hours a week and includes calling attention to the harsh treatment of migrants in northern Africa and the perils they face as they attempt to cross the Mediterranean Sea.
The meeting was the pope's idea, Father Ferrari said. He wanted to meet Pato, who originally is from Cameroon.
"Moved by his story, Pope Francis listened to his words of gratitude for the meeting and as well as painful stories about the thousands of people who suffer in the attempt to reach Europe," the Vatican press office said in a statement.
"David, from South Sudan, who worked alongside prisoners in detention camps in North Africa, thanked the pope for his encouragement and interventions in favor of migrants," the statement said. "You don't just give us a dream, you welcome us," he told the pope.
Pope Francis also thanked the activists for their commitment and reminded them of "the privilege of being born in places where one can study and work," the statement said. "Privilege is a debt," the pope told them; "what you do is not something extra, it is a duty."
The press office said that before saying goodbye, "Pope Francis prayed for those present, asking the Lord to watch over those who 'work for others,' those who could not come, those in detention camps and 'the many, many who suffer.'"