News and Resources
Catholic School Data At A Glance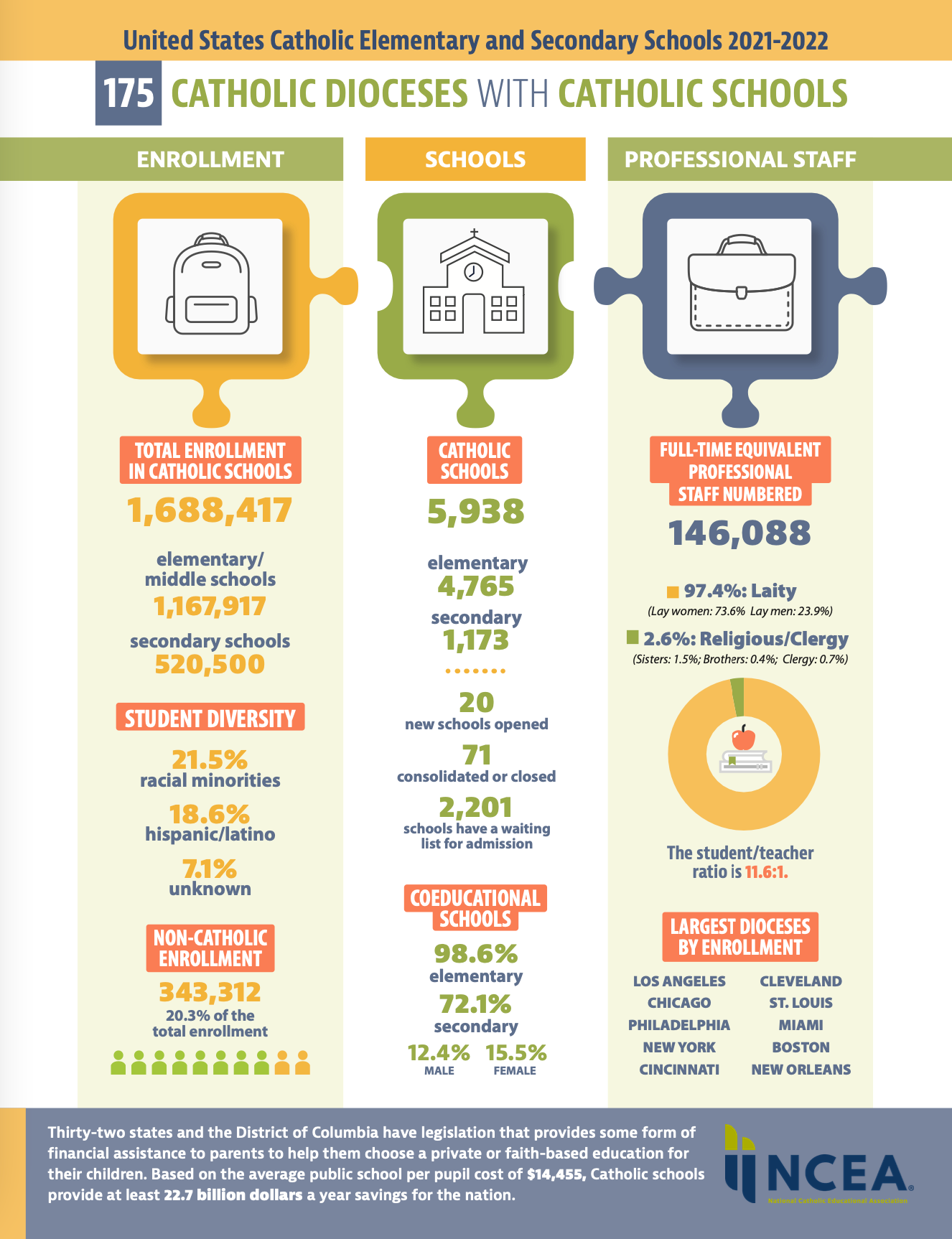 POLICY PRIORITIES AND RESOURCES
Equitable Services For Students and Teachers in Federal Programs 
School Choice:
Education Choice for Children Act:
School Lunch Program:
We support reauthorization of the National School Lunch Program that includes flexibility for Catholic schools to meet nutritional and staffing requirements while ensuring Catholic school officials have the data they need to determine if participation is best for their school.
School Safety:
Federal COVID-19 Relief for Non-Public Schools

:
REGULATORY WATCH
Implementation of the Every Student Succeeds Act (ESSA):
Signed into law in December 2015, ESSA amends and reauthorizes the Elementary and Secondary Act of 1965 (ESEA). Since ESEA's passage, federal law has required local education agencies to provide equitable services to eligible children attending Catholic schools and their teachers. Equitable participation is achieved through the process of consultation between Catholic school officials and the local education agency.

Under ESSA, Catholic school students, teachers and administrators have new equitable services assurances, more robust consultation provisions, and stronger protections for their proportionate share of federal assistance. It is important that the Department of Education implement and enforce these provisions fairly and in accordance with the law.
E-Rate Program:
We support the modernization of the E-Rate program that raised the program's annual funding cap and enhanced the program's focus on providing sufficient and sustainable broadband access for all schools. We support further improvements to and streamlining the application process. The USCCB is a member of the Education and Library Networks Coalition (EdLiNC).
Net Neutrality:
On December 14, 2017 the Federal Communications Commission repealed "Net Neutrality," a policy regulating access to the internet. While implications for our schools and students are yet to be determined, there could be some impact on the functioning of the E-Rate program. For a brief explanation of net neutrality, watch this video .
BISHOP POLICY STATEMENTS ON CATHOLIC EDUCATION
Current Year
Letter in Support of the Educational Choice for Children Act, 2023, Bishop Thomas Daly, January 27, 2023
Bishop Daly, CSW Resolution Letter to Congress January 11, 2023
Previous Years
Letter in Support of the Educational Choice for Children Act, 2022, Bishop Thomas Daly, July 12, 2022
  Letter to House Committee on Appropriations on FY 2023 Funding of the SOARS Act
Wilton Cardinal Gregory and Bishop Thomas Daly, April 12, 2022
Letter to Senate Committee on Appropriations on FY 2023 Funding of the SOARS Act
Wilton Cardinal Gregory and Bishop Thomas Daly, April 12, 2022 
Faith Coalition Letter on BBBA, December 1, 2021
Bishops Letter to Hispanic Caucus, August 28, 2020
Cardinals and USCCB Letter to Leadership on School Aid, August 5, 2020
Bishops Letter to Congressional Black Caucus, July 30, 2020
Committee on Catholic Education Joins Coalition Letter to Request Emergency Aid for Catholic Schools, June 25, 2020
USCCB Letter of Support Cruz Byrne Education Freedom Scholarships and Opportunity Act
USCCB Comment re Equitable Services Guidance, March 2019
Letter to Congress on Educational Provisions
Bishop George V. Murry, December 1, 2017
Letters to Members of Congress Outlining Priorities for Federal Scholarship Tax Credit
Bishop George V. Murry, June 9, 2017 Joint Letter with Archdiocese of Washington Supporting DC 
ESEA Comments posted on Federal Registry
Opportunity Scholarship Bill Reauthorization House letter
Archbishop George J. Lucas, October 5, 2015
Letter to House Committee on Appropriations on FY 2016 Funding of the DC Opportunity Scholarship Fund
Archbishop George J. Lucas, March 30, 2015
Letter to Senate Committee on Appropriations on FY 2016 Funding of the DC Opportunity Scholarship Fund
Archbishop George J. Lucas, March 30, 2015
Letter to House of Representatives Supporting Provisions of The Student Success Act (HR5) That Improve the Provision of Equitable Services For Students and Teachers in Religious and Independent Schools
Archbishop George J. Lucas, February 23, 2015
Letter to Chairman Tom Wheeler of the Federal Communications Commission supporting the proposal to permanently increase the funding level of the E-Rate Program.
Archbishop George J. Lucas and Bishop John Wester, November 18, 2014
News Release: USCCB Chairmen and NCEA President Welcome Bipartisan, Bicameral Agreement Reached To Reform Child Care And Development Block Grant Program
Archbishop George J. Lucas, Archbishop Thomas G. Wenski and Brother Robert Bimonte, September 15, 2014
Comments to the Federal Communications Commission's Further Notice of Proposed Rulemaking dated July 23, 2014 on E-Rate (WC Docket No. 13-184)
USCCB, as part of EdLINC, September 15, 2014
Letter to the Federal Communications Commission on E-Rate Modernization Order
USCCB, as part of EdLINC, May 27, 2014
Proposed Amendments to S. 1086, The Child Care and Development Block Grant Act of 2014
USCCB, as part of CAPE, February 2014
Joint Comments of USCCB and NCEA to the Department of Agriculture's November 3, 2013 Notice of Proposed Rulemaking on the National School Lunch Program and School Breakfast Program (File Code No. FNS-2011-0027)
Anthony R. Picarello, Jr. and Brother Robert R. Bimonte, January 4, 2014  
Letter to House Committee on Appropriations on FY 2014-2014 Funding of the D.C. Opportunity Scholarship Fund
Archbishop George J. Lucas, December 23, 2013
Letter to Senate Committee on Appropriations on FY 2014-2014 Funding of the D.C. Opportunity Scholarship Fund
Archbishop George J. Lucas, December 23, 2013