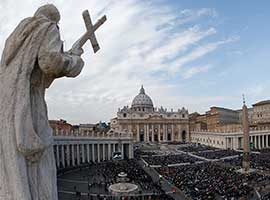 The Holy See (Latin: Sancta Sedes, "holy chair") is the episcopal jurisdiction of the Catholic Church in Rome. It is the preeminent episcopal see of the Catholic Church, forming the central government of the Church. As such, diplomatically, and in other spheres the Holy See acts and speaks for the whole Roman Catholic Church. It is also recognized by other subjects of international law as a sovereign entity, headed by the Pope, with which diplomatic relations can be maintained.

Although it is often referred to by the term "the Vatican", the Holy See is not the same entity as the Vatican City State, which came into existence only in 1929, while the Holy See, the episcopal see of Rome, dates back to early Christian times. Ambassadors are officially accredited not to the Vatican City State but to "the Holy See," and papal representatives to states and international organizations are recognized as representing the Holy See, not the Vatican City State.
In this section of our website, you can find information on our current Pope, Francis, and his immediate predecessors, Pope Benedict XVI and Pope John Paul II.