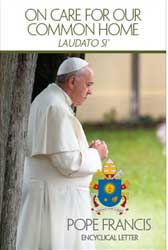 Laudato Si': On Care for Our Common Home is the new appealfrom Pope Francis addressed to "every person living on this planet" for an inclusive dialogue about how we are shaping the future of our planet. Pope Francis calls the Church and the world to acknowledge the urgency of our environmental challenges and to join him in embarking on a new path. This encyclical is written with both hope and resolve, looking to our common future with candor and humility. 
The title is taken from the first line of the encyclical, "Laudato si', mi Signore," or "Praise be to you, my Lord." In the words of this beautiful canticle, Saint Francis of Assisi reminds us that our common home is like a sister with whom we share our life and a beautiful mother who opens her arms to embrace us. The encyclical is divided into six chapters which together provide a thorough analysis of human life and its three intertwined relationships: with God, with our neighbor, and with the earth:
While Laudato Si' is the first encyclical to focus on the environment and its destruction in such a comprehensive way, its foundation rests in a long history of Church teaching on creation.
Read the full text of Laudato Si' online here (en Español) or buy a copy (en Español).
Laudato Si' Resources
Laudato Si': Caring for Our Common Home Discussion Guide | en Español
This discussion guide, for use with Pope Francis' encyclical Laudato Si', can help small groups explore and dialogue with this important document.
Laudato Si': Caring for Our Common Home Bulletin Insert | en Español
This one page document is a brief introduction to the encyclical and details ways you can respond to Pope Francis' call.
Prayer to Care for Our Common Home (based on Laudato Si') | en Español
Laudato Si' Online Lecture Series
This video series has been produced by the Sustainable Development Solutions Network in partnership with the Pontifical Council of Justice and Peace and the Pontifical Academy of Sciences. The 6-part series covers each chapter of the encyclical in-depth with speakers including Cardinal Peter Turkson and Bishop Marcelo Sachez Sorondo. 
Laudato Si' Animated Video
This video has been produced by the Catholic Agency For Overseas Development (CAFOD) and provides a brief overview for the encyclical for children. 
Capitol Hill Briefing on Encyclical Letter Laudato Si': On Care for Our Common Home
This document was developed to provide a brief overview of the encyclical for legislators and congressional staff.
USCCB President's Statement on the Occasion of the Promulgation of Laudato Si'
Statement made by Archbishop Joseph E. Kurtz welcoming the release of Pope Francis' encyclical on ecology Laudato Si' on June 18, 2015.
To find other resources on the care of creation, visit the Environmental Justice page.