U.S. Bishops Receive Letter from Pope Francis As They Gather for Spiritual Retreat
WASHINGTON— The U.S. Bishops have received a letter from Pope Francis as they gather in northern Illinois at Mundelein Seminary this week. The weeklong retreat is taking place at the invitation of Pope Francis who has asked all bishops in the United States to pause in prayer as the Church seeks to respond to the signs of the times. 
Find the Letters, News Release and Pool Photos on the Retreat Landing page.
On Second Anniversary of his Papacy, Pope Francis Announces Jubilee "Year of Mercy"
by Cindy Wooden, Catholic News Service
Pope Francis announced an extraordinary jubilee, a Holy Year of Mercy, to highlight the Catholic Church's "mission to be a witness of mercy."
"No one can be excluded from God's mercy," the pope said March 13, marking the second anniversary of his pontificate by leading a Lenten penance service in St. Peter's Basilica.
"I frequently have thought about how the church can make more evident its mission to be a witness of mercy," he said during his homily; that is why he decided to call a special Holy Year, which will be celebrated from Dec. 8, 2015, until Nov. 20, 2016.
The biblical theme of the year, he said, will be "Be merciful, just as your Father is merciful," an admonition that applies "especially to confessors," the pope said with a smile.
Traditionally, every 25 years the popes proclaim a holy year, which features special celebrations and pilgrimages, strong calls for conversion and repentance, and the offer of special opportunities to experience God's grace through the sacraments, especially confession. Extraordinary holy years, like the Holy Year of Mercy, are less frequent, but offer the same opportunities for spiritual growth.
---
The Teaching of Pope Francis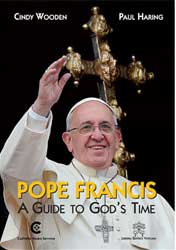 Visit our store to browse the latest titles from and about Pope Francis.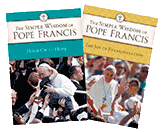 Experience the richness of your faith