by Bishop Eusebio Elizondo, Auxiliary Bishop of Seattle, member, USCCB Subcommittee for the Church in Latin America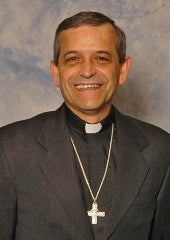 Many people have wondered why the Popechose to go to Mexico and Cuba. Or, as some would put it, to "Cuba and Mexico," listing them in order of international expectation and media hype versus the actual chronological order in which the visit will actually take place. The Pope goes to Cuba as a "Pilgrim of Charity," to celebrate with the Cuban people the 400th anniversary of the discovery of the image of Our Lady of Charity, whose image is now revered at the Sanctuary of Our Lady of Cobre. That is an important reason for Cubans to celebrate and for the Pope to visit. Cuba is experiencing a renewal of faith. Old and young people are now able to show outwardly their faith in ways that once they were not allowed to. And so, there are lots of reasons to celebrate.
With regards to Mexico one can wonder why a Papal visit. The late John Paul II visited Mexico many times and he also made Juan Diego a saint. John Paul II loved Mexico and Mexico loved Juan Pablo II back. Benedict XVI also loves Mexico, one must say. And there are reasons for this Pope to also visit Mexico. First, Mexico's 2010 census estimated a population of almost 110 million people. And the percentage of people who identified themselves as Catholics was over 83 percent, at least according INEGI, the Mexican Institute of Statistics and Geography. Most Mexicans see themselves as Guadalupanos—sons and daughters of Our Lady of Guadalupe, la "Virgen Morena"—just like Cubans see themselves as sons and daughters of "Cachita," la Virgen de la Caridad. Of course, one should also see that many faiths are also present in Mexico.
But what does it mean that, for the most part, Mexicans are Guadalupanos? I would say that the faith of the Mexican people is alive and much rooted in Jesus Christ, but it is so through the love and devotion to his Mother, Our Lady of Guadalupe, the great evangelizer of the Americas. Because of the role of Guadalupe in the faith of the Mexican people, that experience impels them to seek peace and reconciliation. And perhaps during this time of violence and insecurity in Mexico, the Pope is going to Mexico not so much as a Pilgrim of Charity, as he is doing in Cuba, but as a Pilgrim of Peace—a "Messenger of Peace."
The Church in Mexico has been at the front and center of peace building efforts in Mexico. For instance, one can see in parishes and dioceses across Mexico groups of faithful advocating for peace and comforting victims of violence. The Mexican bishops in 2010 wrote a pastoral exhortation titled Que en Cristo Nuestra Paz México tenga Vida Digna  ("May In Christ our Peace Mexico Find Life with Dignity"). The Church in Mexico is hard at work for peace and reconciliation there. And one could say that the Holy Father goes to Mexico to support the faithful and the Church leaders in this effort.
The Catholic community in the United States, through the Collection for the Church in Latin America supports the efforts of the Church in Mexico, Cuba and many other parts of Latin America and the Caribbean.  Read more about those efforts here
We invite you would like to help us in supporting the Church in Latin America.  Learn how here
Experience the richness of your faith