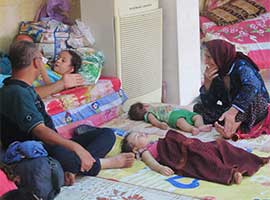 "I was a stranger and you welcomed me." (MT 25:35)

The need is great:
The political and humanitarian crisis in Syria is a serious concern for the Catholic Church and the bishops of the United States. In the past five years, at least four million Syrians have fled their country as a consequence of the civil war and the rise of ISIS. Most have fled to surrounding countries, especially Egypt, Lebanon, Jordan, and Turkey, and many others have moved on to Europe with the hope of finding a place of peace and safety. Pope Francis and the Catholic bishops have called on the U.S. government and the international community to provide support to both Syrian refugees fleeing violence and to countries that have been at the forefront of this humanitarian effort. These recommendations include:
Ending the conflict in Syria and Iraq
Building an inclusive and lasting peace to allow Syrian refugees—also including those who are ethnic and religious minorities-- to return home and rebuild their countries.
Providing humanitarian assistance to Syrian refugees who have fled to neighboring refugee countries.
Providing development aid to refugee host countries near Syria so they are able to properly welcome and care for the refugees.
Providing 100,000 annual resettlement slots for the most vulnerable refugees fleeing the Syria conflict.
Designating an additional 100,000 refugees to be resettled in the U.S. from other countries.
How you can help:
Pray that God provides his protection to Syrians and all other refugees displaced by violence and persecution.

Write a letter to President Obama, urging him expand U.S. resettlement efforts of Syrian refugees who are fleeing unspeakable atrocities and violence.
Urge your member of Congress to provide urgently needed development aid for refugee host countries near Syria that have heroically borne the brunt of the Syrian refugee crisis.
Contact your local Catholic Charities agency to find out if it has a resettlement program and, if so, how you can assist them in their effort to resettle refugees and help them build new lives of hope here in the United States.

Donate to the MRS' Parishes Organized to Welcome Refugees (POWR) program, which provides parish and community volunteers an opportunity to help sponsor newly-arriving Syrian and other refugees and provide for their critical needs.
In a recent statement, Archbishop Joseph Kurtz of Louisville, KY and President of the United States Conference of Catholic Bishops urged
" … all Catholics in the United States and others of good will to express openness and welcome to these refugees, who are escaping desperate situations in order to survive. Regardless of their religious affiliation or national origin, these refugees are all human persons—made in the image of God, bearing inherent dignity, and deserving our respect and care and protection by law from persecution."
Please join the many who are responding with open hearts to this call and keeping to the longstanding American tradition of helping newcomers to our nation in their hour of greatest need.