Liturgical Considerations for September 11
Introduction
The anniversary of the September 11 terrorist attacks against the UnitedStates is an important and moving occasion for many Americans. To help clergy and pastoral ministers prepare for this anniversary, the Secretariat of Divine Worship offers a few suggestions as to ways this anniversary might be commemorated within the context of the Sacred Liturgy.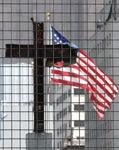 September 11 is a free day in the Liturgical Calendar, and usually occurs on a weekday in the Twenty-Third Week in Ordinary Time. Therefore, it would be permitted to use one of the Masses for Various Needs and Occasions on this day (see General Instruction of the Roman Missal, no. 377). Several formularies would be fitting for the occasion, such as the Mass for Peace and Justice (with white vestments) or the Mass in Time of War or Civil Disturbance (with purple vestments). In some circumstances, a Mass for the Dead might be appropriate as a memorial Mass for the victims of the terrorist attacks, especially at churches and oratories with particular ties to individuals who died that day or are closest to the sites of the attacks (New York, NY, Arlington, VA, and Shanksville, PA). The assigned Lectionary readings of the current weekday could be used, though readings may also be drawn from volume IV of the Lectionary for Mass: Masses for Various Needs and Occasions.
When September 11 falls on a Sunday, the Mass and readings for the day would typically be used. However, as this is a Sunday in Ordinary Time, one of the Masses for Various Needs and Occasions could also be used at the direction of or with the permission of the Diocesan Bishop (see General Instruction of the Roman Missal, no. 374). Regardless of the Mass prayers that are used, the homily and the Intercessions could highlight the significance of this day for our country and for those who grieve the loss of their loved ones.

Intercessions for September 11

These may be included among the intercessions at Masses on September 11:
For the Church, that she may continue to provide care and healing for all, especially those affected by the attacks on September 11, 2001, we pray to the Lord…
For all victims of violence and terrorism around the world, and for their families, that they may find comfort and peace, we pray to the Lord…
For the safety of our service men and women abroad, for civil servants who protect us and keep us safe, and for all who live with war and violence, we pray to the Lord…
For our leaders and for the leaders of nations, that they may work together to address the problems that provide fertile ground for the growth of terrorism, we pray to the Lord...

For the ability to forgive and for an end to all hatred, beginning in our own hearts

, we pray to the Lord…