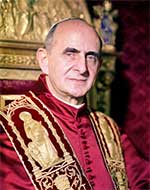 On January 25, 2019, Pope Francis ordered the inscription of Saint Paul VI, Pope, into the General Roman Calendar.  St. Paul is celebrated each year as an Optional Memorial on May 29.
The proper liturgical texts were released by the Holy See in Latin. English and Spanish translations must be approved by the USCCB and confirmed by the Holy See before they can be implemented in the United States.
Below are interim liturgical guidelines for the celebration of St. Paul VI:
Roman Missal
From the Common of Pastors: For a Pope.
Lectionary for Mass
Aside from the usual Mass readings of the day, any Lectionary readings from the Common of Pastors: For a Pope may be used for St. Paul VI. The following readings are also recommended by the Holy See, and will appear in a future edition of the Lectionary for Mass. (Current citations from the Lectionary's Common of Pastors are provided for convenience.)
571A – Saint Paul VI, Pope
From the Common of Pastors: For a Pope, or:
First Reading – 1 Corinthians 9:16-19, 22-23 (no. 722-4)
Woe to me if I do not preach it!
Responsorial Psalm – Psalm 96:1-2a, 2b-3, 7-8a, 10 (no. 721-5)
R/. Proclaim God's marvelous deeds to all the nations.
Gospel Acclamation – Mark 1:17 (no. 723-3)
Come after me, says the Lord,
and I will make you fishers of men.
Gospel – Matthew 16:13-19 (no. 724-2)
You are Peter, and upon this rock I will build my Church.
Liturgy of the Hours
Office of Readings, Morning Prayer, and Evening Prayer
Psalmody of the day. Other elements from the Psalter of the day or the Common of Pastors: For a Pope.