Memorial of Saint Lucy, Virgin and Martyr
Read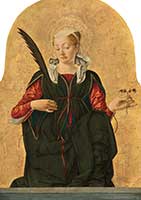 Not much is known about St. Lucy, who wecelebrate today, but she is mentioned by name in the Roman Canon (Eucharistic Prayer I).
Reflect
St. Lucy is the patron saint of the blind. How can you care for the vulnerable in your community?
Pray
Pray for the marginalized in your community today.
Act
Today is feast of St. Lucy, whose name means "light." Discuss ways your family can bring the light of Christ to others in your community.