Monday of the Third Week of Advent
Read
The Roman Church has beensinging the "O" Antiphons since at least the eighth century. They are the antiphons that accompany the Magnificat canticle of Evening Prayer from December 17-23. They are a magnificent theology that uses ancient biblical imagery drawn from the messianic hopes of the Old Testament to proclaim the coming Christ as the fulfillment not only of Old Testament hopes but present ones as well. Their repeated use of the imperative "Come!" embodies the longing of all for the Divine Messiah.
Reflect
"John answered them all, saying, 
I'm baptizing you with water, but one mightier than I is coming. 
I am not worthy to loosen the thongs of his sandals.
He will baptize you with the Holy Spirit and fire." (Luke 3:16)
Pray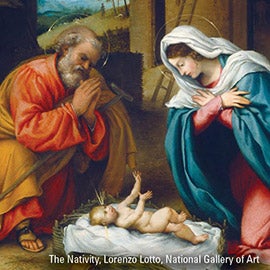 Add this "O Antiphon" to your daily or meal-time prayer today: "O Wisdom of our God Most High, guiding creation with power and love: come to teach us the path of knowledge!" (Catholic Household Blessings and Prayers, Revised Edition, 76)
Act
In today's Gospel, we learn about the genealogy of Christ. Take time as a family to make a family tree and consider your ancestors' journey through the generations.