Wednesday of the First Week of Advent
Read
A "Jesse Tree" is another tradition your family can include in your Advent observance, especially if you have young children. A Jesse Tree depicts the relationship of Jesus with Jesse and other biblical figures who were ancestors of Jesus. Jesse was the father of King David and is often looked upon as the first person in the genealogy of Jesus. For your own Jesse Tree, a branch can be placed into a pot or a large vase at the beginning of Advent and each day a new ornament can be added to it. These ornaments represent individual figures or stories from the Old and New Testaments. As the children place the ornaments on the branch, a parent can read an appropriate scripture passage that talks about that ancestor of Jesus.
Reflect
"Whoever does not know Scripture does not know the power and wisdom of God. Ignorance of Scripture is ignorance of Christ." --St. Jerome, Commentary on Isaiah, 1.2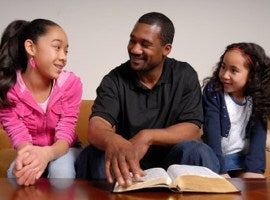 Pray
Perhaps you are harboring resentment in your heart or are yourself in need of God's mercy. Pray the Chaplet of Divine Mercy today. 
Act
Make a Jesse Tree, as a family, today. Here's a guide to help you get started.