Palm Sunday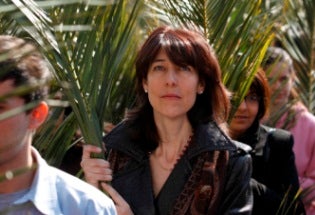 Read
Take time with this reflection on how the Palm Sunday liturgy offers us a panoramic view of the Paschal Mysteries. 
Reflect
"Rather, he emptied himself, 
taking the form of a slave, 
coming in human likeness; 
and found human in 
    appearance, 
he humbled himself, 
    becoming obedient to the point of death, 
    even death on a cross." (Philippians 2:7-8, Lectionary) 
Pray
Today's readings prepare us to recognize on Easter Sunday that if the tomb is empty, it has not been the work of men. May the Lord allow us to accompany him serenely during these Easter mysteries and may we emerge from them renewed in faith, hope, and clarity. Amen.
Act
As we remember Christ's suffering and death in today's gospel reading, reflect on the suffering of many communities around the United States. Join the USCCB Department of Justice, Peace & Human Development in their efforts to help the most vulnerable in our communities.