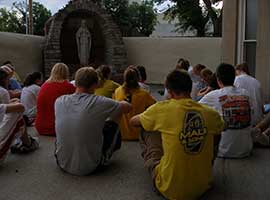 These shrines, basilicas, chapels, and other religious sites are affiliated with patron saints of World Youth Day and World Youth Day USA such as Pope Saint John Paul II, Saint Kateri Tekakwitha, Saint James the Apostle,  Saint Therese of Lisieux, Blessed Pier Giorgio Frassati, Mary the Immaculate Conception, as well as the patroness of the Americas, Our Lady of Guadalupe, and many more. Sites connected to Latin American heritage and Latin American saints in the United States are also listed, as an opportunity to learn about the connection to Panama en route to WYD in 2019.

Though these parks, stadiums, airports, and "common spaces" are not typically thought of as pilgrimage destinations, papal speeches and masses have made them holy. Saint Pope John Paul II made a point to reach out to these places and meet the people of God where they were. In pilgrimage, we can do the same.
I remember the Pope [St. John Paul II] saying that he was old and the crowd shouting back repeatedly:  The Pope is Young!  He said "Although I have lived through much darkness, under harsh totalitarian regimes, I have seen enough evidence to be unshakably convinced that no difficulty, no fear is so great that it can completely suffocate the hope that springs eternal in the hearts of the young."  He told the youth gathered: "You are our hope, the young are our hope."
             -- Bishop Robert Brennan
These schools are named after Pope Saint John Paul II. Consider praying for the students and alumni of these schools, that they may live up to their namesakes.

Traveling soon? Get to the airport early or plan a layover to visit airports that have been graced by Pope Saint John Paul II, the most traveled pope in Christian history. Some of these locations include a chapel or church within them (or nearby). Consider visiting them and praying there, in gratitude for the ministry of Saint John Paul II and for the safety of all travelers and pilgrims who pass through those places.
Download a comprehensive list of all of these sites.
The United States hosts a wealth of pilgrimage opportunities from coast to coast. If you know of a site that is not listed here, please email wyd@usccb.org with your suggestion.