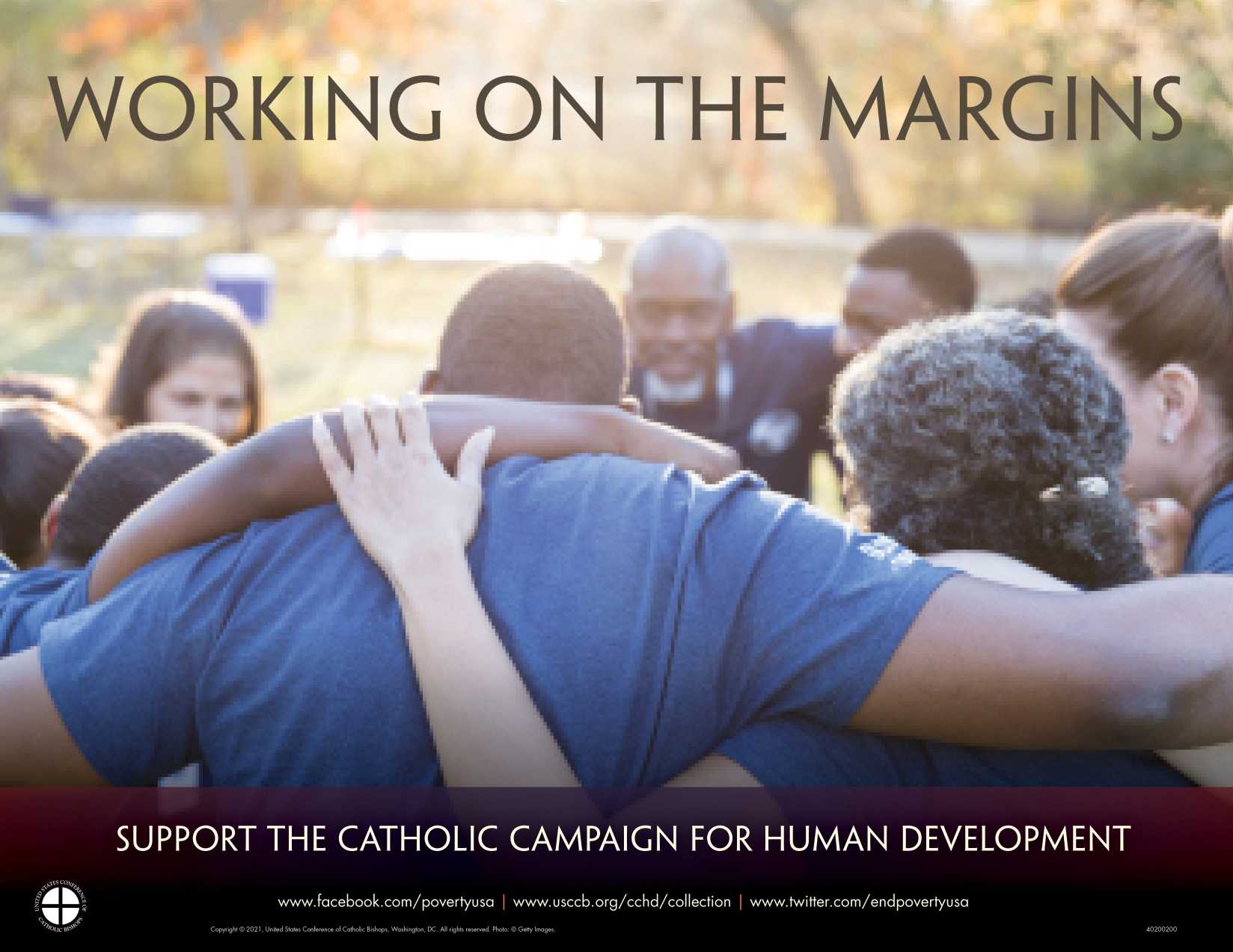 Support the Catholic Campaign for Human Development on World Day of the Poor
In Pope Francis's reflection for this year's World Day of the Poor on November 13, the Pope writes, "There is an urgent need to find new solutions that can go beyond the approach of those social policies conceived as 'a policy for the poor, but never with the poor and never of the poor, much less part of a project that brings people together.'"

For over 50 years, the Catholic Campaign for Human Development (CCHD) has fulfilled this vision of cooperation and solidarity by funding grassroots projects in local communities across the country that help those on the margins work for solutions that address the root causes of poverty. In rural areas, small towns, and big cities, CCHD-funded community groups work with religious and business leaders, local governments, and other institutions to improve access to affordable housing, job training and creation, public safety, and a clean, safe environment for everybody.

Please support the CCHD collection at your parish on World Day of the Poor on the weekend of November 12-13.
If you miss your parish collection, or wish to give outside of it, you may send your donation to:

Catholic Campaign for Human Development
Office of National Collections
United States Conference of Catholic Bishops 
P. O. Box 96278 
Washington DC 20090-6278

#iGiveCatholicTogether also accepts donations for this appeal (https://usccb.igivecatholictogether.org/organizations/usccb-catholic-campaign-for-human-development).
 
"Give and gifts will be given to you; a good measure, packed together, shaken down, and overflowing, will be poured into your lap. For the measure with which you measure will in return be measured out to you." Luke 6:38
Each parish is part of the Church Universal; it is the Catholic Church in a particular place. The bishops of the United States created the national collections so that, by combining resources, we can more effectively carry out our mission as Catholics. Each of these important collections is worthy of your support. Each collection represents our community of faith at work in the world, saving souls and improving lives.
The bishops encourage us to view the national collections in the light of stewardship and of sharing. God has given us our light and our prosperity, all we need and more. It is right and just that we give something back through these collections, helping people in our own country and around the world to live better and to grow in the love of Jesus.  
One Church. One Mission. Real Lives.
The best of the USCCB,
right in your inbox
Sign Up for Our Email Newsletter