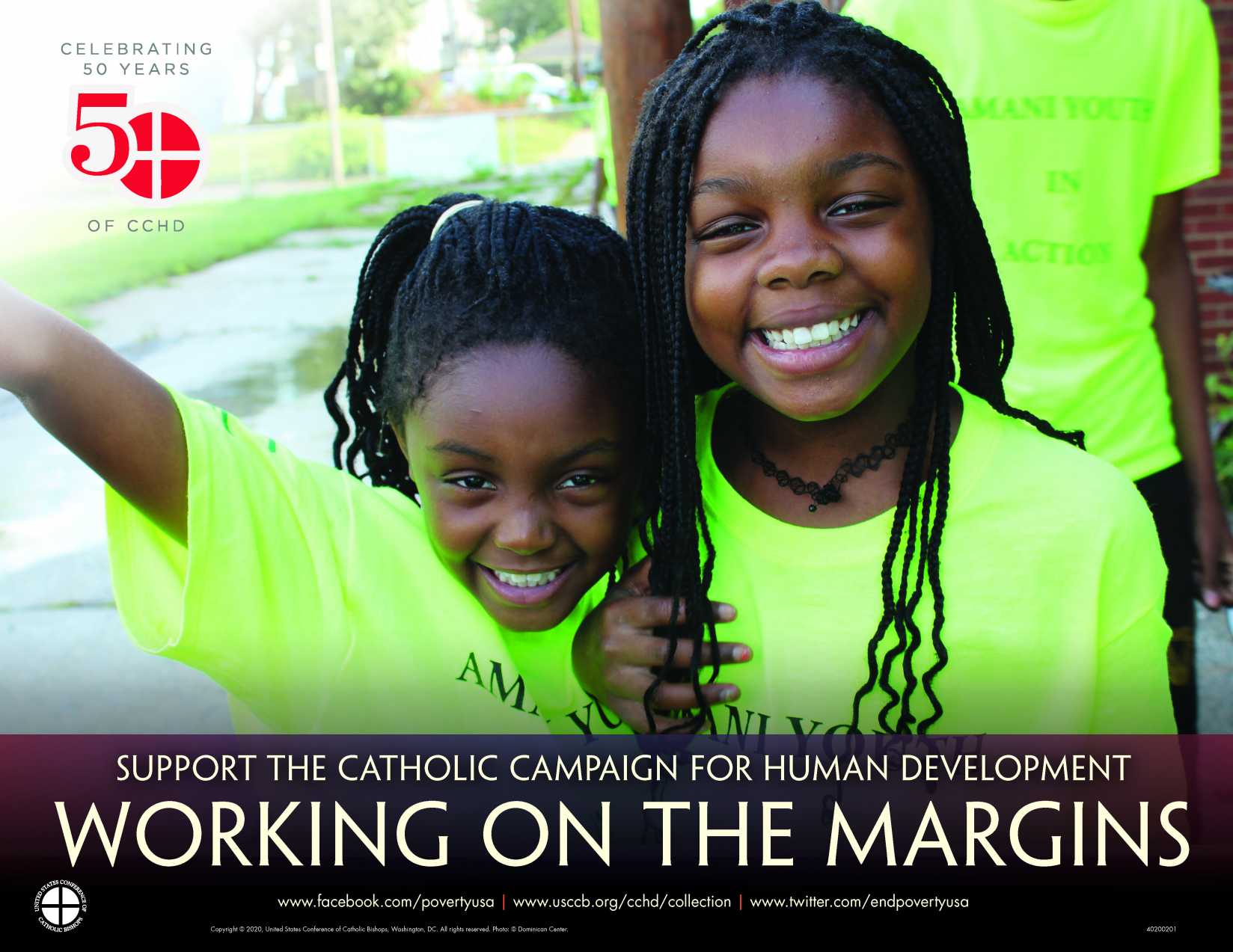 CCHD: Working on the Margins for Over 50 Years
For over 50 years, the Catholic Campaign for Human Development has worked on the margins by supporting groups that defend worker rights, promote responsible environmental practices, advocate for people with disabilities and immigrants, and support employee-owned businesses. On November 20-21, many dioceses across the United States will take up the collection to support CCHD.
Please consider making a gift to the Catholic Campaign for Human Development at Mass or through your e-offertory program and help fight poverty nationwide and in your community. 25 percent of your contribution stays in your diocese to help local antipoverty initiatives. To learn more about CCHD, please find collection resources and the most current annual report here: https://www.usccb.org/cchd/collection.
Bishops Emergency Disaster Fund:
Hurricane Ida
At the end of August, Hurricane Ida made landfall on the Gulf Coast and continued inland, killing dozens, damaging churches, homes, and businesses, and leaving communities without power along the Gulf Coast, the Ohio Valley, and the Northeast.
USCCB President Archbishop José Gomez called upon dioceses across the country to support the USCCB Bishops Emergency Disaster Fund (BEDF) for the humanitarian and Church needs in the wake of this disaster and others that might follow.
Donations to the BEDF will support the emergency responses of our partners at Catholic Charities USA and Catholic Relief Services, the official relief agencies of the U.S. Catholic Church, as well as the pastoral and reconstruction efforts of the United States bishops.
Thank you for your ongoing generosity to the civic and faith communities affected by natural disasters.
If you miss your parish collection, or wish to give outside of it, you may send your donation to:
USCCB Office of National Collections
Bishops Emergency Disaster Fund
PO Box 96278
Washington, DC 20090-6278
Bishops Emergency Disaster Fund:
Haiti Earthquake
On the morning of August 14, a powerful earthquake with a magnitude of 7.2 struck southwestern Haiti, less than 100 miles from the capital city of Port-au-Prince, resulting in over 1,400 deaths, thousands of wounded, and millions of dollars of damage to houses, businesses, and churches. Two days later, Tropical Storm Grace swept over the island, battering the stricken area with heavy rains and high winds that interfered with earthquake search and rescue efforts and further damaged already-weakened structures. 
 
The people of Haiti are likely to see ongoing hardship in the weeks ahead as they begin recovery and rebuilding efforts. Moreover, many parish churches, chapels, schools, and clinics were devastated which will impact faith communities for years.

In response to this disaster, and in anticipation of similar humanitarian crises arising from this and future disasters, USCCB President Archbishop José H. Gomez has requested dioceses around the country to participate in a volunteer special emergency collection as soon as possible. This collection for the Bishops' Emergency Disaster Fund will support USCCB efforts for pastoral and reconstruction efforts, as well as the humanitarian relief efforts of Catholic Relief Services and/or Catholic Charities USA, the official relief agencies of the U.S. Catholic Church. Your generosity at this time of great need is deeply appreciated.

If you wish to contribute, you may mail your donation – noting "Haiti" on the memo line – to:

USCCB Office of National Collections
Bishops Emergency Disaster Fund
PO Box 96278
Washington, DC 20090-6278
World Mission Sunday 2021
On Sunday, October 24, Catholics worldwide will participate in the annual celebration of World Mission Sunday. In prayer at Mass and through the contributions to this special collection, the faithful support the Missions and missionaries who build up the Church in Africa, Asia, the Pacific Islands, Latin America, and parts of Europe.

For more information and downloadable bilingual resources for prayer, homily preparation, scripture meditation, and a message from Pope Francis, please visit the World Mission Sunday 2021 materials website or contact the Pontifical Mission Societies in the United States at @email.
"Give and gifts will be given to you; a good measure, packed together, shaken down, and overflowing, will be poured into your lap. For the measure with which you measure will in return be measured out to you." Luke 6:38
Each parish is part of the Church Universal; it is the Catholic Church in a particular place. The bishops of the United States created the national collections so that, by combining resources, we can more effectively carry out our mission as Catholics. Each of these important collections is worthy of your support. Each collection represents our community of faith at work in the world, saving souls and improving lives.
The bishops encourage us to view the national collections in the light of stewardship and of sharing. God has given us our light and our prosperity, all we need and more. It is right and just that we give something back through these collections, helping people in our own country and around the world to live better and to grow in the love of Jesus.  
One Church. One Mission. Real Lives.
The best of the USCCB,
right in your inbox
Sign Up for Our Email Newsletter
Experience the richness of your faith