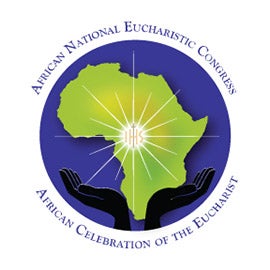 Fourth African National Eucharistic Congress
July 21-23, 2023
Washington, DC
Every five years the African National Eucharistic Congress brings together African Catholics from across the country to celebrate the visible, living presence of Jesus in the Eucharistic, share their faith and rich heritage. 
The Secretariat of Cultural Diversity in the Church in collaboration with the National Association of African Catholics in the United States (NAACUS) and the African Conference of Catholic Clergy and Religious in the United States (ACCCRUS) are convening the fourth African National Eucharistic Congress (ANEC), July 21-23, 2023 at The Catholic University of America, 620 Michigan Ave. NE, Washington, DC 20017.
The Congress theme: African National Eucharistic Congress, A Response To The Lord's Prayer, "That They May All Be One", has its roots in Jesus' prayer for us to His Heavenly Father that believers would be united.  We stand united together at the foot of the cross.  Our challenge is to find ways to deepen that unity for which Jesus prayed (John 17.21). May the prayer of Jesus lead us to be one in mind and heart. May Jesus' prayer for unity help us to find the oneness He says we must have.  
The Congress will feature keynotes, plenaries, workshop sessions, Mass, adoration, United in the Eucharistic Procession and more.  
You are invited to attend the Congress and a special Unity Eucharistic Celebration on Saturday, July 22, 2023, 4:30PM at the Basilica of the National Shrine of the Immaculate Conception, 400 Michigan Ave. NE, Washington, DC 20017.
We are asking each of you to get involved, and to help promote the Congress. We encourage you to join us to be a part of this historic moment in the life of the Church.  Come and let us work together to make the Fourth ANEC a huge success.
Questions about ANEC – Please Contact us with any questions at @email or during our participant support hours: Monday through Friday; 9 am - 5 pm at 202-541-3359.