Policy & Advocacy
Statistic on Christians in the Middle East
These charts paint a picture of how the different Eastern Catholic Churches in the Middle East are adapting to current political and economic pressures. Many Catholics remain in the region, but significant numbers emigrated around the world.
The first set of charts gives the size of each church (in percentages and numbers) within the total population of Catholics in the region; the second focuses on Catholics native to the Middle East, excluding the immigrant Latin Rite Catholics.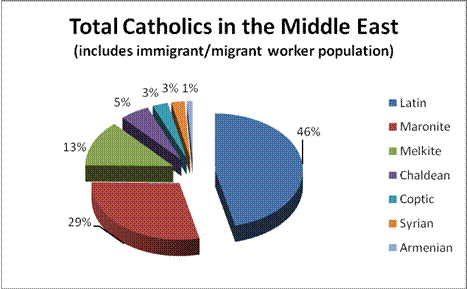 All Statistics come from the 2010 Annuario Pontificio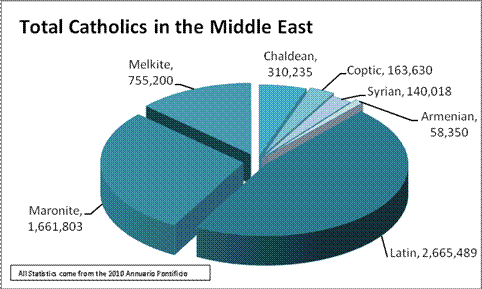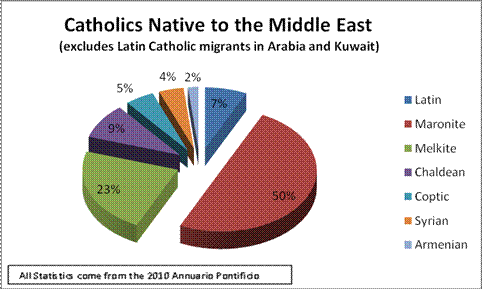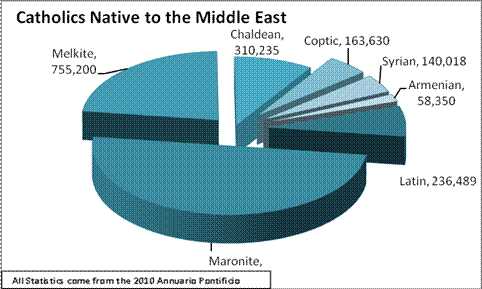 The table shows the number and percentage of each church's members who are in the Middle East.

Distribution of Eastern Catholics

Eastern Catholic Churches

Total Number Worldwide

Number in Middle East

Percentage in the Middle East

Maronite

3,290,539

1,661,803

50.50

Melkite

1,614,604

755,200

46.77

Chaldean

490,371

310,235

63.27

Coptic

163,630

163,630

100.00

Syrian

158,818

140,018

88.16

Armenian

539,459

58,350

10.82
Charts for each of the Eastern Catholic Churches show where their members are located. There is no chart for the Latin Rite since it is spread worldwide.