Educational Resource
Two Feet of Love in Action Elementary Storybooks
Children's Books Put Faith in Action 
VIDEO: Bishop Soto talks about two new elementary storybooks, Green Street Park and Drop by Drop, which help children, and their parents and teachers, put two feet of love in action.

These books are a collaboration between the United States Conference of Catholic Bishops and Loyola Press. Activities are also available for family or educator use.
Green Street Park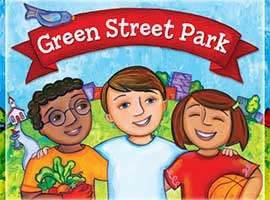 This is a story about Philip, who loves his neighborhood.However, the local park, Green Street Park, is in need of improvement. Philip learns about how St. Francis of Assisi loved God's world and cared for it. His teacher, Sr. Mary Clare, challenges Philip and his friends to act as St Francis would. With help from their parents, the children engage the mayor and the entire community in fixing their park.  This book is inspired by the work of the Catholic Campaign for Human Development.
Order now!
Drop by Drop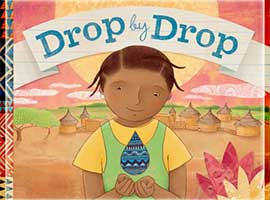 Sister Mary Jerome's nephew Mike works for Catholic Relief Services. He visits Sister's class and tells the story of a village in the country of Burkina Faso, in Africa. The story is about a girl named Sylvie, who is unable to attend school because it takes her several hours every day to collect the water her family needs. Her community becomes involved in a special Water Project, and the class of students in the U.S. decides to help other communities like Sylvie's have access to water.
Order now!
Drop by Drop: Abridged Video Version
Everyone Belongs
Everyone Belongs tells the story of Ray Ikanga, a young boy whose family came to the United States as refugees. As Ray begins making new friends, his excitement is interrupted and the community is shocked when Ray's family receives a hurtful message. Inspired by Open Wide Our Hearts, the U.S. Bishops' statement against racism, Everyone Belongs empowers young readers to reflect on the reality of racism in our society, to see it through the lens of history and faith, and act towards respect, understanding, and friendship.
Order now!
---
Also available for each book are "black line masters," on-line educational supplements for teachers to use as worksheets with their classes, as well as a "Pray Me a Story" children's reflection guide.
Read more and get other resources about the U.S. Catholic bishops' Two Feet of Love in Action.