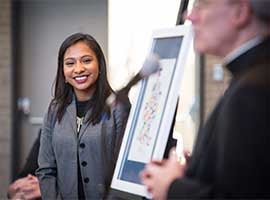 Do you know a faith-filled Catholic young adult who has demonstrated leadership against poverty and injustice in the United States?
The Cardinal Bernardin New Leadership Award, an activity of the Catholic Campaign for Human Development, recognizes the leadership, energy and diverse skills that young people bring to the anti-poverty work of low-income projects and Catholic parishes. The Cardinal Bernardin New Leadership Award highlights the gifts of young leaders and their Gospel commitment to the poor.
Joseph Cardinal Bernardin (1928-1996) demonstrated strong leadership to fulfill the option for the poor in the US and to build bridges across ethnic, class, and age barriers. Cardinal Bernardin began his ministry at a young age and was ordained a bishop while still in his thirties. In his role as the first bishop named General Secretary of the NCCB/USCC, he nurtured the vision for the Catholic Campaign for Human Development and helped to shepherd it through its first years. He remained a strong supporter of CCHD while serving as Archbishop of Cincinnati and Cardinal Archbishop of Chicago. It has been said about Cardinal Bernardin that his gift was a vision to build consensus "that doesn't just settle for what already exists, but moves us ahead to what is possible."
The Bernardin Award is designed to
Recognize new and future leadership against poverty and injustice
Promote young people as leaders in our communities
Honor outstanding young leaders and their organizations/ parishes
Strengthen the Catholic community's participation in CCHD's anti-poverty mission

Eligibility
The award would be given to a young adult Catholic who demonstrates all of the following:
leadership consistent with the work and philosophy of CCHD to address the basic causes of economic poverty
a commitment to carry out the church's option for and with those who are poor through empowerment and relationship building between those who are living in poverty and those who are not, and
potential for future leadership in these arenas.

Nominations Process
Deadline: August 31 Annually
Nominations may be submitted by a pastor, university faculty or staff, a local CCHD Diocesan Director, a CCHD-funded project, a mentor or a colleague.
The nominator should submit the nomination form, a one-page recommendation, and up to two pages of supplementary biographical information, by August 31. The nomination form link is normally live from May 1 - August 31 annually.

Award Notification
National CCHD will seek endorsement by the local Catholic bishop prior to determining recipients. One award recipient will be chosen and notified by mid-October.
CCHD will honor the recipient with a $1000 cash award and a reception held in conjunction with the Fall meeting of the U.S. Catholic Bishops in Baltimore, MD in November annually. CCHD will cover the recipient's travel and one overnight stay in Baltimore, MD. 
Specific questions can be addressed to Diana Brown via email or by phone (202) 541-3185.
Learn more about the 2022 winner, Fr. Guillermo Treviño. 
Watch Videos of Past Winners