GrandPrize
"Reflections of Jesus" by Dong Phung, Diocese of Spokane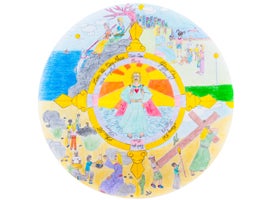 The illustration depicts Jesus teaching children; young people helping Jesus carry his cross; children sharing loaves and fishes; and two youths rescuing a sheep. The image portrays the role of young people in working to address poverty. With a "spirit of solidarity and voluntarism . . . all of us have to unite and support one another in order to advance a better future, a better society."Watch Dong receive the award at the National Catholic Youth Conference (begin watching at minute 116).
2nd Place, Grades 7-9
"Si Se Puede" by Kara Hoffman, Diocese of St. Petersburg
2nd Place, Grades 10-12
"Heart in Hands" by Julianne Poisy, Diocese of Worcester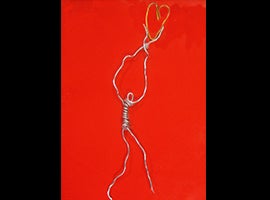 "The figure is holding the heart to represent solidarity. Humans should take care of one another and treat one another with respect…. It represents empowerment because it shows how each person has the ability to take care of someone with love no matter what their situation. We are all connected as one human family no matter what our 'story' is."
3rd Place, Grades 7-9
"Lend a Hand" by Reyers Bruscoe, Diocese of Albany
 3rd Place, Grades 10-12
"Insert Community Here" by Joe Garrett, Diocese of Nashville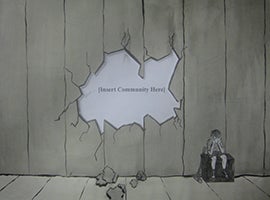 "You walk around Nashville and see areas that buildings were built, but the area that was there before was a community, and when the building was built, many people of the old community went into poverty...The message of my art is that we as a community need to stop saying we are going to do something. We need to actually do something."
Honorable Mention
"Community—Working Together, Growing Together" by Elyse Sheppard, Kyle Benkel, Jordan Downs, Sam Driscoll, Isabel Vasquez, Emily Dormady, Evan Anderson, Lindsay Staudt, and Nicole Breske, Diocese of Orlando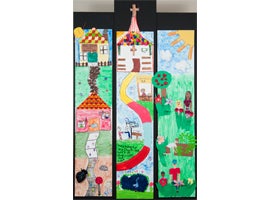 This entry shows what "ideal" community would look like "if we applied Catholic social teaching to overcome poverty through education, cooperation, Christian love, respect for others, and building a community that lifts people out of poverty."
Experience the richness of your faith