"I want a Church which is poor and for the poor."
-Pope Francis, Evangelii Gaudium
January is Poverty Awareness Month!
During Poverty Awareness Month, join the U.S. Bishops, the Catholic Campaign for Human Development, and the Catholic community in the United States in taking up Pope Francis' challenge to live in solidarity with the poor! Daily reflections (also en Español) include ways to learn about poverty, get inspired by how communities are responding, and take action with others.  All of these resources are also en Español. You can also sign up to have the daily reflections emailed to you during Poverty Awareness Month!
Use this Poverty Awareness Month logo (JPEG) to share the month with others!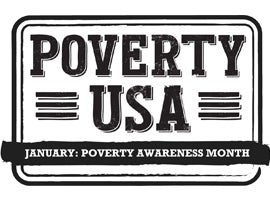 Get Involved
Social Media
Follow CCHD on social media!




Action Alert
Join our advocacy network to let our elected leaders hear the voice of the Catholic community in the United States!

Notes for Neighbors
Sign up. . . to receive our E-Newsletter!

PovertyUSA
Visit PovertyUSA and PobrezaUSA for education on economic justice, resources for prayer, key conduits for action and to find a CCHD-supported group near you!
WeAreSaltAndLight.org  
Visit We are Salt and Light for resources to pray, reach out, learn and act together to put faith in action to address poverty and other issues. Includes 100+ resources, 100+ success stories, and a self-assessment tool with resource recommendations to strengthen weak areas.
CRS - Lead the Way 
An initiative of  Catholic Relief Services (CRS) with support from the U.S. Conference of Catholic Bishops that calls on Catholics to defend the life and dignity of people living in poverty throughout the world.