Novena for the Legal Protection of Human Life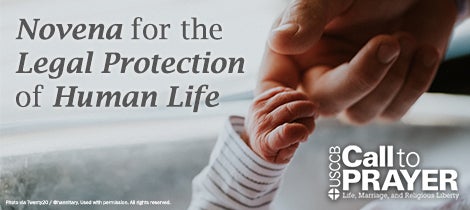 Supreme Court Justice Anthony Kennedy's announcement that he will retire has catapulted Roe v. Wade (the Supreme Court's landmark abortion case) into the news. Pro-abortion groups are pulling out all the stops to urge the U.S. Senate to reject any nominee who does not promise to publicly endorse Roe. And they are misrepresenting the legal and social reality of Roe and what would happen if it is overturned.
The upcoming Supreme Court vacancy provides us with yet another occasion requiring focused prayer. The U.S. Conference of Catholic Bishops does not support or oppose the confirmation of any presidential nominee. However, given this historic moment, the U.S. bishops are
urging all people of good will
to pray that a change in the U.S. Supreme Court may move our nation closer to the day when every human being is protected in law and welcomed in life.
From Friday, August 3, 2018 to Friday, September 28, 2018, the weekly Call to Prayer will be adapted as a nine-week Novena for the Legal Protection of Human Life. In addition to the current invitation to fast on Fridays, participants are encouraged to pray one Our Father, Hail Mary, and Glory Be for the intention of the novena.

Participants will also be provided with weekly opportunities to learn more about Roe v. Wade, and share that information with their representatives.

Resources