Young New Mexico priest's work in empowering poor leads toCCHD award

By Dennis Sadowski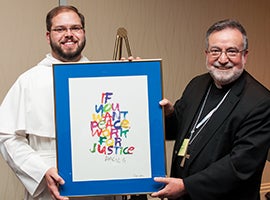 WASHINGTON (CNS) — Father Graham Golden admits not knowing much about the Catholic Campaign for Human Development when he applied for a ministry internship with the Archdiocese of Santa Fe, New Mexico, while studying for the priesthood.
It didn't take him long to become a spirited advocate of the U.S. bishops' domestic anti-poverty and social justice program.
Now a Norbertine priest, Father Golden, 30, sees the work of CCHD in financially supporting the efforts of local organizations to give low- and moderate-income people a voice in public policy decisions affecting their lives as integral to the work of the church.
His role blossomed from his work in Santa Fe five years ago so much that now he is a consultant to the Archdiocese of Chicago's CCHD program.
The priest's enthusiasm for the program and his work empowering marginalized communities led him to be named CCHD's 2016 Cardinal Bernardin New Leadership Award winner.
Father Golden was to receive the award at a reception Nov. 14 during the fall general assembly of the U.S. Conference of Catholic Bishops in Baltimore.
CCHD, Father Golden told Catholic News Service, embodies the Catholic social teaching through local communities.
"The emphasis is placed not just on systemic transformation from the standpoint of policy advocacy, but they really try to motivate communities to reimagine how they vision their own well-being," Father Golden said. "(CCHD is) low-income empowerment, leadership development and that real intersection between solidarity and subsidiarity."
Established by the U.S. bishops in 1969, CCHD is funded by an annual collection taken up in the parishes of every U.S. diocese. This year's collection will be held in most parishes the weekend of Nov. 19-20. Seventy-five percent of the collection is forwarded to the national office for distribution in the form of grants nationwide. The other 25 percent stays in the diocese for distribution to local projects or programs.
Father Golden's embracement of the CCHD philosophy has helped in his work as coordinator of program development, evaluation and research for the Catholic Foundation of the Archdiocese of Santa Fe, which is in one of the country's poorest regions. In his position, he works with local communities to fund programs that build local leadership in the effort to achieve social justice.
Beyond his day job, Father Golden serves as parochial vicar at Our Lady of the Most Holy Rosary Parish and director of the Office of Christian Discipleship and Religious Vocation for the Norbertine Community of Santa Maria de la Vid Abbey, both in Albuquerque, his hometown.
His role with the abbey finds him on the road to places such as Benedictine College in Atchison, Kansas, to lead retreats and offer spiritual counseling to young people.
He admitted to CNS that he leads a busy life, but that the grace of God and the support of the 10 other members of the Norbertine community in Albuquerque carry him through each day.
"Graham is one of the people who you wonder when they sleep," said friend Julia McStravog, who nominated Father Graham for the award.
They became friends while enrolled at Catholic Theological Union in Chicago. McStravog, program and research specialist in the Secretariat for Ecumenical and Interreligious Affairs at the USCCB, told CNS that it became apparent as their friendship evolved that Father Golden "wanted to go where Jesus lived" and that was with poor and struggling people.
"It is his commitment to social justice and empowering people to advocate for themselves, to honor their dignity and say they have a voice," McStravog said.
Father Golden's journey to the priesthood began early in life. He grew up in a family that attended a Unitarian Universalist church. At age 7, he recalled asking his mother, who was raised Catholic, about attending churches where prayer and ritual were regularly practiced.
"Growing up in New Mexico, Catholicism just infuses life, so my sense of religion was much more ritualized and sacramental than I was experiencing. Going to different churches, I fell in love with the ritual and sacramental presence of Christ," he said.
"Fascination with the sacraments and that whole sense that God can be known in some concrete way has always held some sway in life," Father Golden added.
He was ordained to the priesthood in June 2015.
Father Golden's interest in social justice also was planted at a young age. His parents were advocates of immigrant rights and the family sponsored refugees who made their way to New Mexico. Today, melding his faith with the need to carry out Catholic social teaching in real life circumstances guides the young priest's life.
"The role of priest as I understand it is one called forth to really make visible the savior. That's what sacramental ministry is. It's to make God's presence tangibly known. For me it's one in the whole. Doing that in the midst of community, in the midst of oppression and justice, explains how to make God's present," he explained.
"My role in leadership in trying to continually uphold the vision that God has for our world and what the kingdom could be in our midst. I'm trying to seek that."
---
Follow Sadowski on Twitter: @DennisSadowski.
Copyright ©2016 Catholic News Service www.CatholicNews.com Reprinted with permission of CNS.
The Cardinal Bernardin New Leadership Award honors a Catholic between the age of 18 and 40 who demonstrates leadership in fighting poverty and injustice in the United States through community-based solutions. It is named for the late Cardinal Joseph Bernardin, who served as archbishop of Chicago from 1982 till his death in 1996.