What's New?
Reflection by Most Reverend Joseph N. Perry
Auxiliary Bishop, Archdiocese of Chicago: Vicar for Vicariate VI, Chairman of the Subcommittee on African American Affairs
"See that you do not despise one of these little ones, for I say to you that their angels in heaven always look upon the face of my heavenly Father."
- Mt 18:1-5, 10, 12-14
When I was a youth, Catholics were taught that God gave each of us a guardian angel to watch over us and keep us safe. Perhaps even now you can recite the Guardian Angel prayer that you memorized ages ago. In maturity, we may have released an attachment to our guardian angel. Yet, this Scripture passage reminds us of God's great love for the purity of a child's faith. 
Through religious imagination, one can visualize angels gazing constantly at the source of adoration then whispering God's intentions in the ears of children. Pray that we are not the static that interferes with such holy conversations. 
This June, the Secretariat of Cultural Diversity convened a national Intercultural Encounter (Journeying Together) to improve the Church's ministries for and with youth and young adults, especially with underrepresented cultural groups. Nearly 400 young adults, ministry leaders, bishops and USCCB staff working with all cultural families involved in these ministries gathered in Chicago. Hailing from as far as Alaska and Hawaii they represented 6 cultural families – Black/African American (BAA), Asian and Pacific Island (APIA), Hispanic/Latino (HA), Native American/Indigenous (NA) and European American (EA). Now the work continues in earnest because business as usual just won't cut it. We strive to improve methods of communication, processes for engagement and program efforts. 
I was struck by the confident faith in and love for the Church these young adults exhibited as well as their interest and close attention in listening to the stories of pain and joy of others not of their racial or ethnic tradition.  This was the workings of Church not seen often where we live and worship.  So, we had something unique and inspirational to provide for this generation of young Catholics who are already demonstrating themselves disciples.  Would that we can hold on to this wherever we live and move and have influence! 
The 2-year experience of planning and executing Journeying Together revealed that gifted leaders from this generation of younger Catholics are present. They struggle to be recognized and heard. Consequently, we the church must open our ears and hearts to the prophetic voices among us. This is not an either-or generation proposition. It is an invitation to step into intergenerational dialog and cooperation, as well as authentic intercultural friendship. What an exciting, promising opportunity!   
Today many of the faithful lament the departure of teens and young adults from formerly vibrant parishes. True pre-Covid, this is more evident as many families continue remote worship. Where did the young people go and why did they leave? Elders shake their heads and wring their hands in despair while pastors and parish groups attempt to surface solutions to bring them back. The question is, bring them back to what? Why would younger folks come back to more of what sent them away? We could ask the remaining few. 
In the meantime, I invite seasoned Catholics active in dioceses and national organizations to recall moments when you decided to serve God through active participation in the church. Who encouraged you to respond affirmatively? It's likely several people and situations prompted your movement to a closer relationship with God and moments of hesitation. As one younger ministry leader shared with me, established Catholic leaders who wish to engage new leaders would do well to reflect vividly on their own points of conversion and transformation. Start by identifying incidents that turned you on and off to the Church as you were coming up.   
What I'm speaking of is Evangelization. It is at the top of our job description as followers of Jesus Christ. Thus, the Subcommittee on African American Affairs (SCAAA) is developing several efforts to situate Black Catholic Ministry where Generation X, Millennials and Gen Z folk and their allies live. Boomers and older generations will reap the benefits, too. 
1. SCAAA Evangelization Task Force is partnering with the National Black Catholic Congress Office to include an Evangelization track at Congress XIII. Details are being worked out. 
2. Supporting Catholic Campus Ministry Outreach at HBCUs in dioceses and proximate parishes, SCAAA wishes to leverage the rich potential for relationships with HBCUs and the local Black Catholic community. SCAAA is creating a network of existing and new campus ministers. We invite the support of Black Catholic HBCU alumni and financial supporters. How can you help? Provide welcoming parishes for Mass, reception of the Sacraments, RCIA, parish/diocesan events, service opportunities and young adult ministry. For example, as relationships are formed offer a ride to church, a home cooked Sunday dinner with your family or friendly after Mass conversations. Also note, there is an urgent need for dedicated Catholic campus ministers and supporters. 
3. Building on the success of the Journeying Together initiative the Black/African American (BAA) family of young adults and ministry leaders together with USCCB will launch follow-up action this Fall. Local dioceses, parishes and national organizations will be invited to participate. Look for updates from your diocesan and KPC leaders.    
Finally, I invite you to prayerfully evaluate how you can engage in robust evangelization with prayer and action. As Jesus urged us, "Do not despise these young ones."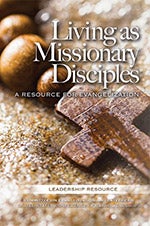 Leadership Resource: Living as Missionary Disciples
Living as Missionary Disciples provides dioceses and parishes and other church ministries with a road map to "new paths for the Church's journey" of evangelization. It is not intended to provide a ready-made program for a parish to follow or a detailed strategic plan to implement. Rather, it offers principles that dioceses and parishes can apply to their efforts in evangelization and missionary discipleship. 
View | Order

MORE VIDEOS: See all the videos on this playlist. Click the icon in the upper-left corner of the player to view the playlist.
What is Evangelization?
Excerpt from Go and Make Disciples: A National Plan and Strategy for Catholic Evangelization in the United States.
"Go and make disciples of all nations, baptizing them in the name of the Father, and of the Son, and of the Holy Spirit, teaching them to observe all that I have commanded you." Mt 28: 19-2
The simplest way to say what evangelization means is to follow Pope Paul VI, whose message Evangelii Nuntiandi (On Evangelization in the Modern World) has inspired so much recent thought and activity in the Church. We can rephrase his words to say that evangelizing means bringing the Good News of Jesus into every human situation and seeking to convert individuals and society by the divine power of the Gospel itself. At its essence are the proclamation of salvation in Jesus Christ and the response of a person in faith, which are both works of the Spirit of God.
Evangelization must always be directly connected to the Lord Jesus Christ. "There is no true evangelization if the name, the teaching, the life, the promises, the Kingdom and the mystery of Jesus of Nazareth, the Son of God are not proclaimed.
Why Do We Evangelize?
Excerpt from Go and Make Disciples: A National Plan and Strategy for Catholic Evangelization in the United States.
We must evangelize because the Lord Jesus commanded us to do so. He gave the Church the unending task of evangelizing as a restless power, to stir and to stimulate all its actions until all nations have heard his Good News and until every person has become his disciple.
The Lord commanded us to evangelize because salvation is offered to every person in him. More than a holy figure or a prophet, Jesus is God's Word, God's "very imprint," the power and wisdom of God. He is our Savior. Becoming like us and accepting our human nature, he addresses in himself, in his death and resurrection, the brokenness of our lives. He suffers through our sin; he feels our pain; he knows the thirst of our death; he accepts the limits of our human life so that he might bring us beyond those limits. "[H]e humbled himself, becoming obedient to death, even death on a cross. Because of this, God greatly exalted him! . . ." Taking on our death as Savior, Jesus was raised to life. In Christ, all can come to know that the sin, the coldness, the indifference, the despair, and the doubt of our lives are overcome by God's taking on our human nature and leading us to new life. In him, and him alone, is the promise of resurrection and new life.
How Do We Evangelize? 
Excerpt from Go and Make Disciples: A National Plan and Strategy for Catholic Evangelization in the United States.
Witness, which is the simple living of the faith; and sharing, which is spreading the Good News of Jesus in an explicit way.
We cannot really talk about the "ordinary" life of the Church because all of it is the graced gift of the Holy Spirit. Yet there are familiar ways by which evangelization happens: by the way we live God's love in our daily life; by the love, example, and support people give each other; by the ways parents pass faith on to their children; in our life as Church, through the proclamation of the Word and the wholehearted celebration of the saving deeds of Jesus; in renewal efforts of local and national scope; in the care we show to those most in need; and in the ways we go about our work, share with our neighbors, and treat the stranger. In daily life, family members evangelize each other; men and women, their future spouses; and workers, their fellow employees, by the simple lives of faith they lead. Through the ordinary patterns of our Catholic life, the Holy Spirit brings about conversion and a new life in Christ.
Here, there are two elements at work: witness, which is the simple living of the faith; and sharing, which is spreading the Good News of Jesus in an explicit way.
To learn more about Evangelization please explore our resources: More Resources To Come Soon!  
Order Go and Make Disciples: A National Plan and Strategy for Catholic Evangelization in the United States.