"This is my body given for you"


Luke 22:19
Catechetical Sunday is a wonderful opportunity to reflect on the role that each person plays, by virtue of Baptism, in handing on the faith and being a witness to the Gospel. This year, the Church will celebrate Catechetical Sunday on September 18, 2022 , and the theme is: "This is my body given for you" Those who the parish community has designated to serve as catechists will be called forth to be commissioned for their ministry. 
These online resources are offered free of charge to all interested individuals and to serve the needs of diocesan leaders. Many of the resources are also of interest to parish catechetical leaders and catechists, youth and young adults' ministers, Catholic school principals and teachers, as well as other individuals who provide faith formation to diverse age groups and settings.
September 18, 2022
Twenty-Fifth Sunday in Ordinary Time: Green Vestments
Readings: Am 8:4-7, Ps 113:1-2, 4-6, 7-8, 1 Tm 2:1-8, Lk 16:1-13
Catechesis of the Image
Catechesis of the Image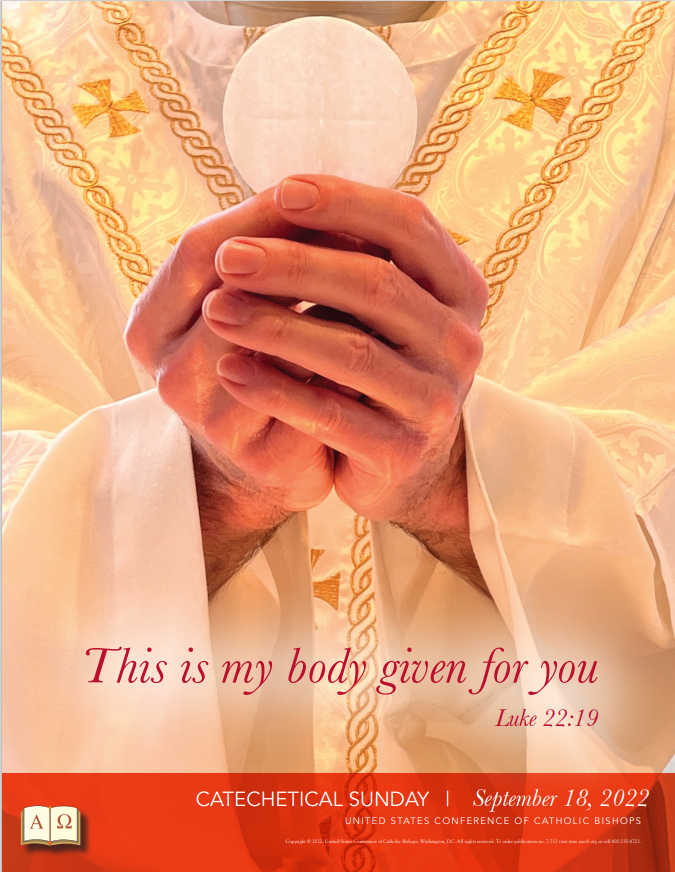 The Eucharist is the source and summit of the Christian life. The term "Eucharist" originates from the Greek word eucharistia, meaning thanksgiving. In the celebration of the Eucharist, bread and wine become the Body and Blood of Jesus Christ through the power of the Holy Spirit and the instrumentality of the priest. The whole Christ is truly present -- body, blood, soul, and divinity -- under the appearances of bread and wine, the glorified Christ who rose from the dead. This is what the Church means when she speaks of the "Real Presence" of Christ in the Eucharist.
Sr. Mariana
Sr. Maria Caeli
Sr. John Mary
Fr. Ajani Gibson Part 1
Fr. Ajani Gibson Part 2
Fr. Ajani Gibson Part 3
Dr. James Pauley, Professor of Theology and Catechetics, Franciscan University of Steubenville
Dr. F. Javier Orozco, OFS, Executive Director, Human Dignity and Intercultural Affairs, Archdiocese of St. Louis
Dr. F. Javier Orozco, OFS, Executive Director, Human Dignity and Intercultural Affairs, Archdiocese of St. Louis