How Can You Become a Foster Parent?
Find the program nearest you on the list below.

Visit their website.

Fill out their contact form for becoming a foster parent or contact them directly with specific questions.

Subscribe to our group, to receive more information about becoming a foster parent for refugee and immigrant youth.

Learn more about the process of becoming a foster parent.
Northeastern Region
Southern Region
Midwestern Region
Western Region
No location near you? Want to know how else you can help?
Take Action: Contact your local Catholic Charities affiliate to learn about their domestic foster care opportunities and material and volunteer needs for local immigrant families.
Pray: Prayer for migrant children.
Give: To support the work of USCCB/MRS on behalf of unaccompanied children.
Learn More: Learn more about the work we do for unaccompanied refugee and immigrant minors.
Follow MRS on  Facebook: @JusticeforImmigrants and Twitter: @usccbjfi, @mrsserves for the latest news on issues affecting migrating children.
FAQs
There is no USCCB or LIRS location near me, are there any other agencies providing foster care for immigrant youth?
If there are no USCCB or LIRS programs in your area, you can contact your local Catholic Charities to learn about their domestic foster care needs. You can also subscribe to our group to receive information should there be opportunities in your area in the future.
How close do I have to be to the agency?
Each agency is licensed for a certain geographic area. Contact the location nearest you to find out if they serve your location.
What does the foster parent process look like?
Those interested in becoming a foster parent would need to follow state and agency guidelines for training and licensing.Each state and agency have their own requirements. Watch our brief video on the process of becoming a foster parent.
Still have questions? Contact us at foster@usccb.org or (202) 541-3081.
SPREAD THE WORD - Download the PDF and post it wherever you can or post this image on your website!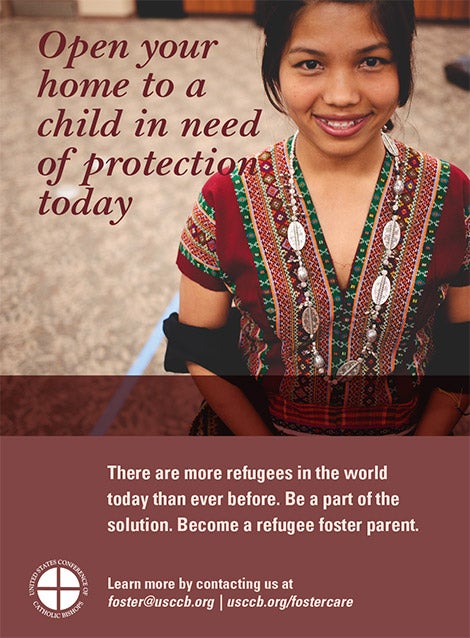 Experience the richness of your faith