What is it?
The Charter for the Protection of Children and Young People, more commonly known as the Dallas Charter, is a comprehensive set of procedures originally established by the USCCB in June 2002 for addressing allegations of sexual abuse of minors by Catholic clergy. The Charter also includes guidelines for reconciliation, healing, accountability, and prevention of future acts of abuse. It was revised in 2005, 2011, and 2018. 
THE CHARTER ACTIVELY ADDRESSES:
Creating a safe environment for children and young people

Healing and reconciliation of victims and survivors

Ensuring prompt and effective response to allegations

Cooperating with civil authorities

Holding offenders accountable

Instituting a process of accountability for the future to ensure instances of allegations are dealt with swiftly and effectively, assisted by the Secretariat of Child and Youth Protection and the National Review Board (NRB)
THE NATIONAL REVIEW BOARD – WHO ARE THEY?
In 2002, the United States Conference of Catholic Bishops established the National Review Board to directly involve expert, Catholic laity in a collaboration to prevent the sexual abuse of minors at the hands of American clergy. Each year, the Board reviews and reports on the progress of the Charter and recommends areas where the Church can improve their efforts.
Responsibilities of the National Review Board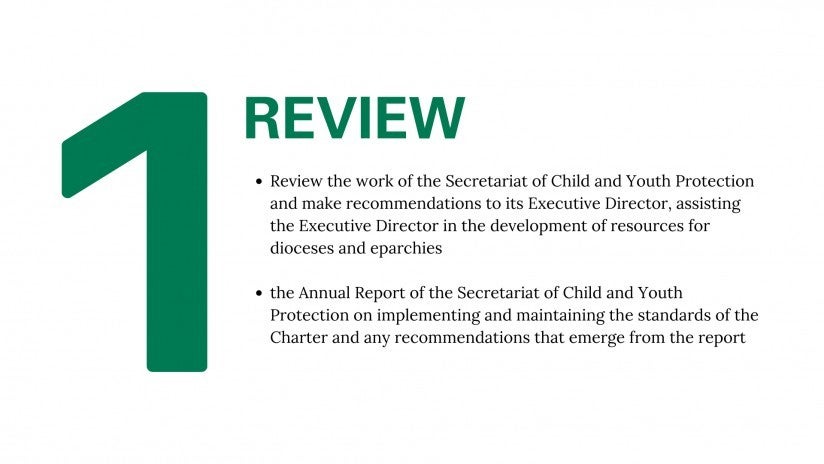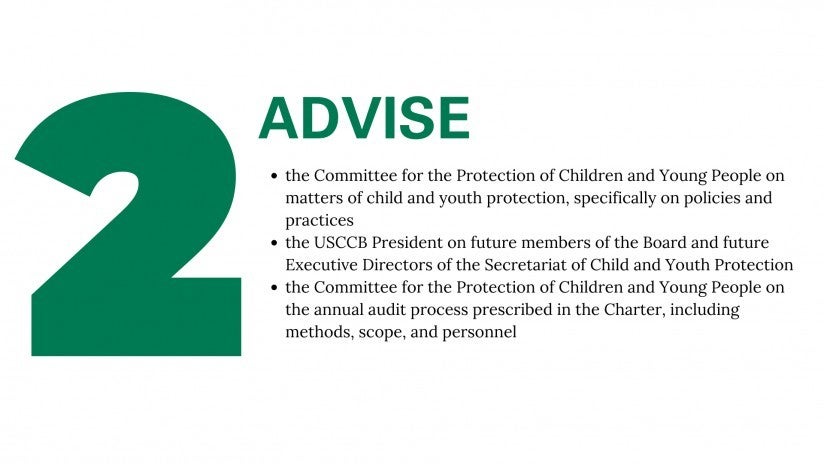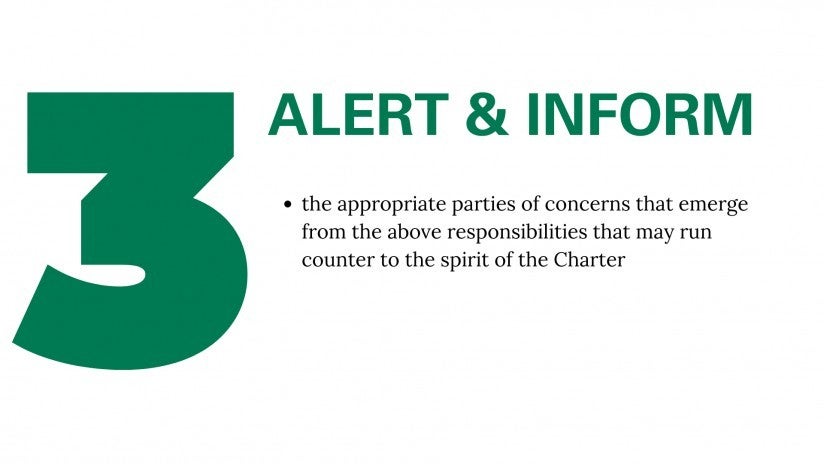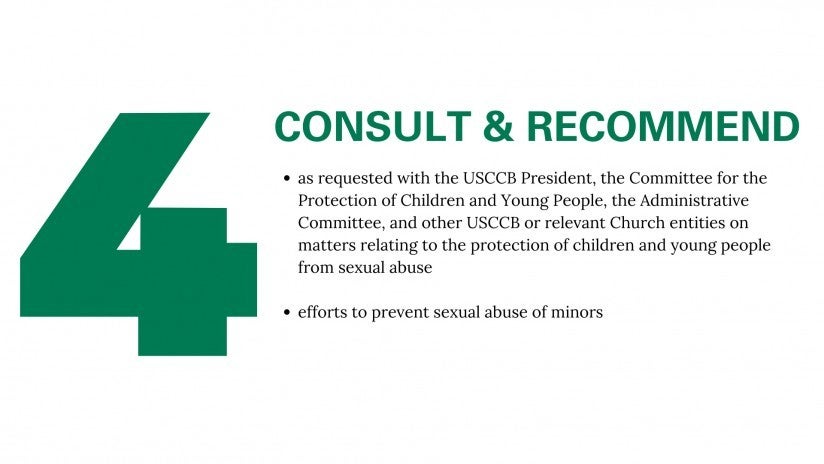 Review Board Members
Suzanne Healy, Chairwoman
Suzanne Healy, Chairwoman, was the Victims Assistance Coordinator for the Archdiocese of Los Angeles from 2007 through 2016. Her role was to assure healing, reconciliation and support for victim survivors. She is a licensed Marriage and Family Therapist with experience in private practice and as a school counselor. She also has eighteen years of business management and strategic planning experience with AT&T and Pacific Bell. Mrs. Healy has a BS in Psychology and an MS in Counseling, M.F.C.C. option, with a Pupil Personnel Services Credential with Advanced Specializations in School Counseling and Child Welfare and Attendance Services, both from California State University at Los Angeles. Mrs. Healy served on the Executive Board of the Los Angeles Department of Mental Health Faith Based Advocacy Council, and also as a Committee Member for Los Angeles City Attorney Office Cyber Crime Prevention Symposium in Los Angeles, both From 2008-2016.  In 2016, she received the Archdiocese of Los Angeles Department of Health Affairs Excellence Award.
She presently is retired and serves on the board of directors for Valley Family Center in San Fernando, CA.
Vivian M. Akel
Vivian M. Akel, LCSW, is a retired Clinical Social Worker currently holding the position (volunteer) of Safe Environment Coordinator for the Maronite Eparchy of Saint Maron of Brooklyn as well as Pre-Cana facilitator. Her prior experience includes 21 years with the New York City Department of Education as a School Social Worker providing all aspects of Social Work Services with school age children, parents and educators. In addition, Ms. Akel held the position of Director of Social Work in an acute care medical center supervising social workers providing services to patients, families and medical personnel. Ms. Akel began her career working in a Community Mental Health Center in Brooklyn New York providing outpatient psychotherapy to individual patients, couples and families and maintained a private practice until her retirement in 2014. She received a Master's Degree in Social Work from Hunter College School of Social Work and is currently enrolled in a Spiritual Direction training program at Fairfield University's Murphy Center for Ignatian Spirituality. Ms. Akel has been married for 34 years and has two adult children.
James Bogner
James Bogner is a retired Senior Executive Special Agent of the Federal Bureau of Investigation with over 35 years of law enforcement experience including serving as a municipal police officer, commanding a detective division, to an FBI Special Agent.  He has served as a field investigator In Indianapolis, an investigative supervisor in Chicago, a Unit Chief in Washington DC Headquarters of the FBI's Internal Affairs/Adjudication Unit, and then the national Inspection Unit.  He was assigned as Assistant Special Agent-in-Charge in Oklahoma City after the 1995 bombing.  He served in the Senior Executive Service in Washington, DC, and later as Special Agent-in-Charge of FBI offices in the Midwest over Nebraska and Iowa.  These positions included investigations, developing multi-agency liaisons and partnerships, addressing national personnel and misconduct policies and issues, conducting national inspections and audits, risk analysis, strategic planning, and high-profile media matters.  He later served as the first Assistant Federal Security Director developing procedures and protocols for airport security for Law Enforcement in Nebraska and Iowa after 9/11. He has served on several local, state and national boards and councils.
Following completion of a Masters Degree in Administration of Justice, his post-Masters work included studies in Public Policy Analysis.  He is a graduate of the FBI's National Executive Institute.  He has also served as Adjunct Faculty at the University of Nebraska-Omaha in the Criminal Justice program.
His volunteer work at his parish in Omaha includes being President of his Parish Council to include data and survey analysis and strategic planning.  He was a principal in founding the parish's "Catholics Returning Home" program for fallen away Catholics, and in developing and implementing evangelization initiatives in the parish.  He also serves on the Archbishop's Advisory Review and Ministerial Misconduct Boards.
Elizabeth Hayden
Elizabeth Hayden is a retired District Court Judge for the State of Minnesota. She is a graduate of the College of St. Benedict with a degree in Social Work.  While working in that field, she held positions in a psychiatric hospital, county social services and the State Dept. of residential licensing.  She received her law degree from Oklahoma City University.  Subsequently, she served as a prosecutor in the office the Stearns County Attorney for six years before being appointed a District Court Judge.  In her more than 23 years as a judge she presided over criminal, civil and family law cases and trials including many sexual abuse cases. She served as Chair of the MN Supreme Court Committee on the General Rules of Practice which led to a change in MN law to allow cameras in the courtroom.  
After being appointed by the MN Supreme Court, she served on a three-judge panel that presided over the U.S. Senate election contest of Norm Coleman vs. Al Franken.  Judge Hayden was President of the Minnesota District Judges Association.  She has served on the Board of Trustees of the College of St. Benedict and is currently a member of the Board of Governors of St. Thomas University School of Law.  She is also a Trustee for St. Mary's Cathedral in St. Cloud MN.  Appointed by Bishop Donald Kettler she has been on the Diocesan Review Board for the Diocese of St. Cloud and is serving her second term as Chair of that Board.  As a member of the CentraCare Health Foundation Board, she chairs the Grants Committee.  Judge Hayden and her husband, retired Judge Charles A. Flinn live in St. Cloud MN. 
Steven Jubera
Steven Jubera is an Assistant District Attorney for Mississippi's 17th Judicial District. Born in Chicago, he served as a United States Marine being deployed to the Middle East with the 11th Marine Expeditionary Unit Upon Mr. Jubera's honorable discharge, he attended the University of Illinois at Chicago then earned his law degree from the University of Mississippi in Oxford, MS where he currently resides. Mr. Jubera has assisted in the formation of a child advocacy center to better serve the children of his community and has been a speaker advocating for children including the One Loud Voice conference in Mississippi. Mr. Jubera currently serves on the Review Board for the Diocese of Jackson. He is married with four children and one grandson.  
Stacie LeBlanc
Stacie LeBlanc is the co-founder of The Up Institute and the President of American Professional Society of Abuse on Children (APSAC). She is a passionate advocate for children and an attorney with a Master's Degree in Education. After 29 years of responding to child abuse first, as a supervising prosecutor of a child abuse unit that maintained a 94% conviction rate and secondly, as an executive director of two child abuse non-profits, the New Orleans Children's Advocacy Center and the Audrey Hepburn CARE Center, Stacie moved upstream to solve child abuse providing consultation and trainings. She has created sought after programs including Beyond Mandatory Reporting; Dear Parents; Teens, Sex, and the Law; and Painless Parenting. Stacie has provided over 750 interactive trainings for more than 53,500 individuals focused on translating research into successful practice. Stacie has published books for families and articles on the benefits, evaluation, and implementation of No Hit Zones. Stacie chairs the National No Hit Zone Committee for the National Initiative to End Corporal Punishment and serves on the National Review Board for the US Catholic Bishops. She has received numerous awards including Outstanding Prosecutor, FBI Director's Community Leadership and Champion for Children for successfully passing 11 legislative bills. Beyond family and pets, Stacie's greatest joy is inspiring undergraduates with a highly-rated ACEs CAST course at Tulane University.
Christopher McManus, MD
Christopher McManus, MD is the owner and President of CP & RP McManus, MD, Ltd where McManus practices Internal Medicine in the Diocese of Arlington, VA. He is active in the Northern Virginia Guild of the Catholic Medical Association and is a charter member and current leader for Privia Medical Group.  McManus was a professor for Georgetown University Medical School from 1998-2006 and has served as a Physician Advisor for Quality Resource Management. McManus served his residency training at the University of Vermont and received his degree from the University of Virginia School of Medicine.  He currently serves on the Arlington County Executive Board and has previously served as President of the Arlington Medical Society. Other volunteer activities for McManus include serving at the Arlington Free Clinic, volunteering in the Medical Reserve Corps for the Arlington County Health Department, and local service to his home parish. He has been married for over thirty years, has four adult children, and enjoys spending time outdoors with his family.
Thomas M. Mengler
Thomas M. Mengler is president of St. Mary's University, San Antonio, Texas. He holds a J.D. from the University of Texas School of Law. Before becoming president of St. Mary's, he served as dean of two law schools: the University of Illinois at Urbana-Champaign and the University of St. Thomas in Minnesota. Mr. Mengler has served Catholic higher education as a member and, between 2018 to 2020, as Chair of the Board of Directors of the Association of Catholic Colleges and Universities. In that role, Mr. Mengler also served in 2018 as a member of the Higher Education Working Group for the USCCB's Committee on Higher Education. Previously, he served on the Board of Directors of Catholic Charities of San Antonio and as Co-Chair of the Lay Commission on Clergy Sexual Abuse of Minors in the Archdiocese of San Antonio. He and his wife have four adult children.
Eileen F. Puglisi
Eileen F. Puglisi held the position of Director of the Office for the Protection of Children and Young People in the Diocese of Rockville Centre where from 2003-2014.  Her prior work history involves director level work at various Psychiatric Centers in New York, including Deputy Director of the Queens Children's Psychiatric Center. Puglisi received a Professional Degree in School Psychology from St. John's University in New York and an M.S. in Guidance and Counseling from Hunter College in New York. She has direct experience as a psychologist and is an avid golfer.
John N. Sheveland
John N. Sheveland is Professor of Religious Studies and the current Flannery Chair of Catholic theology at Gonzaga University in Spokane, WA., where he teaches courses on Christian theology, interreligious dialogue, and religion and violence. He holds a doctorate in systematic and comparative theology from Boston College, a master's degree in Christian theology from Yale Divinity School, and a bachelor's degree in history and theology from the University of Portland. His current areas of research and writing include theological reflection upon traumatic wounding and upon religious violence. At Gonzaga he organizes the annual lecture series called Being Religious Inter-religiously which advances the Jesuit commitment to interreligious dialogue.
He received in 2013 a Faculty Diversity Leadership Award and in 2015 an Exemplary Faculty Award from Gonzaga University.  He serves on the boards of the College Theology Society and the Society of Buddhist-Christian Studies, the steering committee of the Interreligious and Interfaith Studies Group of the American Academy of Religion, the advisory board of the Currents of Encounter monograph series with Brill and is a book review editor for Horizons. His research articles have appeared in a variety of academic journals and scholarly books, and he is the author of Piety and Responsibility (Ashgate/Routledge, 2011 (2017 2nd edition).
Theresa Simak
Theresa Simak is an Assistant State Attorney in the 4th Judicial Circuit of Florida. She has been with the State Attorney's Office since 2003 and was made a Division Chief in 2009. Simak has spent most of her career focused on the prosecution of sexual assault, child abuse and domestic violence offenses. She is active in the community of Jacksonville and serves as chair of the University of Florida Child Protection Team Community Advisory Council and serves on their Operations Advisory Council. Simak currently serves on the State Forensic Interview Protocol Task Force to help develop a standardized protocol for forensic interviews of children suspected of having been abused. She also works closely with the sexual assault and domestic violence centers in Northeast Florida to include Hubbard House, Quigley House and the Women's Center of Jacksonville. Simak received the Mayor's Judicial Victim Advocate Award for outstanding service to victims in 2014 and received the State Attorney's Office Distinguished Service Award for dedication and outstanding performance in 2015. Simak is married, and she and her husband have three children.
Jan Slattery
Jan Slattery served as the Director of the Office for the Protection of Children and Youth in the Archdiocese of Chicago from 2003-2015. Previously she was the Director of Ministry in Higher Education for the Archdiocese of Chicago. Prior to working in the Archdiocese, Slattery was an administrator at Loyola University Chicago. She has been a consultant for various religious denominations on child abuse prevention and has been a frequent presenter on child abuse prevention. She gave a presentation on pornography at the Pontifical Gregorian University in Rome in 2012 and is co-author of Conversations, a program that addresses loneliness and life issues in diocesan priesthood. She was a member of the USCCB Higher Education Committee and Chairperson of the Jesuit Association of Student Personnel Administrators.  While Director of the Office for the Protection of Children and Youth, she partnered with the Children's' Advocacy Center in Chicago and Prevent Child Abuse America to further awareness of child abuse.  Slattery currently serves on the Review Board for three religious communities. She has an MA in Higher Education Leadership and Policy from Loyola University Chicago.
Belinda G. Taylor
Belinda G. Taylor served as the first Victim Assistance Coordinator on contract for the Diocese of Amarillo for sixteen years and worked with three Bishops over the course of nineteen years. She served on the Bishop's Advisory Committee and Review Board to address issues related to clergy misconduct and sexual abuse of minors by priests. Prior to retiring in 2018, Mrs. Taylor established and operated a private counseling practice as a Licensed Professional Counselor-Supervisor working with child and adult victims of sexual abuse, as well as providing individual, family, and play therapy. In 2003, Mrs. Taylor established an ongoing therapy support group for victims abused by clergy which allowed the group to create a training video for clergy on the effects of abuse. Through these efforts, victims were invited to participate in clergy trainings and reconnect with their church communities. 
As a Texas Registered Sex Offender Treatment Provider, Mrs. Taylor provided thirteen years of ongoing treatment services for registered adolescent and adult sex offenders on probation or parole. In addition, Mrs. Taylor served as the Executive Director for fifteen years at a local non-profit community center providing an array of social services from early childhood education, afterschool programs, counseling, a senior citizen center, and numerous youth programs serving predominately low-income residents struggling in poverty. In 2010, Mrs. Taylor was awarded the 'Friend of the Child' Mayor's Service Award.  Mrs. Taylor continues to volunteer as a Safe Environment Trainer and serves on the Amarillo Bi-City-County Public Health Board.  Together, she and her husband Wayne have spent their married life farming and ranching in the Texas Panhandle. They have four adult children, seven grandchildren and three great grandchildren.