What is it?
The Charter for the Protection of Children and Young People, more commonly known as the Dallas Charter, is a comprehensive set of procedures originally established by the USCCB in June 2002 for addressing allegations of sexual abuse of minors by Catholic clergy. The Charter also includes guidelines for reconciliation, healing, accountability, and prevention of future acts of abuse. It was revised in 2005, 2011, and 2018. 
THE CHARTER ACTIVELY ADDRESSES:
Creating a safe environment for children and young people

Healing and reconciliation of victims and survivors

Ensuring prompt and effective response to allegations

Cooperating with civil authorities

Holding offenders accountable

Instituting a process of accountability for the future to ensure instances of allegations are dealt with swiftly and effectively, assisted by the Secretariat of Child and Youth Protection and the National Review Board (NRB)
THE NATIONAL REVIEW BOARD – WHO ARE THEY?
In 2002, the United States Conference of Catholic Bishops established the National Review Board to directly involve expert, Catholic laity in a collaboration to prevent the sexual abuse of minors at the hands of American clergy. Each year, the Board reviews and reports on the progress of the Charter and recommends areas where the Church can improve their efforts.
Responsibilities of the National Review Board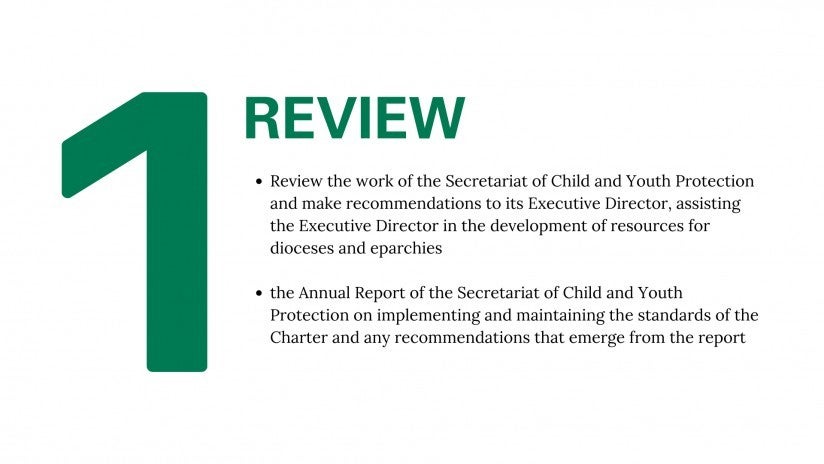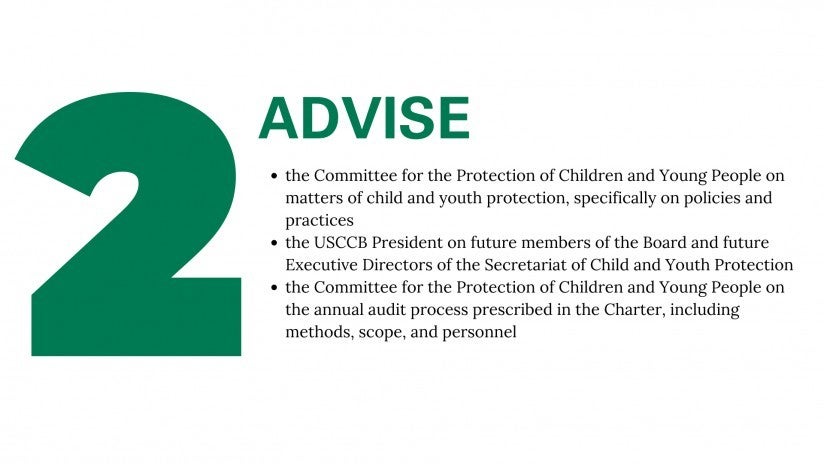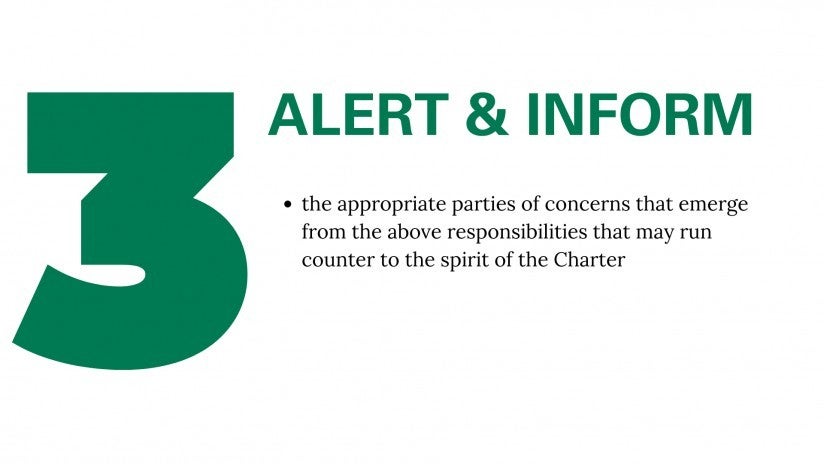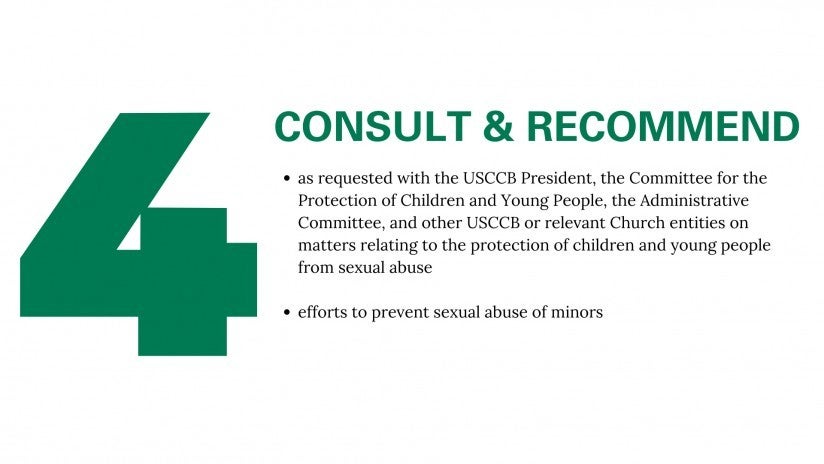 Review Board Members
Suzanne Healy, Chairwoman
Suzanne Healy, Chairwoman, was the Victims Assistance Coordinator for the Archdiocese of Los Angeles from 2007 through 2016. Her role was to assure healing, reconciliation and support for victim survivors. She is a licensed Marriage and Family Therapist with experience in private practice and as a school counselor. She also has eighteen years of business management and strategic planning experience with AT&T and Pacific Bell. Mrs. Healy has a BS in Psychology and an MS in Counseling, M.F.C.C. option, with a Pupil Personnel Services Credential with Advanced Specializations in School Counseling and Child Welfare and Attendance Services, both from California State University at Los Angeles. Mrs. Healy served on the Executive Board of the Los Angeles Department of Mental Health Faith Based Advocacy Council, and also as a Committee Member for Los Angeles City Attorney Office Cyber Crime Prevention Symposium in Los Angeles, both From 2008-2016.  In 2016, she received the Archdiocese of Los Angeles Department of Health Affairs Excellence Award.
She presently is retired and serves on the board of directors for Valley Family Center in San Fernando, CA.
Vivian M. Akel
Vivian M. Akel, LCSW, is a retired Clinical Social Worker currently holding the position (volunteer) of Safe Environment Coordinator for the Maronite Eparchy of Saint Maron of Brooklyn as well as Pre-Cana facilitator. Her prior experience includes 21 years with the New York City Department of Education as a School Social Worker providing all aspects of Social Work Services with school age children, parents and educators. In addition, Ms. Akel held the position of Director of Social Work in an acute care medical center supervising social workers providing services to patients, families and medical personnel. Ms. Akel began her career working in a Community Mental Health Center in Brooklyn New York providing outpatient psychotherapy to individual patients, couples and families and maintained a private practice until her retirement in 2014. She received a Master's Degree in Social Work from Hunter College School of Social Work and is currently enrolled in a Spiritual Direction training program at Fairfield University's Murphy Center for Ignatian Spirituality. Ms. Akel has been married for 34 years and has two adult children.
James Bogner
James Bogner is a retired Senior Executive Special Agent of the Federal Bureau of Investigation with over 35 years of law enforcement experience including serving as a municipal police officer, commanding a detective division, to an FBI Special Agent.  He has served as a field investigator In Indianapolis, an investigative supervisor in Chicago, a Unit Chief in Washington DC Headquarters of the FBI's Internal Affairs/Adjudication Unit, and then the national Inspection Unit.  He was assigned as Assistant Special Agent-in-Charge in Oklahoma City after the 1995 bombing.  He served in the Senior Executive Service in Washington, DC, and later as Special Agent-in-Charge of FBI offices in the Midwest over Nebraska and Iowa.  These positions included investigations, developing multi-agency liaisons and partnerships, addressing national personnel and misconduct policies and issues, conducting national inspections and audits, risk analysis, strategic planning, and high-profile media matters.  He later served as the first Assistant Federal Security Director developing procedures and protocols for airport security for Law Enforcement in Nebraska and Iowa after 9/11. He has served on several local, state and national boards and councils.
Following completion of a Masters Degree in Administration of Justice, his post-Masters work included studies in Public Policy Analysis.  He is a graduate of the FBI's National Executive Institute.  He has also served as Adjunct Faculty at the University of Nebraska-Omaha in the Criminal Justice program.
His volunteer work at his parish in Omaha includes being President of his Parish Council to include data and survey analysis and strategic planning.  He was a principal in founding the parish's "Catholics Returning Home" program for fallen away Catholics, and in developing and implementing evangelization initiatives in the parish.  He also serves on the Archbishop's Advisory Review and Ministerial Misconduct Boards.
Sarah Brennan, PhD
Sarah Brennan, PhD is a clinical psychologist. In her professional background, Dr. Brennan was Director of the Second Judicial District Court Clinic where she specialized in providing reconciliation and mediation services to families.  When the Servants of the Paraclete developed a treatment program for Catholic priests and brothers, she conducted evaluations and provided treatment to the residents and consultations with their superiors.  She has given numerous workshops and presentations including Psychological Interviewing with Sexual Offenders, The Psychology of Lying (video for the FBI), Assessment of Clergy Candidates, and Assessment and Management of Suicidality.  Dr. Brennan has administered psychological evaluations for dioceses, religious communities, and Protestant seminaries and was a member of the teaching staff for novices in Catholic religious communities, for both men and women.  For 20 years, Dr. Brennan was Clinical Director of the Samaritan Counseling Center, a faith-based agency with centers around the United States and in Great Britain and Japan.  Under Dr. Brennan's direction, the Albuquerque Center was the first to meet all 50 of the Samaritan Institute's accreditation standards.  Currently, she is a clinician and administrator with National Security Psychological Services.  She maintains a top-secret security clearance, evaluates applicants and security clearance-holders, and trains and supervises psychologists and psychiatrists around the United States to conduct evaluations.
Other professional experiences and affiliations: Adjunct Professor, Smith College; Chair of the International Conference of Consulting and Residential Centers; and Adjunct Associate professor in the departments of psychology and psychiatry at the University of New Mexico.  Dr. Brennan has been president of her state psychological association, and was its Federal Advocacy Coordinator for 12 years, attending annual lobbying sessions in Washington, D.C.
Dr. Brennan is a member of Immaculate Conception Church in Albuquerque, NM.  Among her volunteer activities, she has been a board member with Catholic Social Services and Barrett House, a Catholic-sponsored facility for homeless mothers and children which assists them in finding housing and employment.  As a member of Partners of the Americas, Dr. Brennan went to Mexico quarterly to train psychology graduate students in psychological testing and assessment, conducted in Spanish.  She was appointed by the Governor to be a member of the New Mexico State Board of Psychologist Examiners, served as Chair of the New Mexico Consortium on Child Mental Health Services, and was appointed by Archbishop John C. Wester to serve on the Archdiocese of Santa Fe's Independent Review Board.
Carol Brinati
Carol Brinati retired from the Diocese of Orlando in service as Chief Operating Officer/Chancellor in 2021. In that role, she oversaw offices within the Chancery and served as a liaison to parishes and other entities on behalf of the Bishop. Before that, Ms. Brinati served as secretary for the Evangelization Secretariat of the Diocese of Orlando and director of communication. Ms. Brinati led Massey Persons Brinati Communications since 1988 where she first served as director of operations and then as President/CEO of the agency for three years. 
Carol has a big heart and a deep faith – she gives of herself to many causes. She is a parishioner of St. Margaret Mary Catholic Church in Winter Park and sings for the St. Margaret Mary Adult Choir and serves as lector. She joins the diocesan choir for diocesan celebrations such as Chrism Mass and Ordination to the Priesthood. She was a member of the Morning Star School Auxiliary, serving children with special needs, and recently retired from a twenty-year board member of Bishop Grady Villas, a community that serves adults with disabilities. She is a humble servant of God who sees each person as a gift, and through kind gestures, helps them to feel appreciated and loved. Carol has touched a number of other nonprofit organizations through donation of her time and talents, including United Cerebral Palsy, Central Florida Light Opera, The Negro Spiritual Scholarship Foundation, Orlando Breakfast Rotary Club, NCCJ, The Boggy Creek Gang, and Girl Scouts of Citrus Council. As Chief Operating Officer/Chancellor she served on the boards of five Catholic high schools in the Diocese of Orlando, the Catholic Foundation of Central Florida, and Bishop Grady Villas. 
Ms. Brinati is also a prolific poet. Her poems are a reflection of her faith journey and they touch on the spirituality of her life and the lives of people around her. The poems capture a beauty of faith, life and love that is truly something to celebrate. She publishes annually a book of poetry for friends, family, and retreat use. 
Ms. Brinati received her bachelor's degree in sociology from the University of Illinois and studied graduate courses in public administration at Cleveland State University. She has a certificate of business administration from Rollins College. She received her master's degree in Theology from Franciscan University, Steubenville. Since her retirement from the Diocese of Orlando, she serves as a volunteer in a diocesan capacity under the title, Delegate of the Ordinary. In 2022, she received the papal honor, Pro Ecclesia et Pontifice from our Holy Father, Pope Francis.
Steven Jubera
Steven Jubera is an Assistant District Attorney for Mississippi's 17th Judicial District. Born in Chicago, he served as a United States Marine being deployed to the Middle East with the 11th Marine Expeditionary Unit Upon Mr. Jubera's honorable discharge, he attended the University of Illinois at Chicago then earned his law degree from the University of Mississippi in Oxford, MS where he currently resides. Mr. Jubera has assisted in the formation of a child advocacy center to better serve the children of his community and has been a speaker advocating for children including the One Loud Voice conference in Mississippi. Mr. Jubera currently serves on the Review Board for the Diocese of Jackson. He is married with four children and one grandson.  
John Leavitt
John Leavitt has been a member of the Diocese of Tucson Review board for the past eight years, as well as member of the Board of Directors for his parish corporation as well as for the parish school for more than 20 years.  He holds a Bachelor of Arts degree in Political Science from The University of Arizona, a Master of Education degree from Northern Arizona University, and Certificate from the John F. Kennedy School of Government at Harvard University for completing the State and Local Executive program.  He has been a member of the Tucson Police Department for more than 40 years, with 28 years of command experience.  He is currently the commander for the Counter Narcotics Alliance, a state, local, and federal narcotics enforcement task force in Southern Arizona. He has had command responsibility for investigative responsibilities for 13 years of his tenure. He is also an Adjunct instructor with the School of Government and Public Administration at the University of Arizona.  His is married to a retired judge, and has two adult children.
Kurt Martens, J.C.D.
Kurt Martens, J.C.D. earned a civil law degree and a doctorate in Canon Law at the Katholieke Universiteit Leuven in Belgium where he was also on faculty. In 2005 he began a career as a professor at the School of Canon Law at The Catholic University of America in Washington, D.C. He is an expert in due process, public law of the Church, the hierarchical structure of the Church, and religious liberty.  His international experience includes being a visiting professor at universities in Canada, France, and the Netherlands. Dr. Martens has written extensively on an array of canonical and religious topics in professional periodicals and books. He currently serves on the editorial committees of various canonical journals.  Dr. Martens has served as a consultant to the USCCB Committee on Canonical Affairs and Church Government for more than 15 years. 
Aaron Martin
Aaron Martin grew up in Ohio and has resided in Arizona since 2005. Mr. Martin is an attorney in private practice. After working for Arizona's two largest firms, and as the general counsel for a national charter school network, Mr. Martin started his own law practice in October 2018. Mr. Martin's practice focuses on representing students who have been injured or suffered discrimination, business litigation, and corporate compliance. He has a Bachelor of Arts and a Licentiate in Philosophy degrees in Philosophy from the Catholic University of America where he was a Basselin Fellow. He obtained his Law degree from the University of Arizona James Rogers College of Law. He has served on and counseled numerous nonprofit and corporate boards and has been the Chair of the Diocese of Phoenix's Ethics in Ministry Board since its inception in 2019. He is married with four children.
Thomas M. Mengler
Thomas M. Mengler is president of St. Mary's University, San Antonio, Texas. He holds a J.D. from the University of Texas School of Law. Before becoming president of St. Mary's, he served as dean of two law schools: the University of Illinois at Urbana-Champaign and the University of St. Thomas in Minnesota. Mr. Mengler has served Catholic higher education as a member and, between 2018 to 2020, as Chair of the Board of Directors of the Association of Catholic Colleges and Universities. In that role, Mr. Mengler also served in 2018 as a member of the Higher Education Working Group for the USCCB's Committee on Higher Education. Previously, he served on the Board of Directors of Catholic Charities of San Antonio and as Co-Chair of the Lay Commission on Clergy Sexual Abuse of Minors in the Archdiocese of San Antonio. He and his wife have four adult children.
José Angel Moreno
José Angel Moreno came to the United States as an immigrant child from Mexico.  He served honorably in the United States Marine Corps prior to getting a degree in Criminal Justice.  He obtained his law degree from the University of Texas and has worked as a state and federal prosecutor for almost 38 years. He served as an Assistant District Attorney in Del Rio, Texas, where he prosecuted felony offenses, including violent crimes and sexual abuse cases.  He subsequently served as the First Assistant District Attorney in Laredo, Texas, where he resides, before joining the U. S. Attorney's Office for the Southern District of Texas (SDTX).  As an Assistant U.S. Attorney (AUSA), he has spent more than 30 years prosecuting and supervising other AUSAs in public corruption, Organized Crime Drug Enforcement Task Force (OCDETF), money laundering, child pornography, and enticement cases.  He has held multiple supervisory roles within the SDTX, and in 2010, he was judicially appointed as the United States Attorney for the SDTX, the busiest district in the country.
Since 1996, he has served as an instructor in Uganda, Spain, and most of Latin America under the Department of Justice's Office of Overseas Prosecutorial Development, Assistance, and Training (OPDAT).  OPDAT promotes the rule of law and regard for human rights by reforming foreign justice systems.  He served as a Director of Criminal Programs at the Office of Legal Education and has been a perennial instructor at DOJ's National Advocacy Center in South Carolina.  In 2001, he served as the Program Manager for the Justice Sector Reform Program under Plan Colombia at the U.S. Embassy in Bogota, Colombia. Appointed by Bishop James Tamayo in 2005, he has served on the Diocesan Review Board for the Dioceses of Laredo and is serving his second term as the Chair of that Board.  He also serves as the designated layperson assisting Bishop Tamayo in the Catholic Bishops Abuse Reporting Service (CBAR).  He and his wife have been married for over 39 years, and they have one child.
Julie Hanlon Rubio
Julie Hanlon Rubio is a Professor of Christian Social Ethics at Jesuit School of Theology(JST) of Santa Clara University in Berkeley, California. Dr. Rubio has a B. A. in Political Science from Yale University, an M.T.S. from Harvard Divinity School, and a Ph.D. in Religion and Social Ethics from the University of Southern California. Before coming to JST in 2018, she taught at St. Louis University in St. Louis, MO for nearly two decades. Her research in ethics focuses on marriage, family, sex, and gender. She has published six books, including the award-winning Hope for Common Ground: Mediating the Personal and the Political in a Divided Church (Georgetown University Press, 2016) and Family Ethics: Practices for Christians (Georgetown University Press, 2010). Her many articles have appeared in academic journals and the popular press. Currently, she is a principal investigator for a grant-funded study on clericalism and clergy sexual abuse.
John N. Sheveland
John N. Sheveland is Professor of Religious Studies and the current Flannery Chair of Catholic theology at Gonzaga University in Spokane, WA., where he teaches courses on Christian theology, interreligious dialogue, and religion and violence. He holds a doctorate in systematic and comparative theology from Boston College, a master's degree in Christian theology from Yale Divinity School, and a bachelor's degree in history and theology from the University of Portland. His current areas of research and writing include theological reflection upon traumatic wounding and upon religious violence. At Gonzaga he organizes the annual lecture series called Being Religious Inter-religiously which advances the Jesuit commitment to interreligious dialogue.
He received in 2013 a Faculty Diversity Leadership Award and in 2015 an Exemplary Faculty Award from Gonzaga University.  He serves on the boards of the College Theology Society and the Society of Buddhist-Christian Studies, the steering committee of the Interreligious and Interfaith Studies Group of the American Academy of Religion, the advisory board of the Currents of Encounter monograph series with Brill and is a book review editor for Horizons. His research articles have appeared in a variety of academic journals and scholarly books, and he is the author of Piety and Responsibility (Ashgate/Routledge, 2011 (2017 2nd edition).