Understanding the Ministries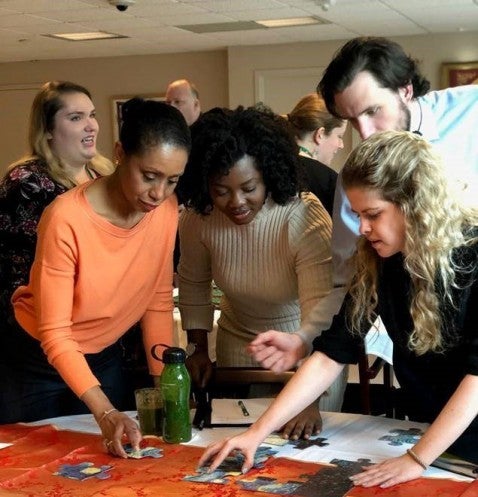 The Church's ministries with youth and young adults are the outreach and accompaniment efforts of the Roman Catholic Church to, for, and with adolescents (youth) and those in their late teens, twenties, and thirties (young adults). While these ministries (youth and young adult) are often spoken about together, they are independent and complementary initiatives of the Church for two distinct populations defined by their respective ages, human developmental stages, and life experiences. 
What unites them is a common foundation: that they are "synodal" - that is, they are a "journeying together" of the Church and young people (note: when the phrase "young people" is used here, it is a term that includes both youth, 13-18, and young adults, 18-39). The synodal journey is one that is always in motion yet united together, always grounded yet still global (see Evangelii Gaudium 222-237).
This synodal effort is a shared encounter with the living God that is pastoral, invitational, participatory, co-responsible, diverse, inclusive, flexible, formational, dialogical, celebratory, evergreen, and exudes the joy of the Gospel. See Christus Vivit (CV) 203-207.
God has sought to specifically and intentionally encounter youth and young adults from the beginning of time. From the dreams of Joseph (cf. Gen 37-47) to the calls of Samuel (cf. 1 Sam 3), Saul (cf. 1 Sam 9), David (cf. 1 Sam 16), Solomon (cf. 1 Kg 3), and Jeremiah (cf. Jer 1), the Father regularly engages and raises up young people as heralds and prophets (see CV 6-11). In the New Testament, Jesus - himself a "young adult" (CV 23) and "eternally young" (CV13) - regularly speaks with and about young people in his encounters and parables (see CV 12-20).
The Church today follows in the Lord's footsteps and seeks to engage and accompany young people. We understand these ministries as flowing from and inspired by God's love for those of all generations:
"This involves growing in a relationship with the Father, in awareness of being part of a family and people, and in openness to being filled with the Holy Spirit and led to carry out the mission God gives them, their personal vocation. None of this should be overlooked in pastoral work with young people... we need (ministries) that can strengthen them, accompany them, and impel them to encounter others, to engage in generous service, in mission." (CV 30)
These ministries (and again, because of the distinction between youth and young adults, the plural should be used in this context) are best carried out in settings where the Church can encounter the young with pastoral love and engagement:
in local communities,
within cultural families,
in parishes and missions,
in spiritual and ecclesial movements,
in high schools and on college campuses,
in the workplace and in military service,
in sports, the arts, and nature,
in digital spaces and social media,
through sacramental moments, 
across dioceses and episcopal regions,
through Christian devotions and moments of return,
on the margins and peripheries of society,
in secular and popular contexts, and
within our families and social networks. 
To take the first steps towards fully understanding these ministries and the Church's journey though this growing understanding, read Pope Francis' 2019 apostolic exhortation on young people, Christus Vivit, available for purchase here (in English) or through the Vatican website site here (in English).