Call to Prayer Friday Fast - Intentions and Reflections
Call to Prayer for Life, Marriage, and Religious Liberty

The U.S. Bishops are encouraging the faithful to pray and fast for the renewal of a culture of life and marriage and for protection of religious liberty. In particular, Catholics are invited to make a pledge to fast and abstain from meat on Fridays. Below are suggested intentions and reflections for each Friday fast.
Please visit www.usccb.org/fast to subscribe to receive the weekly reminder, intention, and reflection by email. Or text "FAST" to 55000 to receive text messages.
Join the Call to Prayer Facebook page to connect with others who are participating in the Call to Prayer and to share what you, your parish, or your diocese is doing.

Current Friday Fast Intention & Reflection
Friday, July 4th
Intention:
With grateful hearts, we celebrate the close of the Fortnight, inspired to continue praying for religious liberty at home and abroad.

Reflection:
In a speech given on the eve of the Fortnight, Pope Francis underlined that it is incomprehensible and troubling that people continue to suffer discrimination, restriction of their rights and even persecution for professing their faith. As we celebrate the close of the Fortnight, and honor our country's freedom, let us continue to pray for an increasing respect for religious liberty at home and abroad.

---
Past Friday Intentions & Reflections
Friday, June 6th
Intention: As we approach Pentecost Sunday, we ask for the Holy Spirit's protection of our first, most cherished liberty and the grace to stand united in prayer and service during the upcoming Fortnight for Freedom.
Reflection: The Fortnight for Freedom begins on June 21. Let us prepare for this powerful witness by asking the Holy Spirit for a fruitful time of renewal in our country to celebrate the values of life, marriage, and religious liberty. How will you serve during this year's Fortnight?
---
Friday, May 30th
Intention: Wepray that through their marriage, a husband and wife will reflect the love that God Himself is.
Reflection: In a recent Wednesday audience reflectionPope Francis spoke about the Sacrament of Marriage: "When a man and woman celebrate the Sacrament of Matrimony, God as it were 'is mirrored' in them; he impresses in them his own features and the indelible character of his love. … Indeed, God is a communion too: the three Persons of the Father, the Son and the Holy Spirit live eternally in perfect unity." As a communion of persons, the family reflects the Persons of the Trinity (in a limited way). Although there is not gender in God, there is unity and difference. This unity and difference in God is imaged through the sexual difference of man and woman.

Through their bodies, a husband and wife are able to express marital love. This unique expression would not be possible apart from their existence as male and female. In the
words of St. John Paul II
, "The body, and it alone, is capable of making visible what is invisible: the spiritual and the divine." In this way, the body is sacramental because a sacrament is a visible sign of an invisible reality.
Did you know?  The second March for Marriage will be held in Washington, D.C. on June 19, 2014. This year's march will be an important opportunity to promote and defend the beauty of marriage as the unique two-in-one-flesh communion of husband and wife.
---
Friday, May 23rd
Intention: May all who are suffering from the loss of a child through miscarriage find comfort in Christ's embrace.
Reflection: Miscarriage is a painful event for anyone to go through. It is often borne silently, without the benefit of support. Couples may keep the loss to themselves, leaving others unaware of their grief, or they may speak of it and find others unsure of how to respond.
We know that in the Cross of Christ, suffering finds meaning. In order to respond lovingly to those who suffer a miscarriage, we must embrace our role as friends or family to help carry the cross with them. It is in this accompaniment of friendship and love that we hope to be a sign of Christ's tender presence. 
Did you know? Grief is both emotionally and physically difficult. Sometimes the best way we can accompany those who are grieving is to perform simple acts of love, like helping with housework, providing meals, or just taking someone out for a cup of coffee.
---
Friday, May 16th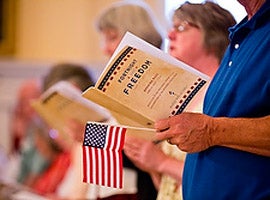 Intention: Lord, help us always to follow the Gospel call to serve "the least of these."
Reflection: The Fortnight for Freedom is coming next month (June 21 – July 4).  The two-week celebration will focus on the theme, "Freedom to Serve," emphasizing the link between religious liberty and service to the poor and vulnerable.
As Catholics, we believe that the gift of our faith is to share the light of Christ with all people.  The teaching of our Catholic faith "obliges us to work together with fellow citizens for the common good of all who live in this land" and around the world.  This includes the freedom to serve with Christian love and humility all those around us and share the teachings of our Lord.  In loving him more, honoring him steadfastly and serving him as disciples, we naturally serve others in the same way. 
In a recent homily, Pope Francis emphasized charity as the "greatest act of holiness [that] relates to the flesh of our brother and the flesh of Jesus Christ."
Did You Know?: The USCCB has prayer resources for the Fortnight for Freedom, including a Prayer for the Protection of Religious Liberty. You can pray for religious freedom at home, school, work, or in your parish!  You can also attend special Masses to celebrate the Fortnight; if you are not able to travel to Baltimore or Washington, DC, the Masses will be televised nationally, so check your local listings!
---
Friday, May 9th

Intention: Let us pray that the gift of motherhood may be better understood and appreciated within our culture today.
Reflection: It is very fitting that we celebrate Mother's Day during the month dedicated to the most perfect mother, the Blessed Virgin Mary. A mother plays an irreplaceable role in a child's life. Without our mothers, we would not have been born and therefore would not have the capacity to live out our Catholic faith. In the words of St. John Paul II, "it is precisely those born of earthly mothers…who receive from the Son of God the power to become 'children of God' (Jn 1:12)…The history of every human being passes through the threshold of a woman's motherhood (no 19)."
It is interesting to note that the Church is sometimes referred to as a mother. Just as a mother gives life to her children, so also the Church "brings forth to a new and immortal life the sons who are born to her in baptism (Lumen Gentium, no 64)." Mary, the most perfect mother, is the archetype, or model for the Church because of her unfailing belief and obedience to God's will. "The Church indeed, contemplating [Mary's] hidden sanctity, imitating her charity and faithfully fulfilling the Father's will, by receiving the word of God in faith becomes herself a mother (LG, no 64)."
Did You Know?
In 1965, Pope Paul VI wrote an Encyclical entitled "Mense Maio" (Month of May). In this document, he explained that
"Since Mary is rightly to be regarded as the way by which we are led to Christ, the person who encounters Mary cannot help but encounter Christ likewise."
---
Friday, May 2nd

Intention: Recalling Mary's "yes," may we each pray for a deeper openness to life and to all that God gives us.
Reflection: May is known as the month of Mary! There are many reasons to honor Our Lady, but perhaps one of the most basic is her fiat—her "let it be" in response to God's will. Mary's total receptivity is a perfect example of the openness to God we are all called to embrace.
On the Feast of the Annunciation, Pope Francis reminded us that "salvation cannot be bought and sold; it is given as a gift, it is free." Thus, "since it cannot be bought, in order for this salvation to enter into us we need a humble heart, a docile heart, an obedient heart like Mary's."
Through Mary we encounter Christ, who expressed God's great love for each of us through the sacrifice of his life on the Cross in total obedience to the Father. Through the example of Christ and Mary we can see that the freedom of salvation lies in perfect obedience and receptivity to God.
Did You Know?
May is a special opportunity to grow in Marian devotion which leads us closer to Christ. Check out
these pro-life rosary prayer intentions
!
---
Friday, April 25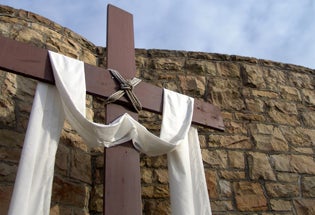 Intention: May our minds and hearts be always open to God so that we have the freedom to act in accordance with his will.
Reflection
:
In a
recent homily
, Pope Francis encouraged the faithful to be vigilant in prayer that directs our hearts towards the Father.  The Holy Father warned the faithful about "a dictatorship of a narrow line of thought" that kills "people's freedom, their freedom of conscience."
These powerful words from the Pope serve as a wonderful reminder for all of us to remain steadfast in our faith despite worldly and cultural pressure to limit the practice of religion in daily life.  Being vigilant in prayer opens us up to dialogue with God and an ever greater union of love through the recognition that "there is something else, the possibility that God speaks to us, tells us about His journey," according to the Holy Father.
Pope Francis concluded his homily by telling the faithful to "be humble and pray, that the Lord always gives us the freedom of an open heart, to receive his Word which is joy and promise and covenant!  And with this covenant move forward!"
Did You Know?  Friday continues the Octave of Easter, which ends this Sunday with Divine Mercy Sunday. In his Easter Sunday homily, Pope Francis encouraged the faithful to re-read the accounts of the Resurrection this week.
---
Good Friday, April 18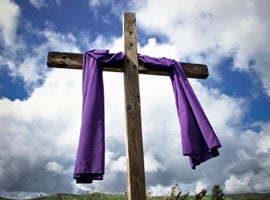 Intention: On this Good Friday, let us remember the Passion of Jesus Christ and his loving sacrifice for us on the Cross.
Reflection
: Lent is ending. The joy of Easter is almost here, but today we still must journey with the Cross. Many of us have chosen to sacrifice something during Lent. However, there are those in the world that do not have that choice; many struggle to put food on the table, give their children an education, take care of ailing parents, and much more.Through our own sacrifices we stand in solidarity with those who struggle as we work to ease their suffering.
One thing we can take away from this Lent and from our encounter with the Passion of Christ is that at the heart of every sacrifice is love.When we freely sacrifice something during Lent, the goal is to do it for the love of God. How can we continue to lovingly sacrifice once Lent is over? One way is to pay attention to the people in your life, while another way is to stand in solidarity with those who suffer while working to ease their burden.
Did You Know?
The Catechism has an extensive reflection and teaching on Christ's Passion and his love for us, which is at the heart of his Passion: "It is love 'to the end' that confers on Christ's sacrifice its value as redemption and reparation, as atonement and satisfaction. He knew and loved us all when he offered his life" (CCC 616). Check out the entire section found in
paragraphs 599-618
.
---
Friday, April 11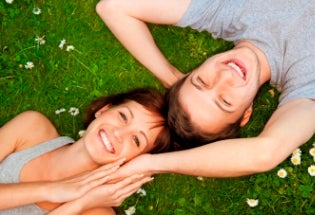 Intention: We pray for a deeper understanding of what it means to be created male or female.
Reflection
:
During a recent
morning meditation

,
Pope Francis reflected on the Book of Genesis. "
The creation of
man and woman is the masterpiece of creation," the Pope explained. God "did not want for man to be alone: he wanted him to be with his companion, his companion on the journey."
Here the Bible shows us a very important truth; man and woman are equal, but different. This sexual difference is actually complementary. It is through the existence of woman that we are able to fully appreciate the uniqueness of man and vice versa. An example of this aspect of difference and complementarity can be seen in beautiful paintings where two complementary colors are used. When brought together, the two different colors look more vibrant and unique than they would have looked separately. The same can be said of man and woman. In the words of Blessed John Paul II, "femininity in some way finds itself before masculinity, while masculinity confirms itself through femininity."
Did You Know?
In his
Theology of the Body

,
Blessed John Paul II explained that "man became an image of God not only through his own humanity, but also through the communion of persons, which man and woman form from the very beginning." Through marriage, a husband and wife are able to be a true communion of persons by giving themselves and receiving the other in unselfish love. In this way, a husband and wife have the unique ability to reflect Trinitarian Love.
---
Friday, April 4

Intention: We pray that people in the U.S. and around the world will be able to conduct their professional lives according to their religious beliefs.
Reflection
:
On Monday, March 31,
Pope Francis met with members of the Greenfamily
, the evangelical Christian owners of Hobby Lobby, a chain of U.S. craft stores. The Greens and their closely-held companies challenged the HHS mandate in a case that was heard by the Supreme Court last week.
At the meeting, the Greens thanked Pope Francis for loaning certain pieces from the Vatican museum and library to the Greens' traveling art exhibition, "Verbum Domini II" (Latin for "The Word of the Lord"). The Holy Father asked how the Hobby Lobby case was progressing.
As the Supreme Court considers this case, as well as the Conestoga Wood Specialties case on behalf of a devout Mennonite family, let us pray that religious liberty will be upheld.
Did You Know?
A
recent analysis
shows that broader threats to religious freedom in the United States appear to be growing.The U.S. now has a substantially higher level of government restrictions on religion, according to a Pew Research
study
published earlier this year. Experts attribute the rise in religious restrictions in the U.S. to several factors, including conflicts arising in zoning laws, property rights, and religious expression in schools, courts, and other public settings.
---
Friday, March 28

Intention: May we be free to live out our faith and bear witness to the dignity of each person.
Reflection
:
"Pope Francis has observed that 'religion [cannot] be relegated to the inner sanctum of personal life, without influence on societal and national life.' …Every Christian is called to practice charity in a manner corresponding to his or her vocation. Some Catholics, like the Little Sisters of the Poor who run nursing homes for the elderly poor, devote their entire lives to helping others and embrace a vow of poverty themselves" (
Archbishop Kurtz
).
Yet the HHS mandate compels objecting employers to provide coverage for drugs and devices which are against their consciences and threatens the ministries of the Little Sisters of the Poor and many others.
As this and many other lawsuits progress, let us continue our prayer efforts for the protection of the religious freedom so we may practice charity and live out our faith without penalty.
Did You Know?
This Tuesday, the Supreme Court heard oral arguments in two cases brought by families who are seeking protection of their religious freedom.

Archbishop Joseph Kurtz, president of the U.S. Conference of Catholic Bishops, shares comments in his op-ed,
"Will the Owners of Hobby Lobby Have to Check Their Faith at Their Own Door?"
---
Friday, March 21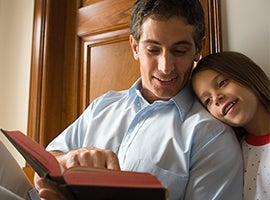 Intention: We pray for all fathers, that through the example of St. Joseph, they may fully embrace their vocation and accept the privilege and responsibility of caring for their children as St. Joseph cared for Jesus.
Reflection
:
On Wednesday, we celebrated the Solemnity of Saint Joseph. In his Apostolic Exhortation,
"The Guardian of the Redeemer

,"
John Paul II referred to St. Joseph as "the guardian and cooperator in the providential mystery of God (no 14)." He explained that together with Mary, Joseph was the first guardian of Christ: "
St. Joseph was called by God to serve the person and mission of Jesus directly through the exercise of his fatherhood (no 8)."
It is interesting to note that St. Joseph's fatherhood and specific role in the plan of salvation would not have been possible apart from his marriage to Mary: "Joseph's fatherhood - a relationship that places him as close as possible to Christ…comes to pass through marriage to Mary, that is, through the family (no 7)." Let us pray that every husband and wife will be brought closer to Christ through their marriage to one another.
A further reflection on St. Joseph's participation in the plan of salvation can be found here.
Did You Know?
Pope Francis has a deep devotion to St. Joseph. Last year, he chose the Solemnity of St. Joseph as the date for his inaugural Mass. A sign of Pope Francis' devotion to this Saint can be seen on his
coat of arms
. Next to the star representing Mary is the spikenard flower, which is often used to represent St. Joseph.
---
Friday, March 14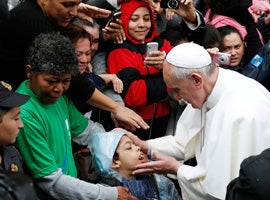 Intention: Marking the one-year anniversary of Pope Francis' election this week, we pray that we may follow his humble example and better love "our brethren, especially the weakest and neediest" (Pope Francis, April 24, 2013).
Reflection
:
A year ago this week, Pope Francis captivated the world almost immediately with his humble simplicity, charisma and warmth. Throughout the past year, he has continued to teach us both by his example and his words, inspiring us to look beyond ourselves and encouraging us to "go in search of the people who are the very flesh of Christ" (
Vigil of Pentecost, 2013
).
In the message from Pope Francis for last year's Day of Life, we are reminded that "even the weakest and most vulnerable, the sick, the old, the unborn and the poor, are masterpieces of God's creation, made in his own image, destined to live for ever, and deserving of the utmost reverence and respect."
Let us ask the Lord how He is calling us to love all of our brothers and sisters, especially the weakest and neediest, and follow where He leads.
Did You Know?
The Vatican website features an
online book of images and quotes
from Pope Francis over the last year.
---
Friday, March 7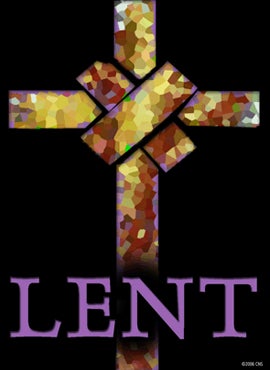 Intention: As we begin Lent, we pray for the strength to commit ourselves to prayer, fasting, and almsgiving so that we may grow to love you, God, more each day.
Reflection
: Lent is here, and it couldn't come at a better time!Lent is our way of taking a long loving look at ourselves and our lives and asking, "How can I be more faithful to the Gospel and grow deeper in my relationship with God?" To help us answer this question, the Church asks us to consider prayer, fasting, and almsgiving during this season.
Friday's Scripture readings focus particularly on fasting. During Lent, we may abstain from various things: sweets, soda, idle conversations, etc. But the prophet Isaiah and Jesus remind us that the things which we abstain from should not be done for themselves alone, but to change our hearts. When we give up something, emptiness is created in our lives. We are called to fill that emptiness with God. Isaiah gives us a clue as to what this looks like in a concrete way: justice, sharing, care for the unwanted and mistreated. What will you give up this Lent and how will this lead you closer to God?
Did You Know?
There is a difference between fasting and abstaining. In the Latin Church, fasting means only taking one full meal for that day, with the possibility of two smaller meals that do not equal a full meal. Abstinence is the act of going without something, such as meat from our Fridays during Lent. Click here for more information on fasting and abstinence.
---
Friday, February 28

Intention: We pray for a greater understanding of marriage as the unique and permanent union of one man and one woman.

Reflection: In today's Gospel, the Pharisees approach Jesus to ask if it is lawful for a husband to divorce his wife. Interestingly, before He explains that divorce is not lawful, Jesus first explains what marriage is – the union of one man and one woman: "But from the beginning of creation, God made them male and female. For this reason a man shall leave his father and mother and be joined to his wife, and the two shall become one flesh (Mark 10: 6-8)."
The Church's teaching on marriage is not founded on statistical data nor merely in upholding tradition, but is rooted in the truth of the human person: men and women are created "in the image of God" as male and female. The Catechism of the Catholic Church explains that "marriage is written in the very nature of man and woman as they come from the hand of the Creator" (no. 1603). Furthermore, what is truly united can never be separated. This is why the union of a man and woman in marriage is permanent: "So they are no longer two but one flesh.Therefore what God has joined together, no human being must separate (Mark 10: 8-9)."
Did You Know?
At the beginning of the Extraordinary Consistory, Pope Francis
addressed
the College of Cardinals and introduced their topic of discussion.

"During these days, we will reflect in particular on the family, which is the fundamental cell of society. From the beginning the Creator blessed man and woman so that they might be fruitful and multiply, and so the family then is an image of the Triune God in the world."
---
Friday, February 21

Intention: This week, we ask martyrs who have died for Christ to intercede for people around the world who suffer persecution so that they can continue to witness to the faith.

Reflection: Saturday, February 22 marks the Feast of the Chair of St. Peter, whom we remember as the first Pope and head of the Roman Catholic Church. St. Peter suffered a martyr's death, which Origen, a scholar and early Christian theologian, described as follows: "Peter was crucified at Rome with his head downwards, as he himself had desired to suffer."
The testimony we learn of St. Peter and all Catholic martyrs reminds us to remain ever ardent in our faith even in the face of persecution in the modern world. The Catechism of the Catholic Church reminds us: "Martyrdom is the supreme witness given to the truth of the faith: it means bearing witness unto death." (CCC, no. 2473)In this way, we follow Christ who came into the world to proclaim the truth.
At a recent U.S. congressional hearing, the Vatican's apostolic nuncio to the United Nations testified that "flagrant and widespread persecution of Christians rages in the Middle East even as we meet."Other speakers at the hearing spoke about violence against Christians in Indonesia, Vietnam, Nigeria, Myanmar, Sudan, Eritrea, and elsewhere.We must continue to pray for those who suffer persecution on account of their faith.
Did You Know?
Pope Francis
remarked
on the Syrian crisis last year, asking for prayers for those killed. He recognized the great courage of those who have kept their faith despite suffering and persecution and said, "To all those who are suffering, I say: Never lose hope! The church is alongside you, accompanies you and supports you."
---
Friday, February 14

Intention: For engaged couples, that once married, they may use the grace they receive from the sacrament to live a true gift of self.

Reflection: Marriage, the union of one man and one woman, is a unique kind of relationship because in marriage, a husband and wife give themselves to one another completely. Before he became Pope John Paul II, Karol Wojtyla explained in his book Love and Responsibility, "The essence of [married] love is self-giving, the surrender of one's 'I.'" This means that married love is unselfish. A husband and wife are called to treat each day as a new opportunity to think of the other's needs above their own. If this gift of self is lacking, he explained further, there is a danger that they may treat one another as objects to be used. With authentic love within the marriage of one man and one woman, however, giving oneself is never simply a total self-emptying. Through this giving, there is also a simultaneous receiving of one's spouse's gift of self in return. This reciprocal giving and receiving of love within marriage allows for a true and unique "communion of persons."*
*For a deeper understanding of the meaning of "communion of persons," visit the USCCB 2009 pastoral letter Marriage: Love and Life in the Divine Plan, pages 10-11.
Did You Know?
Pope Francis will be meeting with engaged couples for the Feast of Saint Valentine! Under the title "The Joy of Yes Forever!," the event is expected to have several thousand participants. These couples from all around the world are looking forward to receiving advice and the blessing from the Holy Father as they embark on their high calling to image Christ's love for His Church. More information on this event can be found
here

.
---
Friday, February 7

Intention: We pray for the healing of those suffering from troubled or broken marriages.

Reflection: In his Apostolic Exhortation, Familiaris Consortio, Blessed John Paul II called attention to the need for pastoral care of families that bear the cross of difficult family situations. "Loneliness and other difficulties are often the lot of separated spouses, especially when they are the innocent parties." He continued by explaining that "the ecclesial community must support such people more than ever…and it must help them to cultivate the need to forgive which is inherent in Christian love…" Troubled or broken marriages are particularly difficult for the children, who naturally identify their existence with the love between their mother and father. When that love no longer appears to exist, a deep rooted loss of self may begin to be felt. Although it may be very difficult, with the help of God's grace, it is always possible to heal from the wounds of division. As Blessed John Paul II emphasized, "No one is without a family in this world: the Church is a home and family for everyone, especially those who 'labor and are heavy laden (no. 85).'"
Did You Know?
Today is the first day of National Marriage Week. Join us from February 7-14 in the campaign to strengthen marriages and build a stronger marriage culture by promoting and defending the truth of marriage as the union of one man and one woman. For information on how you can participate, visit the
National Marriage Week website.
---
Friday, January 31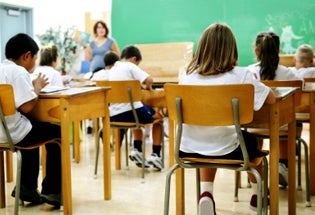 Intention: We pray that we can continue to educate students in the fullness of our Catholic faith.

Reflection:In his proclamation, Evangelii Gaudium, Pope Francis praises the efforts of Catholic schools and charities that promote peace, social harmony, and the protection of human and civil rights. He states, "Yet, we find it difficult to make people see that when we raise other questions less palatable to public opinion, we are doing so out of fidelity to precisely the same convictions about human dignity and the common good." The role of Catholic schools, the Holy Father emphasizes, is to remain in dialogue with the formative teachings of the Church. In this way, all the sciences are embedded with Catholic theology, and these disciplines become instruments "for enlightening and renewing the world."  In his address to trustees of the University of Notre Dame on Thursday, Pope Francis explained, "Essential…is the uncompromising witness of Catholic universities to the Church's moral teaching, and the defense of her freedom, precisely in and through her institutions, to uphold that teaching as authoritatively proclaimed by the magisterium of her pastors."

In light of Catholic Schools Week, let us remember the role of Catholic schools in striving to proclaim the Gospel message in all areas of study through first knowing and loving Christ.
Did You Know?
Catholic Schools Week
is being observed in dioceses around the country from January 26 through February 1. This year's theme, "Catholic Schools: Communities of Faith, Knowledge and Service," focuses on the principles of a Catholic education.
---
Friday, January 24

Intention: May we accompany women facing unexpected pregnancies with the compassionate and merciful love of Christ.

Reflection: In his homily at the Opening Mass of the National Prayer Vigil for Life, Cardinal O'Malley said, "The feelings of the woman in the Gospel must be like the young woman caught in a crisis situation of an unwanted pregnancy.She feels overwhelmed, alone, afraid, confused. We must never allow that woman to perceive the Pro-Life movement as a bunch of angry self righteous Pharisees with stones in their hands, looking down on her and judging her.We want the woman to experience the merciful love of Christ.Jesus does not condone the woman's fall, but He does not condemn her.He invites her to make a new start, to know that she is forgiven and loved.Pope Francis urges us to practice 'the art of accompaniment' which teaches us to remove our sandals before the sacred ground of the other, in this case, the woman in crisis.This accompaniment must be steady and reassuring, reflecting our closeness and our compassionate gaze which heals, liberates and encourages growth in the Christian Life."
Did You Know?
Today is
Day Seven
of 9 Days for Life, but it's not too late to participate! Join thousands of people across the country praying the U.S. Catholic bishops' novena for life through a free app, email, text message, and more.
http://www.9daysforlife.com
---
Friday, January 17
PDF Version  | En Español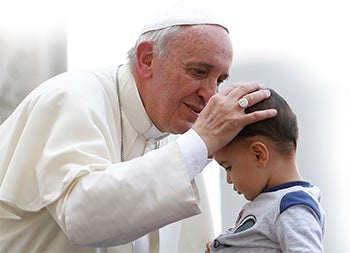 Intention: We pray that we can continue to serve the poor and needy while living out the fullness of our faith.

Reflection: In his exhortation, Evangelii Gaudium, Pope Francis urges Catholics and non-Catholics alike to serve the poorest among us. As Christians, we are called to serve Christ by serving and caring for our brothers and sisters. We do this every day in our schools, hospitals, and charitable organizations that seek to alleviate the suffering of the vulnerable.
Read Pope Francis' recent words regarding Christ's love for humanity and living out this love in our daily lives.
Archbishop Kurtz, President of the USCCB, has explained how the HHS mandate threatens our ability to serve the poor and vulnerable and how "forcing our ministries to divert funds from serving their neighbors to paying government fines will have real consequences for real people." Let us pray that the administration, Congress, and the courts will allow us to serve others while living out the fullness of the Catholic faith.
Did You Know?
Each year, the President declares January 16th to be Religious Freedom Day, which commemorates the landmark adoption in 1786 of the Virginia Statute of Religious Freedom, drafted by Thomas Jefferson. The goal of this day is to promote and protect religious expression and to "observe this day through appropriate events and activities in homes, schools, and places of worship."
---
Friday, January 10
Intention: For all victims of violence: that they may receive consolation from the divine Father, who showers love on every person.

Reflection: Peace is the fruit of a society bound together in solidarity with each other and rooted in full dependence on God the Father. Loving one another as brothers and sisters in Christ saves us from the indifference prevailing in our culture. There are no "disposable lives."*

As Pope Francis recently remarked during the World Day of Peace, "Fraternity is an essential human quality, for we are all relational beings." This relational dimension of our human nature finds its full expression when we all embrace "a common Father."* In this way we can understand that belonging to each other as "sons and daughters in the Son"* not only cultivates a society of peace but also comforts and sustains a society troubled by violence. We can rest with the awareness that because we are loved beyond measure, we are capable of loving beyond the confines of a violent culture.

*Pope Francis, 47th World Day of Peace

Did You Know?

January 1, 2014 marked the 47th World Day of Peace. Check out Pope Francis' entire angelus address here!
---
Friday, January 3
Intention: We pray that all those who are challenging the HHS mandate – whether family-owned businesses or non-profit service ministries – would have the strength to keep fighting for religious freedom.

Reflection: This week, we continue to celebrate the Christmas Season, a time when we can reflect on the roots of our faith.  It is a time when our faith becomes especially visible to the outside world, whether we decorate our yard with a beautiful Nativity scene or our home with a brightly-lit Christmas tree.  When we consider how difficult it is to be Christian in some parts of the world, we are especially grateful for the gift of religious freedom in this country.

Unfortunately, however, this freedom has come under threat lately.  The federal government has chosen this January 1 to begin implementing its nationwide mandate forcing most Catholic universities, hospitals, and service ministries to violate Church teaching or face devastating fines.  Faith-based organizations like these seek to practice what they preach. That is, they seek to live out the Gospel mandate to serve those whom Christ called "these least brothers of mine" (Mt. 25:40) while adhering to the tenets of our faith—including promoting the sanctity of human life.  We pray that the courts will uphold our ability to live out the Gospel in its entirety!

Did You Know? Many courts have issued recent rulings in the HHS mandate cases because of the recent January 1, 2014 start date for enforcement of the mandate against certain religious non-profit organizations.  Most of these rulings have thankfully gone in favor of the litigants so far, but we need to continue to pray for other courts and for Congress to provide immediate relief for all those affected by the mandate!
Archived Call to Prayer Friday Fast Intentions and Reflections:

2013