Sons and Daughters of Light
The U.S. Bishops' Pastoral Plan for Ministry with Young Adults
In 1996, on the eve of the third millennium, the bishops of the United States promulgated "Sons and Daughters of the Light," a document on pastoral ministry to young adults. Young adults, who range from 18-39 years of age, make up a large part of the Church and have the potential to contribute greatly toward the Christian mission. Noting that outreach to young adults has been largely neglected in the past, and that young adults provide a valuable and unique perspective to and for ministry that must be seriously considered, the U.S. bishops aimed to create a strategic plan to integrate young adults into the life of the Church in America, by taking into careful consideration the various stages of life and circumstances in which young adults find themselves.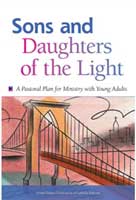 Order your own copy of Sons and Daughters of the Light
Or read it below
After wide consultation with dioceses, national organizations, and young adults themselves, the Committee on the Laity submitted the final draft to the plenary assembly of the National Conference of Catholic Bishops. Sons and Daughters of the Light: A Pastoral Plan for Ministry with Young Adults was approved on November 12, 1996, and is hereby authorized for publication by the undersigned.
Monsignor Dennis M. Schnurr, General Secretary, NCCB/USCC

First Printing, January 1997
Third Printing, September 1999

Scriptural excerpts from the New American Bible used with permission of the copyright holder, Confraternity of Christian Doctrine, copyright © 1970, 1986, 1991. All rights reserved.

Copyright © 1996, United States Catholic Conference, Inc., Washington, D.C. All rights reserved. No part of this work may be reproduced or transmitted in any form or by any means, electronic or mechanical, including photocopying, recording, or by any information storage and retrieval system, without permission in writing from the copyright holder.

To order Sons and Daughters of the Light: A Pastoral Plan for Ministry with Young Adults in its official published format, contact the USCCB Office of Publishing and Promotion Services, 800-235-8722 (in Washington metropolitan area or from outside the United States, 202-722-8716).  Publication No. 5-127, 68 pp., $9.95 per copy; quantity discounts are available. Plus shipping and handling.
A Pastoral Plan for Ministry with Young Adults
Table of Contents